How to Hear from God when You Don't Know What to Do
Do you need to hear from God on a situation, but aren't sure where to begin?
There are times when we are confronted with situations and we can look directly to the Word for the solution.
For example, the Bible is very clear about things like forgiving those who have hurt us, handling difficult people with care, loving and respecting our husband just to name a few.
But what about those circumstances that arise that aren't directly stated in the Word?
Things like:
Should I take this job?
Should I marry this person?
Do I accept this opportunity?
Do I buy this house?
Major life decisions and purchases require wisdom from God. If we make them in haste, there could be extreme consequences.
Yet when the we can't find our answers specifically spelled out in His Word, confusion can set in and we can feel uncertain about how to proceed.
Although some things may not be specifically listed in God's Word, He still gives us clarity on how we can find wisdom when we need it.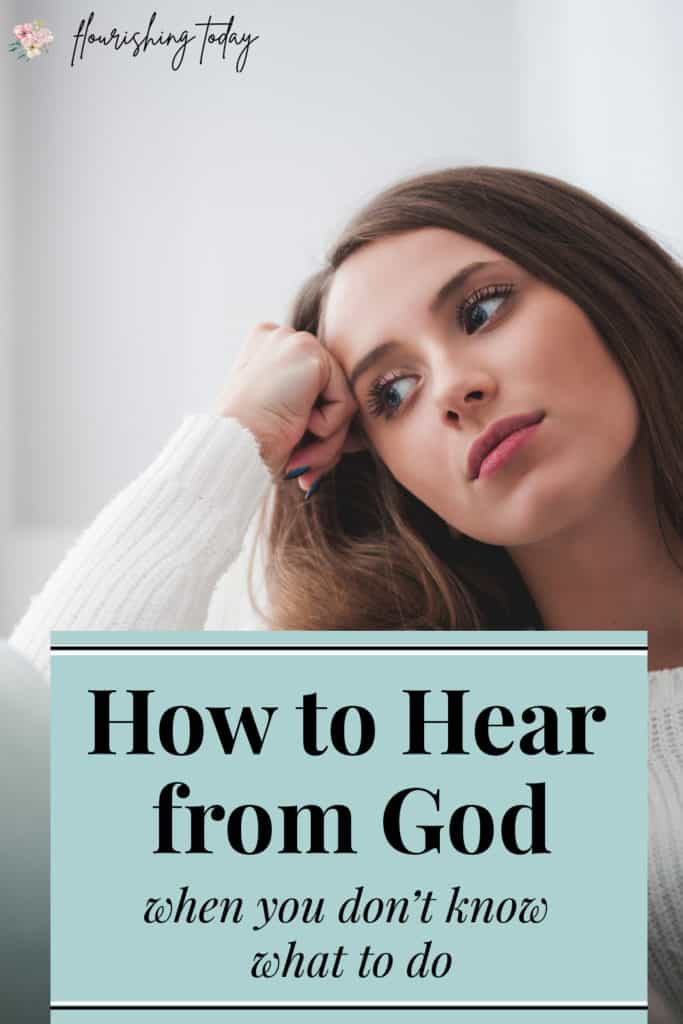 3 ways to hear from God when we don't know what to do
Pray for Guidance
Trust in the Lord with all your heart; do not depend on your own understanding. Seek his will in all you do, and he will show you which path to take. Proverbs 3:5-6 NLT

Show me your ways, Lord, teach me your paths. Guide me in your truth and teach me, for you are God my Savior, and my hope is in you all day long. Psalm 25:4-5 NIV
When we don't know what to do in a situation, we can hear from God through prayer.
Prayer is simply talking to God. It's our lifeline to Him.
Even in the small decisions, we can seek Him through prayer.
He cares about even the smallest details and situations in our lives and is able and willing to respond to our requests.
Perhaps, you aren't sure where to start in praying for guidance.
Here's a model prayer to help get you started….
Lord, I thank You that even the smallest details of my life are important to You. How much more are the bigger ones? God I bring my situation before You right now and pray that You would give me wisdom and guidance. Show me the path I should take and give me clarity and peace on the direction I should go. I trust in You and rely on Your help for the decisions I have to make. Go before me and prepare the way, that I may walk in Your will in this situation. In Jesus' name, Amen.
Abide in Him
It is because of him that you are in Christ Jesus, who has become for us wisdom from God—that is, our righteousness, holiness and redemption. 1 Corinthians 1:30 NIV
When we abide in Christ, we receive wisdom. Because as this verse states, Christ has become wisdom for us!
What does it mean to abide in Christ?
The word abide is the Greek word menō, which means to stay, to remain, to dwell.
When we make it a habit to remain in Christ every day all throughout the day, we begin to seek Him in all the things we have going on….not just in the big decisions.
We become conditioned to hearing His voice, understanding His ways and relying on His wisdom in all that we do.
This scripture gives us so much insight into abiding…
"I am the true vine, and my Father is the gardener. He cuts off every branch in me that bears no fruit, while every branch that does bear fruit he prunes so that it will be even more fruitful. You are already clean because of the word I have spoken to you. Remain in me, as I also remain in you. No branch can bear fruit by itself; it must remain in the vine. Neither can you bear fruit unless you remain in me." John 15:1-4 NIV
As the gardener, the Father has placed us (the branches) into the Vine (Jesus) through His death and resurrection and our acceptance and belief in Him. He lives in us. In Him, we have access to the wisdom we need to make the right decisions.
Seek Godly Counsel
Plans fail for lack of counsel, but with many advisers they succeed. Proverbs 15:22 NIV
This is such an important part of our decision making and really our faith walk in life.
Godly Counsel. Who are these people?
People who love Jesus, love us and have our best interest at heart.
These friends have pure motives in seeing us win in life and walk closely with God, are covered under authority and are concerned for our welfare.
If you don't have these people in your life, I highly recommend prayerfully seeking them out.
Their input can be a lifeline that God uses to help us to walk in wisdom.
Just a few days ago, I had a decision to make.
I really wanted to say yes to an opportunity that arose.
However, I was torn in my decision. I could totally see the benefits of saying yes, but I also knew that my schedule was pretty packed.
I have blindspots. We all do.
Knowing that I can be quick to jump into things (and end up doing them in my own strength!) I sought the Lord on the matter.
I've been reading a book on abiding in Christ, so I've been aiming to listen to His voice and stay connected to Him throughout the day.
As I prayed and listened, He prompted me to seek godly counsel. He even gave me the names of who to call.
Those people not only counseled me, but prayed for me to hear clearly what God was speaking to me already.
It gave me assurance that I was making the right decision for the season that I'm in.
I love that God showed me the importance of godly counsel. He could have easily given me the answer directly. Yet, He chose to point me to others to receive it. Listening to His voice and obeying allowed me to see Him work through others and see the blessing of community and relationship.
Are you in a situation where you don't know what to do? Do you really need to hear from God on the matter? Friend, God wants to guide you. Pray and seek Him. Abide in Him daily. Seek godly counsel. As you do these things, you'll be positioned to hear God's voice for your situation.