How do you Deal with Difficult People?
Can I be transparent with you for a moment?
I'm not the best at dealing with difficult people.
When someone is curt or snappy, I can tend to get a little defensive.
Ok, a lot defensive.
Depending on the extremity of their attitude, I usually leave aggravated or crying. Although I don't love being in these situations, sometimes they are simply unavoidable.
Recently I had to "deal" with someone, who can be a little rough around the edges. This person is very valuable to me, has a wonderful heart, but honestly—can be very difficult at times.
This is not a relationship that I am willing to give up on, so I was at a loss for how to handle this person. I wanted to say some not-so-nice things, but I truly didn't want to cause damage to the relationship.
This person has had lots of damaged relationships.
I was also very aware, that I can be a difficult person to deal with at times, so I wanted to respond in a manner in which I would want to be treated. I wondered, How can I handle this difficult person with care? After leaving the situation, I began reading my Bible and right smack in the middle of my reading I saw this scripture:
"But to you who are willing to listen, I say, love your enemies! Do good to those who hate you. Bless those who curse you. Pray for those who hurt you. If someone slaps you on one cheek, offer the other cheek also. If someone demands your coat, offer your shirt also. Give to anyone who asks; and when things are taken away from you, don't try to get them back. Do to others as you would like them to do to you. Luke 6:26-31 NLT (bold emphasis mine)
Specific words began to jump out at me—love, do good, bless, pray, give—God had given me an answer to my question.
The truth is….hurting people hurt others.
They are difficult because of hurts.
If someone was hurting due to a loss, we would follow this rule without hesitation.
Yet, when the hurts are not so glaring, we can tend to want to attack, argue with or abandon the person. To help us navigate these relationships, God has given us a guideline to deal with those that are difficult to handle.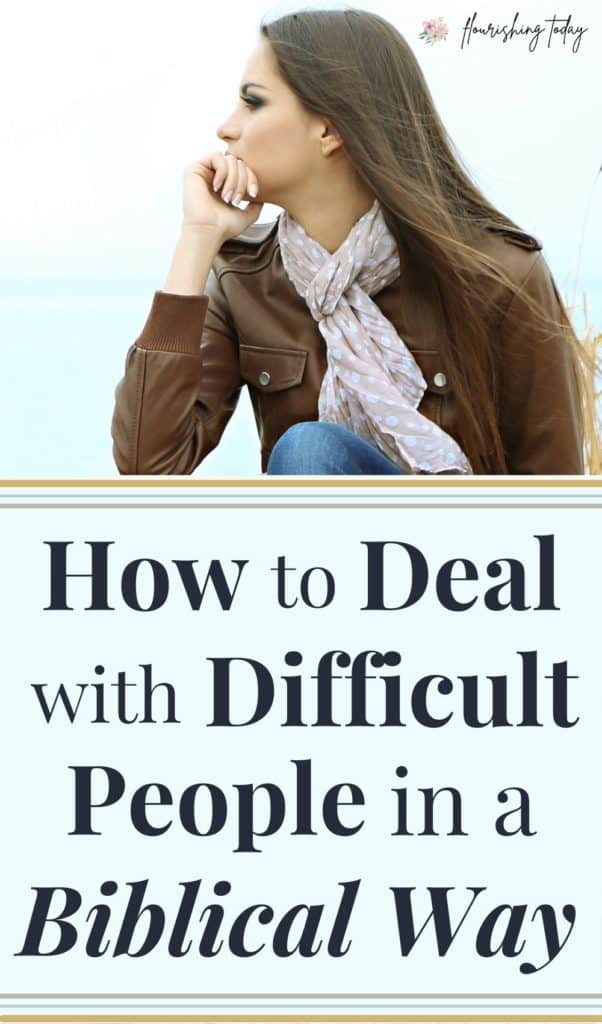 How do you Deal with Difficult People in a Biblical Way?
Love those who are difficult
"Teacher, which is the greatest commandment in the Law?" Jesus replied: "'Love the Lord your God with all your heart and with all your soul and with all your mind.' This is the first and greatest commandment. And the second is like it: 'Love your neighbor as yourself.' All the Law and the Prophets hang on these two commandments."

Matthew 22:36-40 NIV
We've all heard love your neighbor as yourself. But what does it really mean to love our neighbor?
The word love here is agapao (Strongs #G25). It actually means to love by choice and is an act of the will, or unconditional love.
Interestingly enough it's the same word used for love in John 3:16, where it says, "God so loved the world".
Wow, that was eye-opening!
In essence, God is telling us, "Regardless of what they say, what they do, how you feel or don't feel….I want you to love them the way I love you."
Do good to the difficult people in your life
Do to others as you would have them do to you.

Luke 6:31 NIV
Do unto others as you would have them do unto you.
We've all heard this, right?
How can we be good to someone who is difficult?
The word good in Strongs #G2570 means well. We've heard that definition before.
However, another definition emerged that I found very interesting.
It also means "rightly, so that there shall be no room for shame." Being an adverb, it's commonly joined with verbs of speaking.
Again, God is reminding us to watch what we say about this person! We don't want to say something that later we will regret.
Bless those who are hard to deal with
"But to you who are listening I say: Love your enemies, do good to those who hate you, bless those who curse you, pray for those who mistreat you."

Luke 6:27-28 NIV
I used to think "blessing our enemies" meant asking God to bless them.
When I would get aggravated with someone and I was convicted of where my heart was going, I would ask the Lord to bless them.
Yet, as I reread this passage I realized that I was confusing blessing with praying.
Bless in this passage is the word eulogeo (Strongs #2127). It comes from the words well and speech.
So to bless means to speak well of the person.
I must say, that's a whole new level of blessing!
Many times we will ask God to bless someone that irritates us and then go and tell our friends what they did and how horrible they are.
Childish, I know.
But I would venture to say that we've all done it at times.
We naturally want support from our friends and in turn, rally them against the person so that we feel like we are supported or at least that our feelings are.
Remember the cliché, "If you don't have anything nice to say, don't say anything at all"?
Here we are asked to go to another level of maturity and actually speak well of the person, not just withhold the negative.
Pray for difficult people
"But I tell you, love your enemies and pray for those who persecute you,"

Matthew 5:44 NIV
Many times my first instinct is to retaliate against someone who is difficult.
When I know that's not an option, I will pray for them, but usually with hesitation.
However, when I read this scripture again, I saw some wisdom in waiting to pray for them right away.
I am a firm believer that God strategically puts things in the Bible. After all, He is a God of order. As I began to look at the order of Jesus' words I found it interesting that He tells us to love them, be good to them, bless them, and then pray for them.
If we have done these other things first, by the time we do pray for them, there is a good chance our hearts would have changed towards them. If we were to pray for this difficult person first, it is probable that we would do it begrudgingly and negate our prayers with negative comments about them afterward.

Give to them
Jesus said, "Father, forgive them, for they do not know what they are doing."

Luke 23:34 NIV
Giving to someone who is difficult seems like an odd thing to do, right?
When I give someone a gift, it is meant to be a blessing. And that's not easy to do.
So what are we giving?
I think for this part it is so important to be "in tune" with God, to really seek Him on what to give.
Why? Because He knows what they need. (Reminding myself it's not about me!) Perhaps it's forgiveness, grace, kindness, understanding or it could be an actual gift.
Yes, I said an actual gift.
When you receive a gift, you rarely think, "What a mean person! Why would they give me a gift?"
We may feel surprised and question motives, but if someone were doing the things mentioned above, their motives are presented pure, right?
Also, the bible tells us that "Giving a gift can open doors; it gives access to important people!" (Proverbs 18:16).
It opens doors for them to be healed and for us to be blessed.
After giving us the layout for how to handle difficult people, Jesus shows us the promise for our obedience:
"Then your reward from heaven will be very great, and you will truly be acting as children of the Most High, for he is kind to those who are unthankful and wicked. You must be compassionate, just as your Father is compassionate." Luke 6:35 NLT
Are you dealing with difficult people in your life?
Is God speaking things for you to do that could bring healing not just to the person involved, but for the relationship itself?
Friend, the things God asks us to do are not always easy.
But they are fruitful.
As we step out and do what He's asked us to do, we will experience relationships at a whole new level.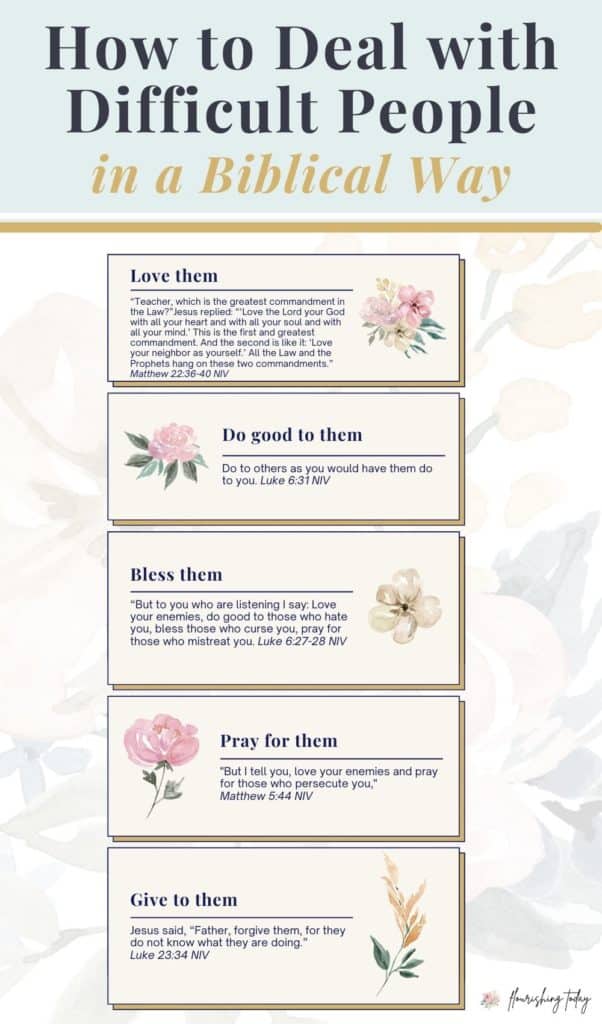 Can we pray together?
Father, we thank you that you give us direction in our relationships. Thank you for showing us how to deal with those who are hurting. Give us the grace to apply these principles in our lives. Help us to see difficult people the way you see them. Lord, we admit that sometimes we may be that difficult person. Show us how to be more like You. In Jesus' name, Amen!
(Here are some links to additional resources! As an amazon affiliate I earn from qualifying purchases. You can read my full disclosure here) ** Please note that not all of these resources are Christian based book**