3 Important Truths to Get Rid of Fear in Your Life
Do you find yourself struggling to get rid of fear?
Like an unwanted visitor on the doorsteps of our hearts, fear seeks to come in and destroy the peace and joy that Jesus died to give us.
But we don't have to give in to it!
Fear starts with a lie.
When we identify the lies and begin replacing them with truths, we position ourselves to overcome fear.
Here are 3 Importants Truths for us to remember to get rid of fear in our lives….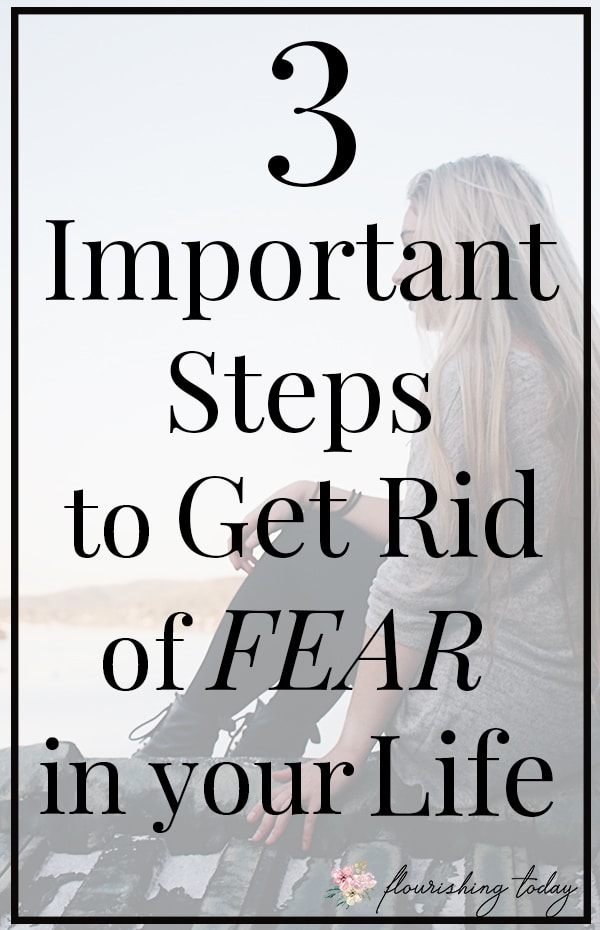 3 Important Truths to Get Rid of Fear in Your Life
God loves us
Such love has no fear, because perfect love expels all fear. If we are afraid, it is for fear of punishment, and this shows that we have not fully experienced his perfect love. 1 John 4:18 NLT
His perfect love demolishes all fear in our lives.
When we understand how much God loves us, we know that He is protecting us.
God is for us and not against us.
He loves you and I so much, that He chose to send His Son to earth to be a sacrifice for our sins. He bridged the gap that sin created between God and man, giving us full access to His throne of grace. We can come boldly with all of our fears, insecurities and worries and He is there to take them on.
When we say, "God, I'm scared." He tells us "Fear not, I am with you."
God is not mad at us.
If we believe the lie that He is disappointed or angry with us, we will have a hard time receiving His perfect love. It is that perfect love, that drives out fear in our lives.
God is with us
Be strong and courageous. Do not be afraid or terrified because of them, for the LORD your God goes with you; he will never leave you nor forsake you. Deuteronomy 31:6 NIV
There are thousands of promises that God offers us in the Bible.
One of those promises is that He will never leave us.
Because fear seeks to isolate us, when we are feeling fearful and anxious our natural instinct is to recluse. Yet in the midst of an anxious state we don't want to feel alone.
There is a powerful truth that can push fear straight out of the doors of our heart: God is always with us.
When we ask Jesus to be our Lord, He comes to live on the inside of our hearts–there He remains.
There were times where I have literally sat in a chair in my room and just repeated the name Jesus aloud.
There is power in His name.
When call upon Him, we are saved. Not just saved in the sense of salvation, but saved from anything that comes against us, including fear.
No matter what we go through, Jesus is right there with us. Knowing that He is with us gives us the strength to push through the fear, because we know it is His strength and not our own.
God has given us all authority
I have given you authority to trample on snakes and scorpions and to overcome all the power of the enemy; nothing will harm you. Luke 10:19 NIV
One of the most important truths we can grasp is the power that Christ died to give us.
He didn't just give us the ability to get through life. He gave us His authority and power to overcome everything the enemy throws at us.
How do we access that power?
Through the Word of God.
It is sharper than a double edge sword–it pierces through flesh, soul and spirit, accomplishing what God has ordained it to do. His Word never comes back void.
When we open our mouths to declare God's word we are using one of our mightiest weapons.
I personalize every scripture that I declare, claiming it for myself. One of my favorite scriptures to declare is Isaiah 41:10:
I will be not be afraid, for You are with me. I will not be discouraged, for You are my God. You will strengthen me and help me. You will uphold me with your victorious right hand.
Writing these on scripture cards and taping them to my bathroom mirror has helped keep these promises in the forefront of my mind.
Everyday when I look in the mirror, I am reminded of the power I have in Christ.
When I was going through a particularly rough battle with fear, I carried them in a ziplock bag in my purse. Whenever I began feeling anxiety rise, I would pull them out and confess them.
Sometimes when anxiety hits, it's very difficult to think. Pulling my cards out was an easy way for me to confess these scriptures over myself without having to try to remember what they said.
Eventually I came to a point where I didn't need them.
The truths that I had been confessing welled up in my heart and mind, spilling out of my mouth like a mighty weapon to battle the fear that confronted me.
Although the battle may seem fierce right now, God has given us all we need in His Word to overcome.
Has fear and anxiety been tormenting you? Fear not, friend.
God loves you, He is with you and He has given you everything you need to overcome the power of the enemy. The more you confess His Word, the more ground you will gain against fear.
Want to go deeper in your study on Fear? Learn to fight fear with our Fear Fighting Notebook: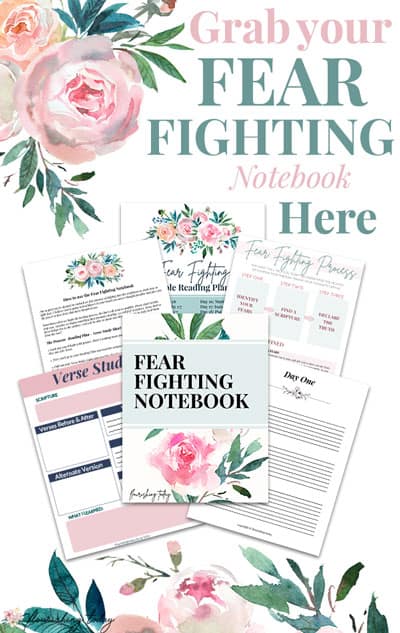 Can we pray and agree together?
Father, we thank you that You've given us everything we need to overcome the power of fear in our lives. We thank you for Your promises that we can rely on. We stand in agreement that no weapon formed against us will prosper. Fear has to go, in Jesus' name! You have not given us a spirit of fear, but a spirit of power, love and a sound mind. We stand firm in your truths. We receive Your perfect love today, that casts out every fear that tries to linger in us. Protect our hearts and minds from anything that would try creep in and steal the victory you've given us. We rest in Your Word, Your truths and Your love today, in Jesus' name, Amen!
If you have any specific pray requests, I would love to hear from you!
This week I'm sharing an amazing post on fear from Her Style of Tea. In How to Overcome Anxiety through God's Word, Shanté shares her struggle with fear and gives some fantastic tips on how to overcome. She says,
There is a root cause to every issue. Anxiety is the same. While many things including past experiences, sudden life changes, or extreme stress can trigger anxiety, one thing truly causes it. It's fear. We've all experienced fear at some point in our lives and most times, that fear is completely rational. For example, if you fear snakes, there's a pretty good reason for it.

But the root of anxiety is irrational fear. It tells us lies like…

We're not good enough
We'll never amount to anything
No one loves us
We'll run out of provision
God has forgotten us
We're unwanted

Anxiety magnifies these lies in us. Instead of living out of truth, we live from the point of view of our biggest fears. Yet, God did not design us to fear.
Looking for more encouragement? Join our Salt & Light Facebook group! Simply click the image below to request to join: