How to Forgive When You Can't Forget
Forgiveness is a funny thing, isn't it?
Not a haha funny, but an interesting funny.
Recently I ran into someone that I hadn't seen in a few years.
I thought I had forgiven them.
It's not like I really think much about this person.
Yet when I saw them–that "feeling" began to come up. You know that feeling.
The one that makes your stomach tense and pressure begins to rise up in your chest.
I didn't expect to feel this way.
The offense happened several years ago and wasn't actually targeted at me, but at a family member.
Had I truly not forgiven?
As I got back in my car I tried sorting through my thoughts, hoping to pinpoint where these feelings were coming from. As I began talking to God, I realized what was happening.
Sometimes we think we've let go of things, but in actuality, we stuffed them deep down inside and forget they were there….until we see the person again.
It's amazing how fast that thing can come back up!
The bible tells us to forgive, just as our Father in heaven has forgiven us.
Clearly we want to be obedient.
But let's face it, there are times when forgiving is excruciating. The scenario of what was done to us (or a loved one!) replays in our minds over and over, preventing us from "forgetting".
Although I hadn't thought about this person in a while, there was a time when I was caught in the replay cycle.
I had played the offense so often in my head that I actually never let it go.
The person was out of sight, so the offense was out of my mind, but not my heart.
When I saw them again the hurt came bubbling back up, causing me to relive the situation. Once again, I was having a hard time forgetting the pain this person put my family through.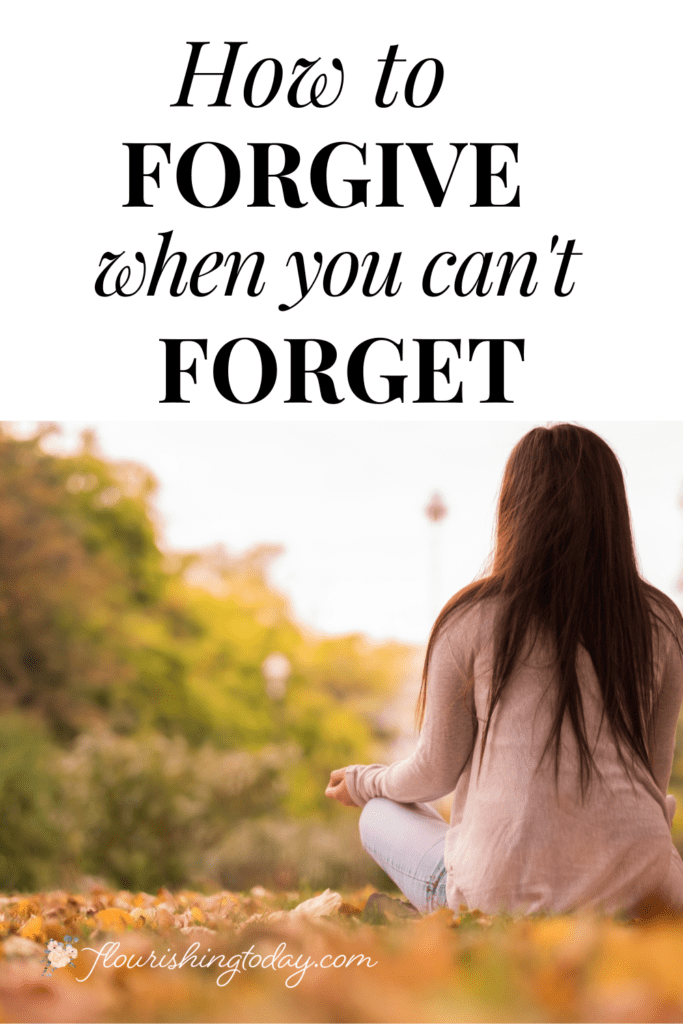 How do you Forgive When You Can't Forget?
Lay Down the Hurt
Give your burdens to the Lord, and he will take care of you. He will not permit the godly to slip and fall. Psalm 55:22 NLT
When we are hurt by someone else's words or actions, we usually have a long list of demands that we feel will rectify the situation.
We may want an apology, an explanation, or even an action.
Yet none of these things will actually bring healing.
Laying the hurts down before Him is crucial for us to forgive. Crucial.
So how do we lay down those hurts to Him?
Every time we think of that situation or that hurt, we can pray. Here is a sample prayer I have had to pray many times when trying to forgive: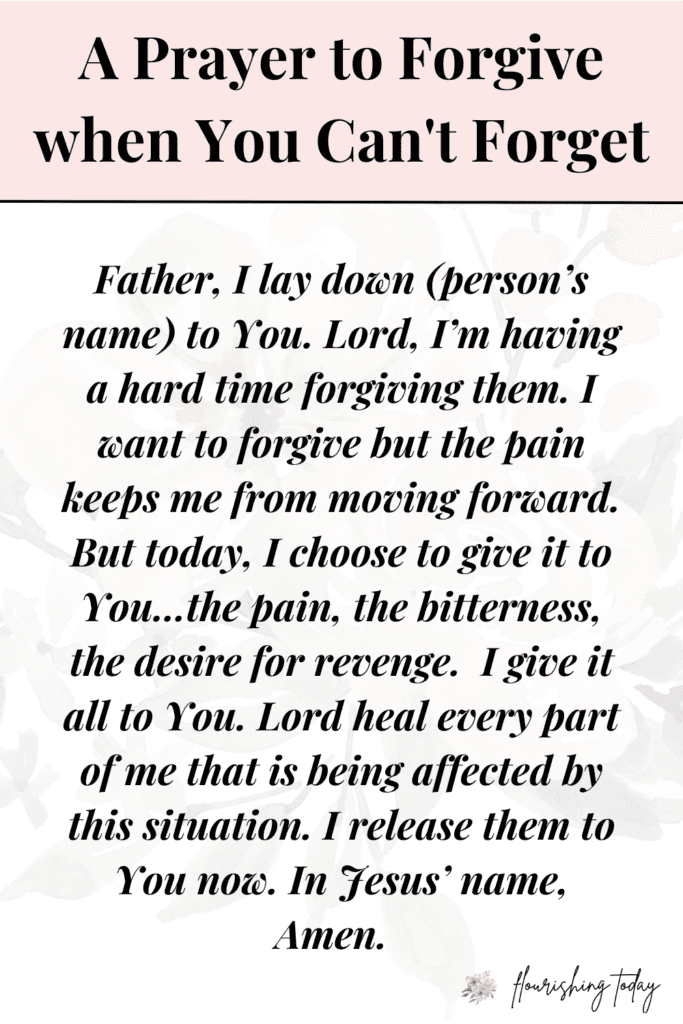 The first, second, or even third time you pray this, nothing may change. But the more you release them to God, the more healing will come. As you lay these things at His feet, He will take care of you.
Remember How Much You've Been Forgiven
If you forgive those who sin against you, your heavenly Father will forgive you. But if you refuse to forgive others, your Father will not forgive your sins. Matthew 6:14-15 NLT
When we are hurt, our natural desire is to make the person "pay" for what they've done.
Through our words or actions, we usually choose to confront or isolate.
Yet we often forget the choice of extending grace.
We can do this knowing that we have received much grace from God. As I researched the word "forgive" in this verse, I found a very interesting definition.
forgive– aphiēmi- Strongs G863- to send away, to let go, give up a debt or forgive
When we forgive someone, we actually give up our right for revenge.
Struggling to forgive someone who has hurt you? Learn to let go of the bitterness and find freedom in your relationships! #relationshiptips #forgiveness
Think of it as forgiving a debt.
Just like Jesus paid the debt for our sins and forgave us, we can forgive others for hurts they've caused us. We can recognize that we've been hurt, but we are choosing to let go of the offense.
(Here are some links to great additional resources! As an amazon affiliate I earn from qualifying purchases. You can read my full disclosure here)
Forgiveness Doesn't Mean Denying
As I sat sulking over the hurts of my loved one, God reminded me that when I forgive, I'm not excusing the pain the person has caused. The pain is real, but we don't have to let it control us. It reminds me of the saying, "Holding on to an offense is like drinking poison and expecting the other person to die." When we refuse to lay down the hurts, we are in essence hurting ourselves. We may argue that the person intentionally tried to hurt us, but their motives are not to be our concern.
All of a person's ways seem right in his own opinion, but the Lord evaluates the motives.

Proverbs 21:2
We can try to figure out why the person hurt us or justify why we should be upset, but it doesn't produce what we're really after…. healing in our souls.
Rest in our minds and emotions is what we're really seeking, isn't it?
Know this friend, your pain is real and God sees it.
Forgiveness is not denying the pain but giving the pain up to the One who can heal.
Ready to forgive those who have hurt you? Here are some biblical tips to begin the forgiveness process. #bible #forgiveness
I have seen this person quite a few times since I began writing this post.
As I've given the situation over to God, I no longer feel the awkwardness when we make eye contact.
On the contrary, I've actually been cordial.
It's amazing how God can touch the untouchable hurting places and make them whole. He is a marvelous God, who delights in restoring His people.
Are you living in turmoil from a past experience? Are you having a hard time forgiving someone who has hurt you? God is faithful to use those things for your good and His glory, if you are willing to lay them down. When we loosen the hold we have on our hurts, God is right there waiting to take them and make them into something beautiful.
>>> Are you ready to start forgiving?<<<
If you're in a place today where you are ready to let go of the hurt and forgive but need some guidance, I want to invite you on a 31-day journey to forgiving and healing with the Forgiveness Bible Study Journal.
With this Bible Study Journal, you'll:
🌸Gain a better understanding of what the Bible says about forgiveness (what it is and what is isn't)
🌸Work through some of your own unforgiveness and discover how you can forgive even the most difficult hurts
🌸Learn how to practically lay down your hurts when unforgiveness rises up