When You Become a White Knuckle Momma
Have you ever grasped onto something so tightly that your knuckles turned white? I went tubing at a friend's house several years ago and I can still remember the tingling sensation in my hands from gripping on to the ropes, hoping that I would stay on the raft and avoid the choppy, dark waters that surrounded me. Just this week I had the same white knuckle experience. This time I wasn't grasping onto a rope or anything physical for that matter. No, this time I was tight-fisting a relationship. Without me even realizing it, I was becoming a "White Knuckle Momma".
My oldest son turned 18 several months ago. I was concerned about how I would handle this newfound freedom he would experience. But then I thought, He lives at home. It's not like he's going far away! The idea of him staying close to home filled my heart with joy. But that joy soon turned to worry when he wanted to go out of town with his friends…by himself…without an adult (a real adult!). Not only did he want to go out of town, but they were camping out in a tent at a campground in 100* weather. Not wise. But he insisted and my husband approved. So, I had to let this one go. The only thing consoling me was that he was only a 4 hour drive away if he needed me. Of course, he didn't.
He actually had a fantastic time and came home all in one piece. I was so glad that was behind me and we could all relax in our new schedule for the upcoming semester. Until he reminded me that he was going on a missions trip to India….by himself….without me. Y'all, I don't think I was quite prepared for that moment. I honestly think that God blocked that missions trip in my mind so that I wouldn't be worrying all summer. How did I forget something that big???  I began worrying, praying, and questioning. Did God really want him to go? What kind of mother releases her child (grown or not) to another country in the world we live in?  The "White Knuckle Momma" was back, grasping for control over her babies.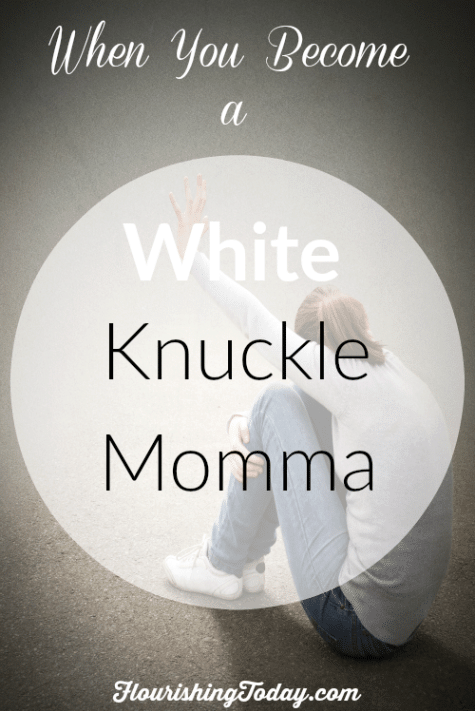 I cried for two days. How did they grow up so fast? In that moment I realized that there was no turning back. My babies would begin growing up and there was nothing I could do about it. I think I actually grieved the fact that they were getting older. But can I share something with you? God showed up for me in that moment. The words I heard at She Speaks from Lysa TerKeurst rang loudly:
God is good.

God is good to me.

God is good at being God.

Uninvited, Lysa TerKeurst
God knew my hearts cry. He knew my struggle. But He also knew what was best for me and my son. My son needed to go to India. There would be life changing experiences for him there. I had to be brave and let go.
[bctt tweet="I had to loosen my grip on my son and tighten my grip on God. https://bit.ly/2aQljkp" username="Alisa_Nicaud"]
2 Things to Remember If You are a White Knuckle Momma
God covers our children

: One of my favorite Psalms is Psalm 91. Having 5 kids, I learned very quickly that I cannot possibly protect them myself when they are all in different places. I could try to keep them within my reach (that doesn't work very well with teenagers by the way!), but that won't last forever. Eventually they have to experience things for themselves. I can't protect them from every hurt, but I know the One who can. I claim Psalm 91:9-16 over me and all my kids:
Because I have made the Lord my dwelling place- the Most High, my refuge- NO evil will be allowed to befall me or my children, no plague can come near my house. For He will command His angels concerning me and my family to guard us in all our ways. On their hands they will bear us up, lest we strike our feet against a stone. (adapted from Psalm 91:9-16)
God comforts us

: Last week while I was running last minute errands for my son's trip, I was reminded that God is not only with my son, but also with me. I walked into Best Buy to get his international plug so he could charge his phone and text me while he was there. I'm usually not the Chatty Cathy who talks to the checkout clerk, but that day I randomly blurted out, "My son is going to India today. That's why I need this plug." She asked me why he was going to India and I told her he was going on a missions trip to serve those in poverty. Her face grew the biggest smile I could possibly imagine and she literally yells, "What a blessing!" I wasn't quite sure how to respond, since my enthusiasm was nowhere near hers. "Yeah, but I'm struggling. I really don't want him to go," I muttered. I'll never forget her next words. "God has him, baby! He is covered in prayer. You have raised him right. It is a blessing to have a child that serves the Lord. You are blessed!" Her eyes welled with tears as she went on to tell me how her son, Justin, was not on a good path. He was no where near serving the Lord and it grieved her. At that moment, something broke in me. I knew that being a "White Knuckle Momma" was not what God called me to be. While I had been crying over my son going to serve in India, there were thousands of moms  agonizing over their wayward children. Not only was I encouraged by this woman's words, but it motivated me to pray for her son and believe for his salvation. I was so focused on my feelings and worries that I was unable to see the clear picture, the blessing of having a child who loves God.
Are you struggling with being a White Knuckle Momma? You are not alone! I'm sure I will always have to find balance between holding on too tight and letting my kids go. The beauty in this journey is that we are not alone! God is with us. We also have each other to cry with, lean on and seek advice from. Can we do this together? Can we commit to helping one another let go of the title of "White Knuckle Mommas"? If your looking for a community of women to join you in prayer and walking out life's difficult moments, I invite you to join the Flourishing Today Community. You can sign up below by entering your email address. You can also join our Facebook page. We'd love to have you!