10 Promising Prayers to Start the New School Year
The excitement has begun.
Every year around this time the homeschool supplies begin flooding in and the Nicaud house is filled with back-to-school buzz. Usually, I'm right up in the mix, enthusiastic about the year ahead and spending way too much money on fun homeschool goodies.
However, the anticipation of this new school year is producing some very different emotions in me.
Last year all the kids were home. Secure, safe, and sound in my little bubble…..right where I enjoyed them being.
This year I have one at home, two in school, and two in the workforce.
With all my kids spread out in different directions, there's no doubt it will look a bit different.
Thoughts of schedules, sports, new teachers, new environments, and new friends began swirling in my head, leaving me feeling a bit overwhelmed and school hasn't even begun.
So this week, rather than spend all my time planning, I'm spending it praying
I'm asking God to show me what the kids and I need most in this new season.
As I sought His guidance, central topics began to emerge. I thought I'd share them with you. Maybe they will be helpful and encouraging to you as well!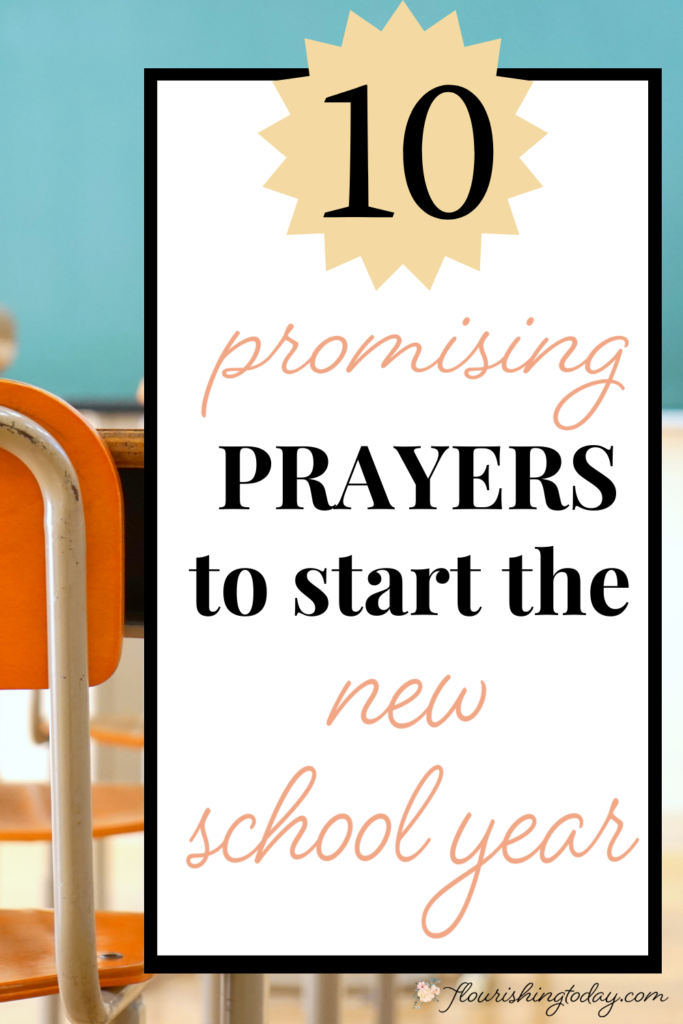 Prayers to Start the New School Year
Here are the scriptures and prayers my children and I will be praying this week and throughout the year:
Provision
God will supply all my needs from His glorious riches, which have been given to me in Christ Jesus. ( adapted from Philippians 4:19)
Father, thank you that You take care of us. Lord, I trust that whatever my kids lack this year in school, You will teach them. For the ones doing school away from me, I ask that You give them teachers who are filled with compassion, understanding, and grace. I pray that I am filled with compassion, understanding, and grace as I teach my two at home. Fill their school year with abundant favor and blessing. I pray no detail will be left undone for them for this year; everything they need will be provided for them. Thank you that You are preparing me to teach this year and prepping my kids to learn. In Jesus' name, Amen!
Fruits of the Spirit
The Holy Spirit produces this kind of fruit in my life: love, joy, peace, patience, kindness, goodness, faithfulness, gentleness, and self-control. (adapted from Galatians 5:22-23)
Lord, thank you that You have given us everything we need to succeed in life. Father, fill me and my children with Your Spirit, producing fruit that never spoils. Help us to love unconditionally, be filled with joy overflowing, remain peaceful and patient, be kind to others, walk in goodness, faithfulness and gentleness and maintain self-control. Continue to develop these things in us as we journey through this new year. In Jesus' name, Amen!
Contentment
I will not love money, but be satisfied with what I have. God has said He will never fail me or abandon me. (adapted from Hebrews 13:5)
Father, thank you that You always provide for us. Teach us to be satisfied in You. Caution us when we begin to compare who we are or what we have to others. Let us not become envious or jealous of those around us. It's easy for us to fall into the trap of wanting what others have. Show us what is right for us. Help us to be content with what we have, knowing that You have given us exactly what we need. In Jesus' name, Amen!
Brave
I will be strong and courageous! I will not be afraid or discouraged. For the Lord my God is with me wherever I go." (adapted from Joshua 1:9)
Thank you, Lord, that You are always with us! When we begin to fear, remind us that You are with us. Help us to be brave when confronted with new people, new situations, or new assignments. We will not back down from new things or allow intimidation to hold us back. We will walk in the freedom and blessing that You have sacrificed to give us. In Jesus' name, Amen!
Confidence
For I can do everything through Christ, who gives me strength. Philippians 4:13 NLT
Thank you, Lord, that You go before us. You have prepared the way for us, giving us the strength to accomplish everything You've assigned us to do. When a concept is hard we will push through. If we feel like we are failing, we will trust in Your ability to help us win. Our confidence is in You. In Jesus' name, Amen
Trust
I will trust in the Lord with all my heart and not depend on my own understanding. I will seek His will in all I do, and He will show me which path to take.

adapted from Proverbs 3:5-6
Lord, we walk into this year completely dependent upon You. When we begin to lean on our own understanding, remind us that Your ways far surpass ours. Thank you in advance for showing us the right paths and leading us in the way we should go. We don't know what this year has in store, but You do. We trust in Your ability to care for us. In Jesus' name, Amen!
Wisdom
If I need wisdom, I will ask my generous God. He will give it to me. He will not rebuke me for asking.     

adapted from James 1:5
Thank you, Lord, that when we need wisdom, all we have to do is ask. You are ready and willing to pour out Your wisdom for those who seek You. Help us to walk in Your wisdom as we navigate school this year. Let us not just be hearers of Your Word, but doers of Your Word. Let the light of Your Word shine brightly through us, so that others may see You in us. In Jesus' name, Amen!
Understanding
Give me an understanding heart so that I can govern your people well and know the difference between right and wrong. 

1 Kings 3:9 NLT
Teach us Your ways Lord, that we may walk with understanding hearts. Show us the clear distinction between right and wrong. Help us to be brave enough to stand up for what's right and glorify You in the process. Help us to have a supernatural ability to understand concepts that we learn this year. Teach us more about who You are and how each subject we learn points back to You. In Jesus' name, Amen!
Help
The Father sends the Advocate as His representative—that is, the Holy Spirit. He will teach me everything and will remind me of everything in His Word.

adapted from John 14:26
Father, thank you for giving us Your Spirit. Fill us afresh as we begin this year. We rely on You, Holy Spirit, to recall things back to our minds. Enable us to learn and soak up knowledge that draws us closer to You. Be our mouthpiece as we speak to others. Let the words of our mouths and the meditations of our hearts be pleasing to You. Help us to grow closer to you and each other. In Jesus' name, Amen!
Rescue
When I face troubles, the Lord comes to my rescue each time.

adapted from Psalm 34:19
We thank you, Lord, that You are our ever-present help in times of trouble. We trust that any issues that arise this school year, You will take care of them. You are our refuge and our strong tower. We depend on you to protect our hearts and minds as we do school this year. Keep us safe and focused on You. In Jesus' name, Amen!
As we begin this new school year and a new season, I'm believing for God to do amazing things for me and the kids! What are you believing God for this school year? Is there something specific you are praying about? Please share it in the comments below. I'd love to pray and believe with you!
**As a bonus I'm sharing bookmarks with the scriptures on it for you to print out and use for the school year! Simply click on the bookmark and you'll be able to save it and print!**