10 Scriptures for Mother's Day that will Bless Your Mom
Mother's Day is coming up and the first thing I always consider is…what am I going to get my mom?
Although I will definitely be getting her an "actual gift" I also wanted to give her something that has meaning, would bless her tremendously and have an enormous impact on her life.
The one thing I know that can have that sort of power attached to it….is the Word of God.
As I began to search out scriptures, I found some that would not only bless her on Mother's Day, but every day of her life.
I discovered some verses that showed her character, her heart to serve and also some that spoke to the bright future she has ahead.
Perhaps you want to bless and honor your mom with scriptures for Mother's Day, but don't know where to start.
No worries, today I'm sharing a wonderful list that you can share with your mom as well.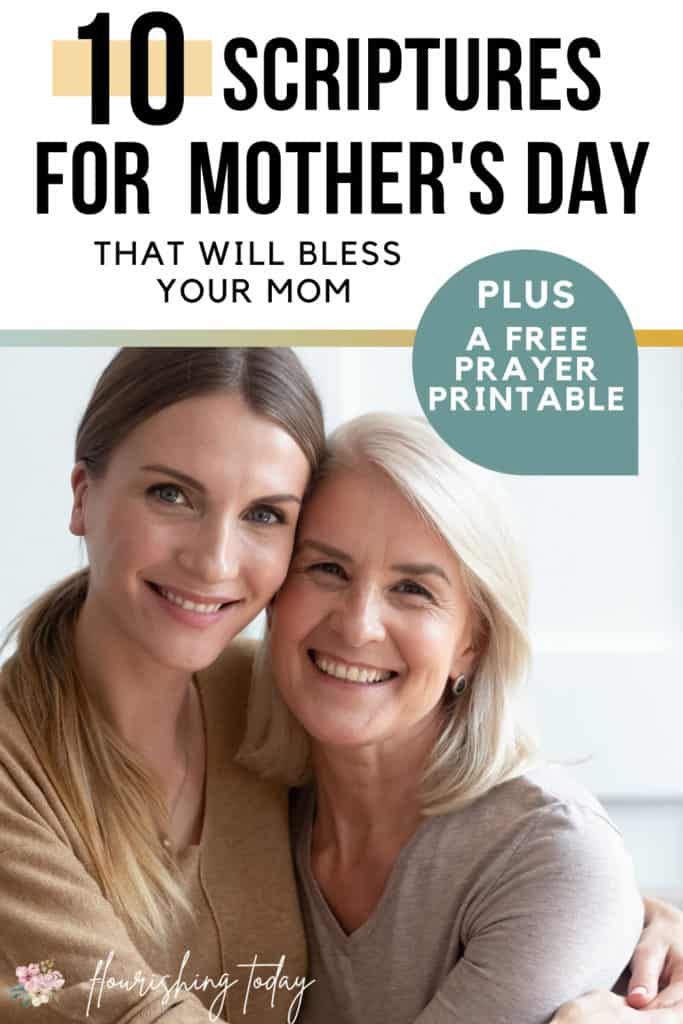 10 Scriptures for Mother's Day to Bless Your Mom
Below you'll find 10 attributes and blessings, along with their corresponding scriptures to confess over your mother:
She loves unconditionally
Love is patient, love is kind. It does not envy, it does not boast, it is not proud. It does not dishonor others, it is not self-seeking, it is not easily angered, it keeps no record of wrongs. Love does not delight in evil but rejoices with the truth. It always protects, always trusts, always hopes, always perseveres. 1 Corinthians 13:4-7 NIV
She is strong, but kind
She is clothed with strength and dignity, and she laughs without fear of the future. Proverbs 31:25 NLT
When she speaks, her words are wise, and she gives instructions with kindness. She carefully watches everything in her household and suffers nothing from laziness.Her children stand and bless her. Proverbs 31:26-28 NLT
She will flourish in every season of life
The righteous will flourish like a palm tree, they will grow like a cedar of Lebanon; planted in the house of the Lord, they will flourish in the courts of our God. They will still bear fruit in old age, they will stay fresh and green, Psalm 92:12-14 NIV
She's valuable
She is more precious than jewels, and nothing you desire can compare with her. Proverbs 3:15 ESV
She will have abundance in her life
Give, and it will be given to you. They will pour into your lap a good measure—pressed down, shaken together, and running over [with no space left for more]. For with the standard of measurement you use [when you do good to others], it will be measured to you in return." Luke 6:38 AMP
She will be blessed
"But blessed is the one who trusts in the Lord, whose confidence is in him. They will be like a tree planted by the water that sends out its roots by the stream. It does not fear when heat comes; its leaves are always green. It has no worries in a year of drought and never fails to bear fruit." Jeremiah 17:7-8 NIV
She will walk in God's favor
For You, O Lord, will bless the righteous; With favor You will surround him as with a shield. Psalm 5:12 NKJV
She will be full of God's grace
Yes, God is more than ready to overwhelm you with every form of grace, so that you will have more than enough of everything–every moment and in every way. He will make you overflow with abundance in every good thing you do. 2 Corinthians 9:8 TPT
Goodness, mercy & love from the Father will follow her
Surely goodness and mercy and unfailing love shall follow me all the days of my life, And I shall dwell forever [throughout all my days] in the house and in the presence of the Lord. Psalm 23:6 AMP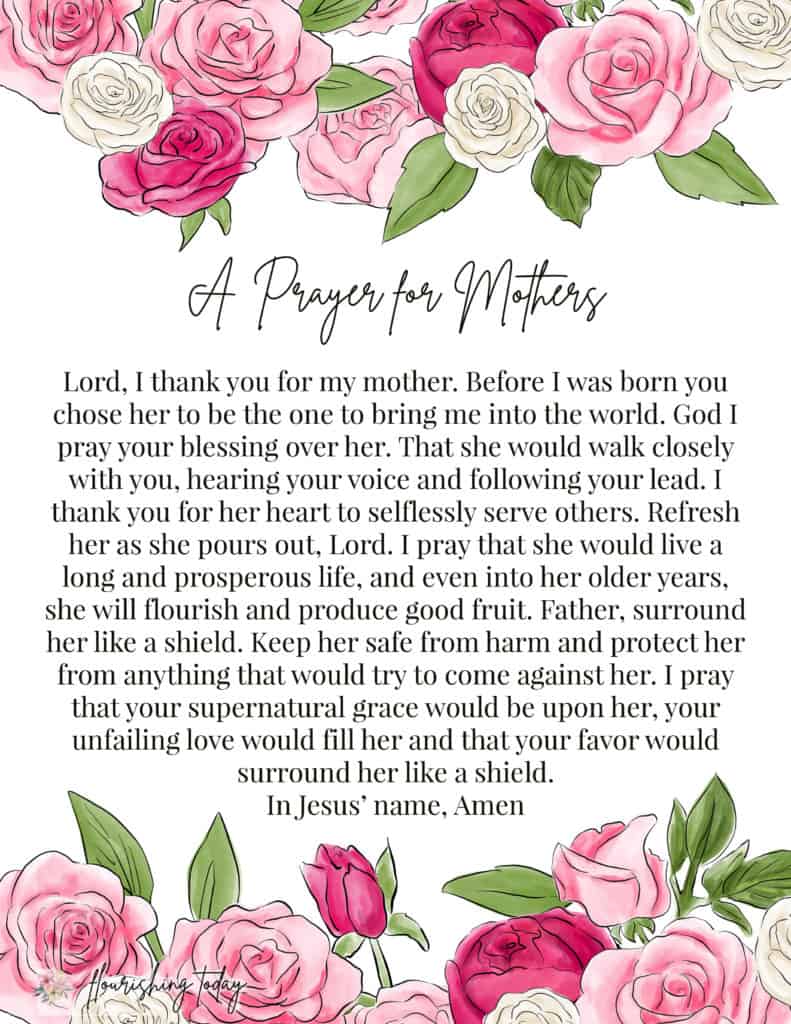 Not sure what to do with these scriptures for Mother's Day? If you don't have anything in mind here are a few suggestions:
Take the scriptures above and put them on pretty notecards
Print out the prayer printable above and include them with her gift
Send her a video of you (and your children if you have them) speaking these scriptures over her
I pray that you and your mother will be blessed by the prayer and verses this Mother's Day!