What You Can Do to Save Your Marriage
When I got married I had a picture in my mind of what life would look like.
A fairytale sort of vision.
You know, the happily ever after, without all the struggles in between.
After over 20 years of marriage, I now know that the struggles in between are actually what have drawn us closer to each other and closer to God.
Would I have willingly chose the hard times? Probably not.
But the fruit I've seen God produce from them is simply amazing, and only He could have done it.
You see, almost 15 years ago, I was on the brink of divorce.
When my husband and I tell people that, they are usually surprised.
Because our marriage now doesn't look anything like it did back then.
Like most people, we both came into our marriage with hurts.
When the storms of life began to hit, we were not prepared to handle the waves that would come crashing down.
My father's death, a miscarriage, the strain of having children, the financial burden of raising a family….all these things began to slowly wreak havoc on our marriage.
But God.
We were headed for a divorce, but God had another plan.
A plan to bring us back together as one flesh, the way He had intended.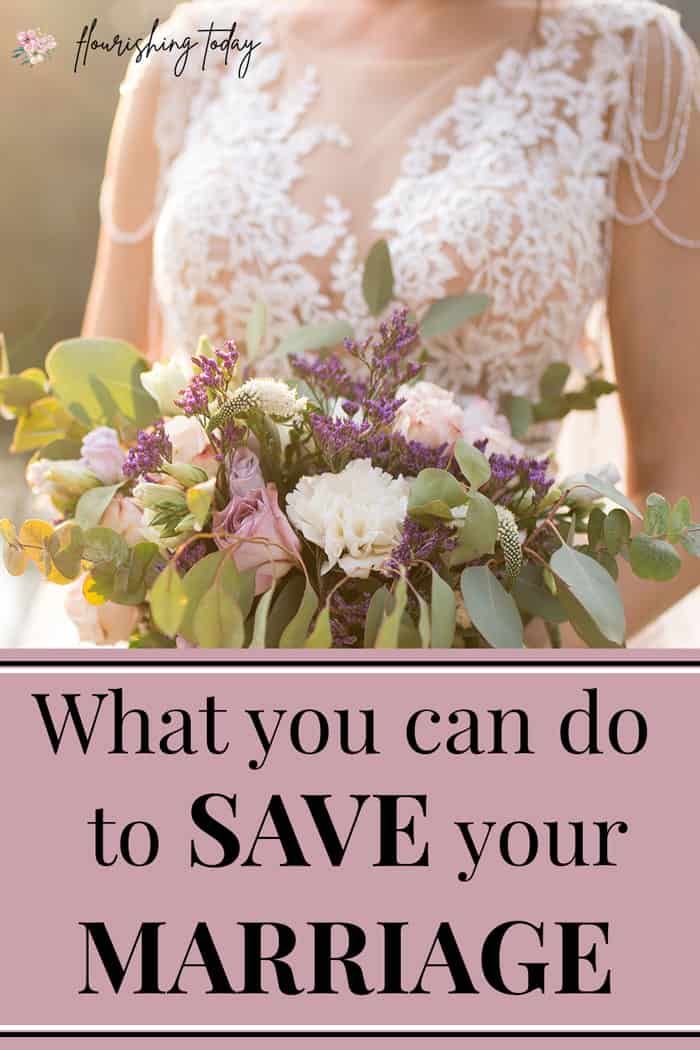 What You Can Do to Help Save Your Marriage from Divorce
Get connected
He began to work on my husband and I, sending people in our path to speak life into us. He drew us into His body (the church) and began to heal us and mend us. We needed outside perspective and counsel.
**I realize some of you may be working at this alone because your spouse is not engaged. I can't stress how important it is for you to get connected with other Christian women, who will pray and agree with you for your marriage.
Let God Have His Way
We had to choose to participate. We had to stick it out when we didn't feel like it. Ultimately, we had to submit to God when we didn't want to prefer the other person. We had to choose to let God have His way in our marriage.
Choose Joy in the Midst of the Hard
We had to choose joy.
You may be wondering what joy has to do with a broken marriage and how you'd be able to choose it in the midst of one.
Let me share a verse with you:
fixing our eyes on Jesus, the pioneer and perfecter of faith. For the joy set before him he endured the cross, scorning its shame, and sat down at the right hand of the throne of God. Hebrews 12:2 NIV
It wasn't easy for Jesus to go to the cross. He even asked God to take the cup from Him, if it was His will. But something gave Him push through.
The joy set before Him.
He endured the cross, the relationship pains, the rejection, all because He kept His focus on the joy that would come out of it.
The joy that we choose in the midst of the hard is not because we see the good in our situations. But rather we see Whose good in our circumstances.
We see and hope for what could be rather than dwell on what is at the moment.
Hope in Christ
We have a hope in Christ that doesn't exist in the world.
He promises to never leave us nor forsake us.
He's there. In the good, the bad and the ugly.
We can rely on Him to bring us through the hard times.
Invite Him In
When we invite God into our marriage, it is no longer just 2 people in a marriage. It is a covenant relationship between 2 imperfect people and one perfect God.
What the two can't work out, God can.
What is impossible for the two, is possible for God.
A cord of three strands is not easily broken. (Ecclesiastes 4:12)
Choosing joy in the midst of a painful marriage is not denying the pain.
When we choose joy we are placing our hope in a Redeeming God, who does exceedingly abundantly above all we can ask or think. (Ephesians 3:20)
We're redirecting our focus from our relationship, with all its difficulties, and placing it on the One who can mend what looks broken.
He specializes in redemption.
In fact, He wants to do that in all of our marriages. He wants to mend the broken, and redeem what's been lost.
Whether it's purity, love, respect, honor, understanding, kindness, or anything else that is lacking in our marriages… God wants to restore those things.
Pray for Your Marriage
Will you ask Him for it? Will you seek Him on behalf of your husband and ultimately, your marriage?
"Ask and it will be given to you; seek and you will find; knock and the door will be opened to you." (Matthew 7:7 NIV)
Will you believe Him for it? Will you believe that He is able to restore what is broken?
If you believe, you will receive whatever you ask for in prayer." (Matthew 21:22 NIV)
Perhaps things look bleak for you right now.
Friend, I know that feeling of despair.
But can I encourage you for a moment?
If we can look past what we see in the natural and believe God for the supernatural, we may just end up with the marriage we've always dreamed of.
Is my marriage perfect? Of course not!
But God is.
And the more I rely on Him for my marriage and entrust that relationship to Him, the more fruit I am seeing come out of our union.
You may feel like you are the only one pulling the weight of keeping your marriage alive.
Know that you aren't alone.
You and God are a majority. He is with you. When you are crying out on behalf of your marriage, He is listening. You are not fighting alone!
Seek Him. Believe Him. Trust Him.
Want to join me in trusting God for our marriages?
Here are a few marriage resources to get you started.
I am praying and believing with you that God is working in our marriages.
This week's Salt & Light Feature is a wonderful post on one of the most important topics in marriage: Communication. Mamie Pack's post on becoming a better listener with your spouse, had me really thinking about what I can do to improve communication in my marriage. You can head over to MamiePack.com to read her 3 tips for improving your listening skills in your marriage!
Are you a Christian Blogger looking to connect with other bloggers?
Join our Salt & Light Facebook group! Simply click the image below to request to join: