30 of God's Promises in the Bible for Uncertain Times
For all of God's promises have been fulfilled in Christ with a resounding "Yes!" And through Christ, our "Amen" (which means "Yes") ascends to God for his glory. 2 Corinthians 1:20 NLT
Are you feeling fearful in the midst of uncertain times?
As our world is forced to embrace change and uncontrollable circumstances, fear can quickly began to overpower our faith.
Thoughts of what if and what next can lead us down paths of doubt, anxiety and depression if we aren't careful to fix them on the things above. (Colossians 3:2)
So what do we do when life feels overwhelming and out of control?
How do we remain hopeful and peaceful in the midst of life's storms?
As followers of Christ, we can place our hope in the truth of God's Word.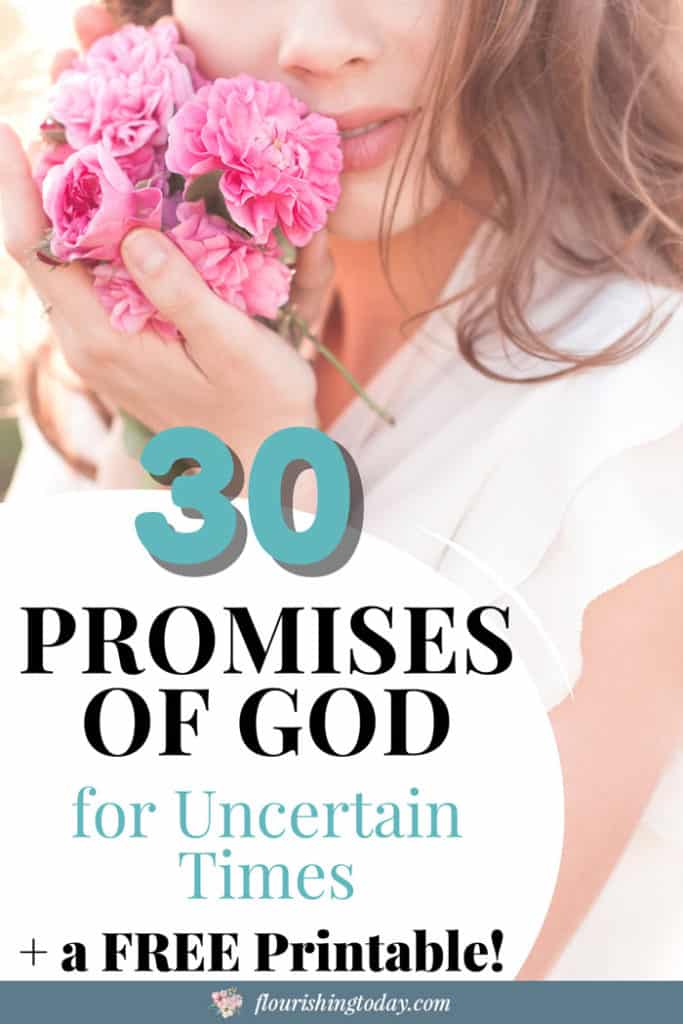 Regardless of what's going on around us, we can be confident in these 3 things:
God loves us.
God's Promises in the Bible are for us.
God is working on our behalf.
If we believe that He loves us, we can believe that His promises are for us. And if we know that His promises are for us, we know that He is working on our behalf in any situation.
When I feel fear rising up in the midst of uncertainty, I like to pray and declare God's promises over myself, my family and my situation.
There's nothing more powerful than SPEAKING God's Word over our lives.
Can I say that again?
That weapon will work for us or against us depending on how we use them.
Proverbs says it this way..
Death and life are in the power of the tongue, And those who love it will eat its fruit. Proverbs 18:21 NLT
What we speak during the difficult times is so important.
If we choose to declare God's Word, it causes faith and hope to rise up and fear and anxiety to quiet down.
Rather than speaking what we feel or see in the natural, let's begin declaring the truth of God's Word and watch Him move on our behalf!
Here are 30 of God's Promises in the Bible to meditate on in times of uncertainty.
He will never leave you or forsake you. Deuteronomy 31:6
God will strengthen you and uphold you. Isaiah 41:10
He will rescue you from every trap and protect you from deadly disease. Psalm 91:3
The Lord will go before you and be your rear guard. Isaiah 52:12
He will fight on your behalf. Exodus 14:14
His love will never fail you. Isaiah 54:10
Wisdom when you ask. James 1:5
His plans are to prosper you. Jeremiah 29:11
God will meet all of your needs according to His riches. Philippians 4:19
Deliverance from all of your troubles. Psalm 34:17
He works all things out for your good. Romans 8:28
God is your refuge and strong tower in times of trouble. Psalm 9:9
Guidance and Direction. Proverbs 3:5-6
He will bless you and give you the crown of life. James 1:12
God will make you the head and not the tail. Deuteronomy 28:13
And here's 15 more….
Beauty for ashes. Isaiah 61:3
Grace, Mercy and Peace will be with you. 2 John 1:3
The Lord will make His face shine upon you and be gracious to you. Numbers 6:25
He will give you rest. Matthew 11:28
Victory in Christ. Romans 8:37
Peace of mind and heart. John 14:27
Salvation through Jesus Christ. Romans 10:9
He will keep His promises. Joshua 21:45
The Holy Spirit to help you. Luke 24:49
The joy of His presence. Psalm 16:11
Eternal Life in Him. Romans 6:23
Your sleep will be sweet. Proverbs 3:24
Your womb will be blessed. Deuteronomy 7:14
He will keep you from every disease. Deuteronomy 7:15
Healing, abundant peace and security. Jeremiah 33:6
(I've created a pdf of these scriptures on God's Promises for you to print out. Simply click the link picture below to download it.)
Friend, if you are feeling fearful, anxious or worried about anything today, I invite you to begin to speak God's promises. As you begin to declare His truths, you'll begin to feel faith rise and fear flee.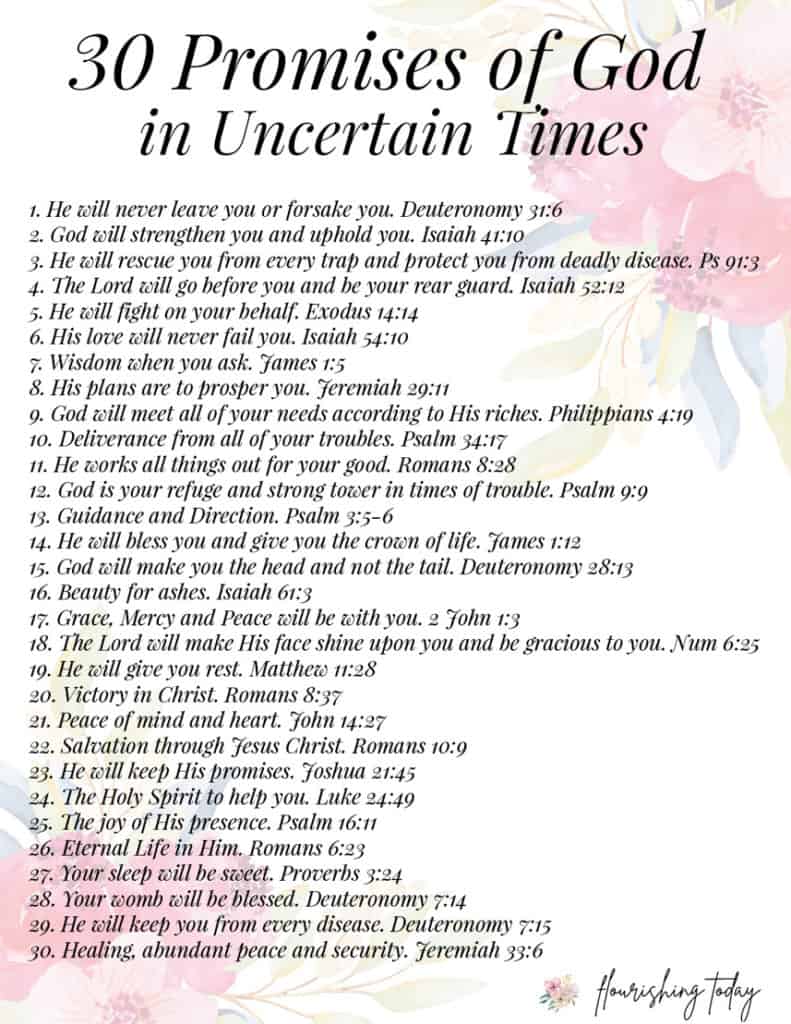 ---
This week I'm sharing a post by Erin Gram on faith habits we can establish for times of trouble.
I so related to this post. Many times when we are confronted with trying times, we want to hide in something else that will occupy our attention. But the truth is….those things are just temporary distractions. They don't help us actually deal with the problems.
Here's what Erin had to say…
My mind was consumed with anxious thoughts and trouble consumed me. Life was swirling beyond my control. So, in an effort to rein in my fleeting power, I controlled my environment the best way I knew how: I cleaned.

Cleaning gave me a teeny tiny ounce of the control I was seeking after. 

It wasn't lasting though. I'd take care of the floors and move on to the counters trying to hold on to as much power as possible.

There are other pseudo-control mechanisms besides cleaning. Others may turn to alcohol, drugs, shopping, binge-watching Netflix, food, or really anything can become an attempt to try to control what is truly beyond their power.

But like my attempts to clean control into my life, it's all fleeting.
Are you a Christian Blogger looking to connect with other bloggers?
Join our Salt & Light Facebook group! Simply click the image below to request to join: