Why You can Stop Feeling like a Failure as a Mom
We never quite know the impact we are having on our children.
We teach, we pray, we redirect, we pray some more; hoping that we are conveying just a fraction of what they need to live a successful life.
Although we may be doing all we can to raise our little blessings, human nature tends to lead us to focus on our downfalls—all the epic parenting failures.
They become center stage in our minds, performing the mistakes over and over again until we are convinced we are the most horrible parents that ever existed.
Ever had these moments? I'll be the first to raise my hand.
Our bible time had been slacking for a few weeks.
I was reading my bible (on most days), but the kids were not.
I kept feeling the all too familiar pressure that most homeschooling parents face: The Kids Are Behind.
I'm not quite sure what they were behind in, because we set our own schedule.
But the pressure was real.
It was so real that I felt the need to cut out their Bible time in order to complete the rest of the assignments.
The only Bible time they were getting was during Family Time.
Between school, sports, other extracurricular activities and my own laundry list of things to get done, I felt like I was forced to put Bible time on the back burner.
Rather than being the first thing we did in the morning, it had become the "if we have enough time" subject.
I longed for my kids to know God in an intimate, personal way, but there was also the reality of what I had to get done.
The plan I had created to make it all work in the beginning, seemed to be falling apart.
Why you Can Stop Feeling like a Failure as a Mom
Feeling like a complete failure in this area, I did what I knew to do.
I asked God to draw my children closer to Him.
To let His grace somehow overshadow my inability to get everything done, including Bible time.
I needed reassurance that He would show up.
And He did.
Where I seem to fail, God prevails. What I lack as teacher, He Himself teaches.
God showed up to encourage me in the most unexpected way….. through my daughter's English assignment.
As I began to read her paper, the frustration began to melt away.
The failure I felt as a parent dissolved as I began to realize Who was really teaching my kids.
It's so interesting to me that she knows God so intimately.
The things she wrote about were so personal and profound.
I believe it was God Himself that gave her that revelation.
In that moment, He gave me a revelation as well…. I do what I can, and He will do the rest— in homeschooling and in life.
He is faithful to teach, rebuke and guide my children.
Not that I sit back and do nothing, but when I've done all I can do, He will do what I cannot.
They were His children way before they were mine.
So today, I rest.
I rest from the striving, the worrying and the need to perform to "make" my children know God.
They know Him.
Today, He gave me a glimpse at just how well they do.
Do you need to stop feeling like a failure as a mom?
We all fail at some point. None of us are perfect. But we have a God who is.
Just as He is always there for us, He is always there for our children.
We can rest in His goodness and His ability to take care of our families.
Can we pray?
Thank you, Jesus that you speak to our children. From the youngest to the oldest, you are guiding them, instructing them and teaching them more about who You are. There is no length that You won't go to show them Your character. Father, pour Your love out on our children today. Cut through any hurts, pains, or failures, and show them Your goodness. Help us as parents to rest in Your ability to take care of our children. Continue to show us how faithful You are…giving us glimpses of Your hand working in their lives. In Jesus' name, Amen
Here's a free download of the above prayer for you to keep: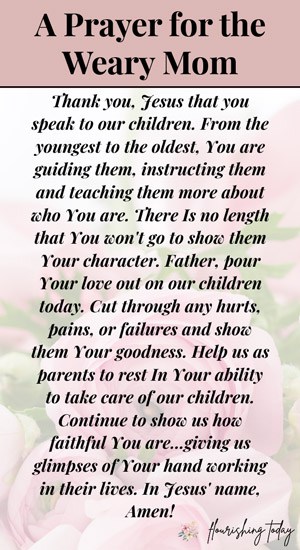 ---
This week I'm sharing a post by Bethany Kimsey on parenting in the dry seasons of life.
She writes about her longing to see God's hand moving in the midst of the dry or unrewarding times of parenting….
I long for Your new thing. "Behold I am doing a new thing; now it springs forth, do you not perceive it? I will make a way in the wilderness and rivers in the desert." ~Isaiah 43:19. I long to see little rivulets begin to run in the dry beds of the hearts of my children and myself – to see a softening of soil crusted over with self reliance and self dependence as the truth that Jesus alone must lead seeps in – to see movement, formation, a becoming in both their heart and mine. Becoming a conduit for the Spirit's living water promised by Jesus in John 7:37 when His voice rang out in the temple, "If anyone thirsts, let him come to me and drink. Whoever believes in me, out of his heart will flow rivers of living water."
Are you a Christian Blogger looking to connect with other bloggers?
Join our Salt & Light Facebook group! Simply click the image below to request to join: