10 Powerful Scriptures on our Identity in Christ
Just as our bodies have many parts and each part has a special function, so it is with Christ's body. We are many parts of one body, and we all belong to each other. In his grace, God has given us different gifts for doing certain things well. So if God has given you the ability to prophesy, speak out with as much faith as God has given you. Romans 12:4-6

What did you want to be when you were growing up?
Whether it was a dancer, a nurse or an artist, we all had something in mind for our future.
For me, that dream was to be a teacher.
I was very organized, had a love for learning and an even greater love to share what I had learned with others.
As a little girl, I would gather my friends and cousins around and play "school", teaching them everything I knew. Although it was all in fun, there was a sense of accomplishment and fulfillment inside me after we were finished…. a sense of purpose.
We are all created for a purpose.
God has given each of us talents, gifts and abilities that aid us in achieving His plan for our lives.
Many of these gifts are recognizable at an early age. They become clues in our discovery of what God has created us to do.
Yet, as we begin to experience the hardships of life, these gifts can become clouded by our failures or our need to impress others. We can have a harder time seeing what we are good at, losing sight of our purpose. Even worse, we can become confused about our identity in Christ.
Our focus can become less about pleasing God and more about gaining affirmation from others. Click to Tweet
I really struggled with this after having children.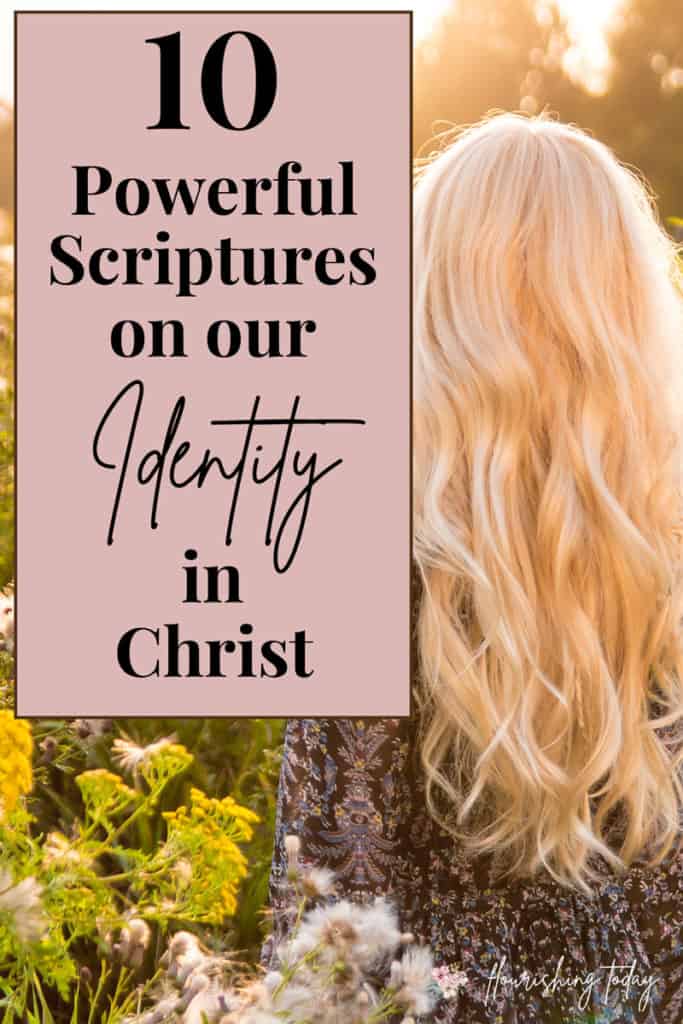 The Truth about Our Identity in Christ
As I watched others around me doing "great" things, I began to feel left behind.
I was in my early 30's, a stay at home mom, cleaning house and doing laundry.
I had such high expectations for myself!
Why hadn't I written a book, or spoken at women's conferences or at least used my degree to climb the corporate ladder?
I had other friends doing these things.
When would I get to do something of importance?
I began searching for significance anywhere I could find it…in a vocation, at my kid's school and in relationships.
I needed to do something that had a "wow" factor. If I wasn't doing something that everyone could see–then I felt I wasn't doing anything "great". I believed the lie that if I was only leading small groups with a handful of women in my house, then it was somehow less important than speaking to thousands in an auditorium. The expectation of achievement had corrupted my thoughts and distorted the vision of where I should be in life.
However through processing my feelings of insignificance with God and others, I came to the conclusion that whatever God calls me to do is important.
Whatever God calls you to do is important.
Whether you're in the spotlight, achieving success in the business world or behind the scenes, teaching children….it all makes an impact. There is no ranking of greatness in God's kingdom.
We are all part of the body of Christ, making an impact for the kingdom of God.
There is no least important role in the kingdom.
And if the ear says, "I am not part of the body because I am not an eye," would that make it any less a part of the body? 1 Corinthians 12:16
So what am I doing now?
Homeschooling my kids, writing a blog and leading small groups.
Some of the very same things I was doing before.
Yet my perspective of what I should be doing and who I should be doing it for has changed. The lures of prestige and being known had temporarily pulled me into a pattern of searching outside of God for significance.
I am fully known, completely understood and unconditionally loved and accepted by Him. Knowing this, doesn't mean I never seek affirmation from others, we all want to be encouraged and recognized. However, knowing who I am and whose I am, prevents me from basing my identity and worth on the opinions of others.

(Click here to download your FREE Declaration of Identity Bookmark!)
Are you seeking to find your identity in your job, your relationships or elsewhere? Although those things can temporarily comfort us, they will never complete us. Our true worth and identity can only be found in Christ. The more we read His word, talk to Him and connect with Him in worship, the better understanding we have of who we are. Our worth is wrapped up in His words.
What is our identity in Christ?
Here are 10 scriptures that will help us to answer that question:
This means that anyone who belongs to Christ has become a new person. The old life is gone; a new life has begun! 2 Corinthians 5:17
But you are not like that, for you are a chosen people. You are royal priests, a holy nation, God's very own possession. As a result, you can show others the goodness of God, for he called you out of the darkness into his wonderful light. 1 Peter 2:9
For we are God's masterpiece. He has created us anew in Christ Jesus, so we can do the good things he planned for us long ago. Ephesians 2:10

See how very much our Father loves us, for he calls us his children, and that is what we are! But the people who belong to this world don't recognize that we are God's children because they don't know him.

Dear friends, we are already God's children, but he has not yet shown us what we will be like when Christ appears. But we do know that we will be like him, for we will see him as he really is.

And all who have this eager expectation will keep themselves pure, just as he is pure.

1 John 3:1-3
I no longer call you slaves, because a master doesn't confide in his slaves. Now you are my friends, since I have told you everything the Father told me. John 15:15

For all who are led by the Spirit of God are children of God. So you have not received a spirit that makes you fearful slaves. Instead, you received God's Spirit when he adopted you as his own children. Now we call him, "Abba, Father."

Romans 8:14-15

Acknowledge that the

Lord

is God!

He made us, and we are his. We are his people, the sheep of his pasture.

Psalm 100:3
We know that our old sinful selves were crucified with Christ so that sin might lose its power in our lives. We are no longer slaves to sin. Romans 6:6
Furthermore, because we are united with Christ, we have received an inheritance from God, for he chose us in advance, and he makes everything work out according to his plan. Ephesians 1:11
But we are citizens of heaven, where the Lord Jesus Christ lives. And we are eagerly waiting for him to return as our Savior. Philippians 3:20