What You Can Do When You Fear the Future
Her future looked bleak.
She had every reason to fear the future and what would happen to her.
Her husband had died and she was left with her mother in law and sister in law as her support.
It seemed the new life she had dreamed of had come to an end.
The logical decision would be to go back to her family and start over…find a new husband and begin a new life…again.
But what about Naomi? Wasn't she her family? They had become close and leaving her would be hard.
Ruth had a choice to make.
She could choose to cower in fear or trust that God was going to work this out on her behalf.
Maybe you're at a similar place.
Perhaps your future looks uncertain….Circumstances beyond your control has put you in a tough spot….Fear is beginning to creep in and you feel out of control.
Whether it's a loss of a loved one, a financial burden or a another difficult situation you are going through, fear can weasle it's way in during life uncertainties.
If we allow it, fear will take root in our hearts and minds and squeeze out every ounce of faith.
But like, Ruth we have a choice.
We can choose to be overcome by our circumstances, or we can move forward and watch God show up.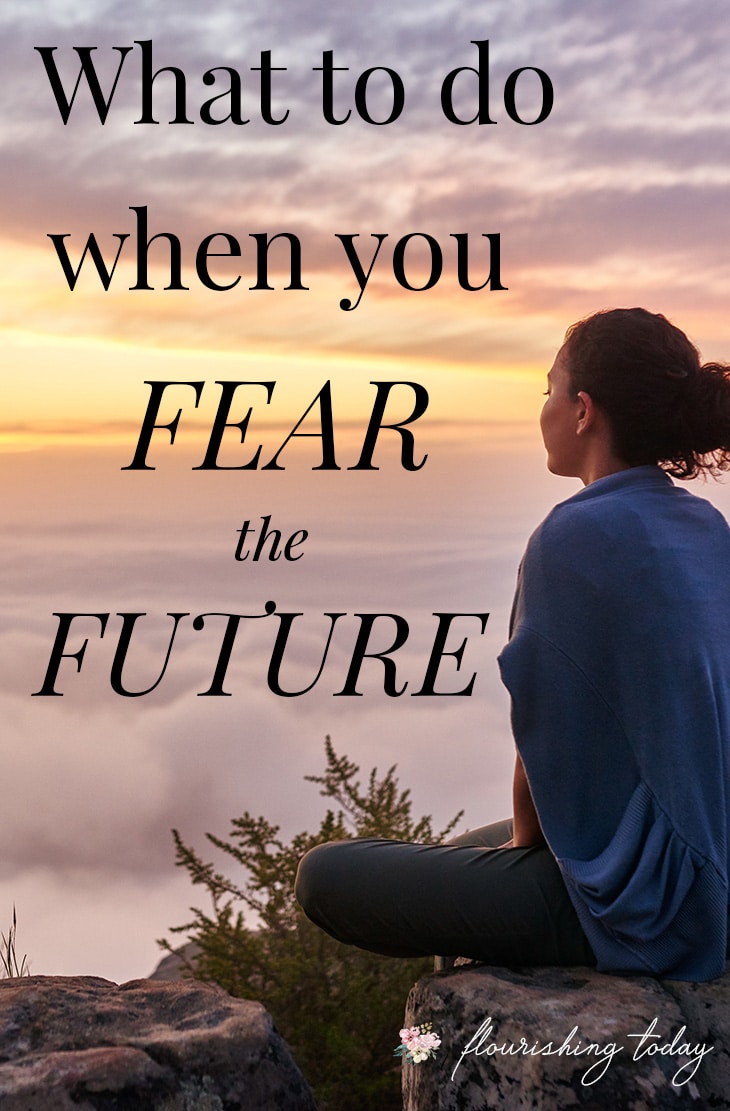 What You Can Do When You Fear the Future
Take your eyes off yourself and place them on God
In times of uncertainty, it's easy to turn inward and begin focusing on our own needs. If we aren't careful we can become so self absorbed and focused on our problems, that worry and fear can literally cripple us.
When given the choice to stay behind in the city she was familiar with or follow Naomi, Ruth chose to cling to Naomi and pursue her God.
Ruth chose to move forward in the face of fear.
Although Ruth was a Moabite, she had no doubt seen the faith of her mother in law: the pains of losing a spouse and her sons, the uncertainty of how she would survive, and yet she still trusted in her God to take care of her.
Her actions must have spoken volumes to Ruth.
Actions that led Ruth to pursue a God she barely knew, despite her fears of the unknown.
Seeing other people rise up in the midst of adversity, can give us hope in our own sufferings. It gives us a new level of respect and genuine appreciation for them and a confidence that God will give us the strength to push through as well.
But Ruth didn't just go along with Naomi, reluctantly.
The Bible says she clung to her.
And again they wept together, and Orpah kissed her mother-in-law good-bye. But Ruth clung tightly to Naomi. Ruth 1:14 NLT
The Strongs definition for the word cling means to cleave, to stick by or pursue closely.
She stuck by her, regardless of where she was headed and chose to trust in her God.
As much as Naomi pleaded with her to go back to her family and remarry, Ruth refused.
But Ruth replied, "Don't ask me to leave you and turn back. Wherever you go, I will go; wherever you live, I will live. Your people will be my people and your God will be my God. Wherever you die, I will die, and there I will be buried. May the Lord punish me severely if I allow anything but death to seperate us!" Ruth 1:16-17 NLT
When we don't know what to do next, our best option is to cling to God. To hold on tightly to His promises. When we keep our eyes on Him and passionately pursue Him, we will find rest for our weary souls and direction for our future.
Take refuge in the Almighty
Upon arriving in Bethlehem, Ruth decided to go out and work in a field to bring in grain for them to eat. As it happens, she ended up in a field that belonged to Naomi's relative, Boaz. He had heard how Ruth stuck by Naomi and took care of her, so he blesses her.
May the Lord repay you for what you have done. May you be richly rewarded by the Lord, the God of Israel, under whose wings you have come to take refuge." Ruth 2:12 NIV
Boaz recognized Ruth as a woman with noble character and a heart for God.
When we take our eyes off ourselves and place them on the Lord, we find ourselves blessed.
There are 3 distinct blessings that came to Ruth as she took refuge in God:
Protection
Boaz went over and said to Ruth, "Listen, my daughter. Stay right here with us when you gather grain; don't go to any other fields. Stay right behind the young women working in my field. See which part of the field they are harvesting, and then follow them. I have warned the young men not to treat you roughly." Ruth 2:8-9 NLT
There was a good chance that in any other field, Ruth would have been harassed and mistreated.
However, God saw Ruth.
He had compassion on her and lead her to the very field of Naomi's relative, Boaz, who provided protection for her.
Friend, God sees you too.
He knows your circumstance, He sees your pain.
As you rest in the Almighty, trust in Him and take refuge in Him, He will protect you.
There's NO WEAPON from the enemy that will prosper against you.
You are safe in His care.
Provision
"And when you are thirsty, help yourself to the water they have drawn from the well." Ruth 2:9 NLT
Not only did Boaz provide protection for Ruth, but he let her glean the fields behind the other women and gave her water from the well.
When we are in difficult circumstances, God provides for our every need.
He is Jehovah Jireh, our provider.
He knows what we need before the need exists.
Whatever you're going through right now, God will provide what you need.
It may not always be in the way we expect, but He will provide.
I challenge you to see God in the midst of your difficulty.
Look for His hand of provision in the little things.
Resist the urge to fear, confess the truth, that God is your provider and He will give you exactly what you need, at the very moment you need it.
Promotion
"The Lord bless you, my daughter!" Boaz exclaimed. "You are showing even more family loyalty now than you did before, for you have not gone after a younger man, whether rich or poor. Now don't worry about a thing, my daughter. I will do what is necessary, for everyone in town knows you are a virtuous woman. But while it's true that I am one of your family redeemers, there is another man who is more closely related to you than I am. Stay here tonight, and in the morning I will talk to him. If he is willing to redeem you, very well. Let him marry you. But if he is not willing, then as surely as the Lord lives, I will redeem you myself! Now lie down here until morning."

Ruth 3:10-13 NLT
I don't believe Ruth ever could have imagined that out of the death of her husband, that she would see such a blessing.
Not only did God protect her and provide for her, but He gave her an inheritance.
Ruth became the mother of Obed, the father of Jesse, the father of King David, who was in the lineage of Christ.
Her story will forever be told.
God has a great plan for you too, my friend.
When we're stuck in the middle of a hard place, it can be difficult to see any good that can come out of our situations.
But God is good.
He NEVER wastes anything.
We can be confident in His ability to protect, provide and promote us.
Just like Ruth, you have a story.
Will yours be one of fear or faith?
That is our decision to make.
Today, I am choosing faith. What about you? Are you willing to take your eyes off your situation and let them rest on the God who can do exceedingly, abundantly, above all you can think or imagine?
Choose faith and watch God show up in ways you never imagined.
**This post is part of a 30 day blog tour called From Fear to Freedom. You can find all the other posts here.**