3 Steps to Protect Your Heart from Disappointment
Disappointments are likely to occur at some point in our lives.
The question isn't Will we be disappointed?
But rather How will we handle disappointment when it comes?
Left unresolved, disappointment can lead to bitterness and unforgiveness, which can ultimately prevent us from walking in the purpose God has for us.  
It can even affect the direction we take for our lives.
I'll never forget the first time I spoke in public. I was a freshman in college and Public Speaking was a required course for my major.
It seemed like it would be fun and I was actually looking forward to the class.
Until the day I had to give my first speech.
I was assigned a topic: baseball and a time limit: 3 minutes.
Seems pretty doable, right?
Not exactly.
I was speechless, even though the words were written on the sheet in front of me.
The moment I looked up and saw all 15 pairs of eyes staring at me—I froze.
I ran out of the class in the middle of my speech, determining to change my major.
I went to my professor to explain that I was not cut out for public speaking and that I would be dropping his class. To my surprise, he agreed and proceeded to scold me for leaving in the middle of class.
I was heartbroken.
Not only did I feel like a failure, but my professor was agreeing with that label. I'd secretly hoped he would deny my request and give me a "give it another go, girl".
But he didn't.
I did end up changing my major to something that didn't require public speaking. I settled into a comfortable Business Administration degree, where I could stay behind the scenes and avoid the risk of humiliation again.
It's been 24 years since I walked out of that classroom.
Yet there are still remnants of disappointment that rise up from that situation.
As I've searched God's Word I've found several key ingredients to protecting my heart from disappointments.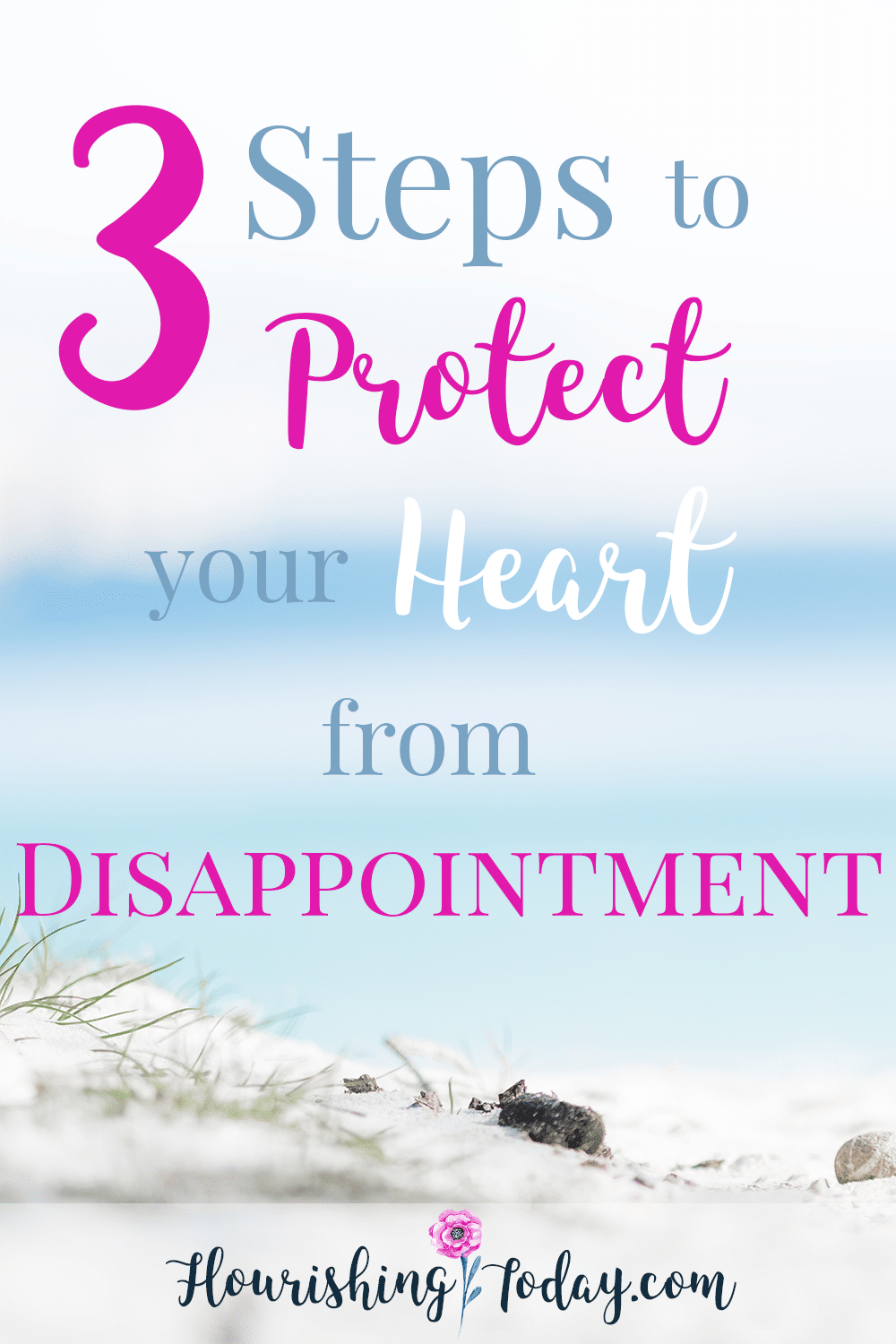 3 Steps to Protect Your Heart from Disappointments
Control Your Thoughts 
When I left the classroom that day, I was plagued with defeating thoughts.
You didn't practice long enough. If you would have, you could've nailed that speech.
You're just not a speaker. No one really wants to listen to what you have to say anyway.
It's best to drop this class, so you'll never have to see those people again.
When faced with disappointment, I've found this to be true:
[bctt tweet="The enemy tries hard to not just attack our behavior, but our identity." username="Alisa_Nicaud"]
He wants to convince us that not only did we fail, but we are failures.
Do you see the difference?
One statement says, "You failed." We can accept that. We all fail sometimes.
The other statement says, "You are a failure."
That generalization is a lot harder to swallow. It implies we didn't just fail at this one thing, but that we will fail at everything, because that is who we are.
The moment I left, I had a choice.
I could focus on my defeating thoughts and buy into the lie that I was a failure, or I could choose to focus on the truth and believe I would do better the next time. I'd love to say that I overcame disappointment that day, but that would not be the truth. I chose to believe that I was not a speaker and that I didn't have a message.
Looking back, I see how the enemy stopped me from pursuing what God has called me to do.
Fear and insecurity prevented me from sharing my voice, not about baseball, but about Christ.
The stakes were a lot higher.
We are all confronted with the choice to believe the lies of the enemy or the truth of God's word. This scripture has helped me to overcome those fears and step out into what God has called me to do.
 And now, dear brothers and sisters, one final thing. Fix your thoughts on what is true, and honorable, and right, and pure, and lovely, and admirable. Think about things that are excellent and worthy of praise. Philippians 4:8 NLT
When things don't go the way we plan, we have to make a conscious effort to fix our thoughts on the right things. We have to remind ourselves what God says about us.
Our circumstances, our failures, our successes—do not define who we are.
Our feelings definitely do not define who we are.
When we are faced with disappointment, guarding our thoughts will become key in working through the hurts and protecting our identity. If we meditate on what is true we will come out victorious, secure in Christ.
Relational Expectations
 Relationships provide many opportunities for us to be disappointed.
People aren't perfect.
Those imperfect people are often hurt and in turn hurt other people.
I have been on both sides of the equation—I've been the one hurt and the one hurting others. The pains we experience become a grid through which we respond to others. If we feel threatened, those past hurts rise to the surface and we naturally want to guard against them. Yet, we often forget that others who are hurting do the same thing. Somehow we think that they should respond differently.
 Several years ago after several bouts with relational disappointments, I was given a piece of advice that really helped me see the importance of expectations.
I was told, "Alisa, you need to lower your expectations.
You're expecting something from this person that they can never give you."
When my professor responded the way he did I let his words pierce into my soul.
The truth is, I had known the guy for a few weeks. He didn't know me and he certainly wasn't equipped to speak into my life. He probably saw me quitting and thought it was a reflection of his teaching. Whatever the case, the ugly words he spoke to me were not about me, but about him. As a young woman and a student, I expected that my teacher should be encouraging and lift me up and not tear me down.
There will alway be people who don't live up to our expectations. 
We can't control how others act, but we can control our expectations of them. Every disappointment begins with an expectation. Setting proper expectations of what the other person is capable of, will allow us to heal from the wounds and move on from the disappointments.
Forgiveness: To cancel a debt.
I was very intrigued by this definition.
It made sense.
When we hold onto unforgiveness towards someone, we in essence are assigning a debt to them—one they can never repay unless we feel fully recompensed. We keep a tally of the wrongs and assign a value to them that cannot be paid back until our feelings have been justified. Our flesh screams "payback", but our souls cry out for reconciliation.
How do we handle the turmoil that brews inside of us?
"Love is patient, love is kind. It does not envy, it does not boast, it is not proud. It does not dishonor others, it is not self-seeking, it is not easily angered, it keeps no record of wrongs." 1 Corinthians 12:4-5 NIV (emphasis mine)
Love is the key.
God tells us to love our neighbor, whether they disappoint us or not.
I could have held a grudge against this guy for the way he responded to me.
Fortunately, I didn't have to see him again. But that is not always the case.
There are people in our lives that we see on a regular basis that continue to disappoint us. When we keep a tally of wrongs against them, we haven't really forgiven them. I remember asking one of our pastors how to overcome a disappointment or hurt.
His response was pray for them.
Every single time you think of them or the situation pray for them.
Pray for them until that feeling of unforgiveness goes away.
Depending on the offense, it may take awhile.
There have been people in my life that I've had to constantly lay down before the Lord.  But the more I prayed for the person and really sought God's truth about the relationship, the easier it was for me to do it the next time. 
Forgiveness doesn't mean to forget.
There are some hurts that are too deep to brush off. But making an effort to forgive will not only bring healing to the relationship, but also to ourselves. 
Has disappointment taken root in your soul because of a past or recent hurt? I encourage you today to not just sit back and let disappointment take over, but to control your thoughts, set realistic expectations and forgive. As you begin the process, God will meet you where you are and begin to heal those broken places.