3 Ways to Prevent Burnout When You Have a Full Schedule
The next day Moses took his seat to serve as judge for the people, and they stood around him from morning till evening. Exodus 18:13
Moses had a full plate.
He had overextended himself and the people were feeling the weight of it.
Standing in lines from sun up to sun down, they were tired of waiting and Moses was exhausted.
I can relate.
With 5 kids and a spouse to take care of every day,  the privilege of being a mom and wife can quickly become a burden.
Cooking, cleaning, chauffeuring, laundry… the responsibilities can seem endless.
Figuring out how to balance it all can be a bit overwhelming…. it can feel like burnout.
So what is burnout?
If you google the word burnout, you'll find these symptoms:
exhaustion, lack of enthusiasm and motivation, feelings of ineffectiveness, frustration or cynicism
Sounds like I've been here before. I don't think any of us want to lack enthusiasm,  feel ineffective or become cynical.
What are some ways to prevent burnout before it sets in?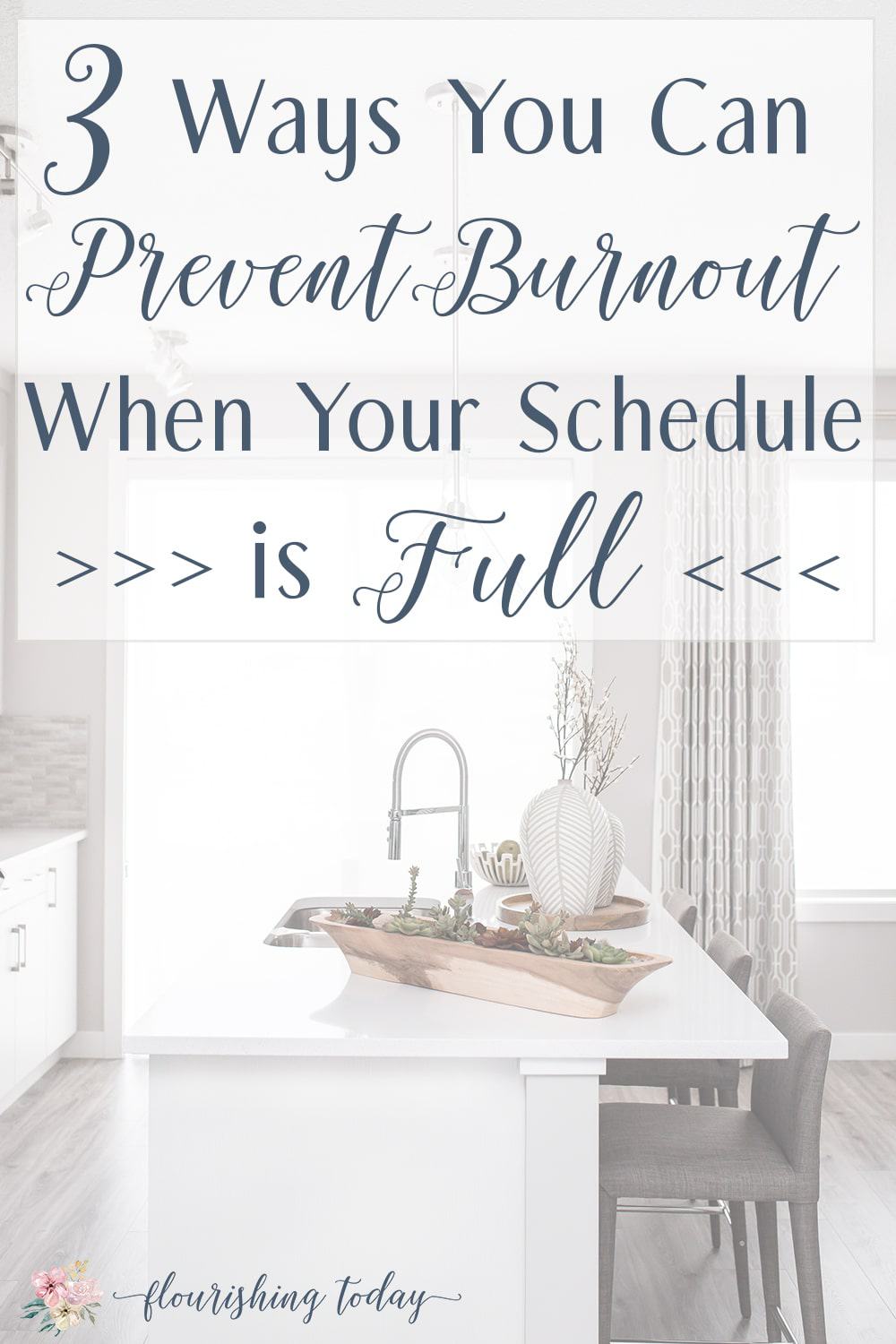 While reading Exodus 18, three ways to prevent burnout emerged:
Accountability
Having someone who can speak into our lives is essential to recognizing possible burnout.
Many times we don't even realize we are overwhelmed until we've completely worn ourselves out.
We continue doing it all ourselves; digging ourselves into a pit, when suddenly we realize we are buried beneath our work.
If we would've had a friend there to help, they would have warned us to not keep digging.
Jethro, Moses' father-in-law, had a similar warning for Moses. He asks an important question that we all need to be asked sometimes,
"What are you really accomplishing here? Why are you trying to do all this alone while everyone stands around you from morning till evening?" Exodus 18:14
Ouch.
I'm guilty of this.
I tend to get into that mode where I am doing, doing, doing…. Usually I end up in burnout and everyone around me is walking on eggshells to avoid an explosion.
Sound familiar to you?
Jethro, Moses's father-in-law, was close enough to Moses that he felt comfortable sharing his observations.
Do you have someone in your life close enough that will tell you what you need to hear, rather than what you want to hear?
I'm sure Moses probably wanted to hear how amazing he was at handling all these people.
Most likely he wanted to feel like he had it all together.
That's what I would've wanted.
Instead, Jethro cared enough to give Moses the truth.
I imagine that this encounter cultivated a closer relationship between the two men.
Because, "In the end, people appreciate honest criticism far more than flattery" (Proverbs 28:23).
Moses humbly received the advice, leaving the whole nation blessed and Moses prevented burnout.
"You should continue to be the people's representative before God, bringing their disputes to him. " Exodus 18:19
Rely on God to do your work
How often do we bring our work before the Lord?
If I'm being honest, it's not all the time.
If it's something big, I'll turn to God right away, but all those pesky little situations that drain my energy….usually my analytical self is working overtime to figure those out.
One particular day while homeschooling, I was trying to explain the concept of double negatives in Math.
My child was clearly not understanding.
I was beginning to get frustrated when it suddenly dawned on me (Thank you, Holy Spirit) that the problem was not with my son, but with me.
I wasn't communicating it in a way that he could understand.
At a loss for how to explain this concept, I quietly asked God, "How can I say this so he will get it?"
Immediately I remembered an example from a previous English lesson.
As the words came out of my mouth, I saw him beginning to understand.
Praise the Lord, it was a victory for both of us! He got the concept and I was reminded to seek the Lord in my work.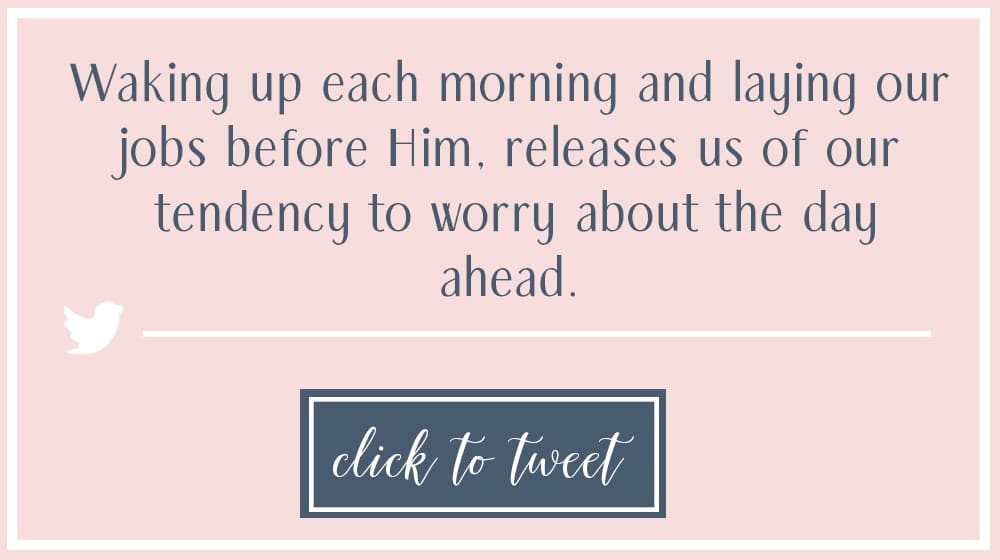 It also prevents us from carrying unnecessary stress into our workplace (or homeschool environment).
When I start my days stressed, my kids feel it as soon as they get up, causing them to be grumpy as well.
It makes a really long day of homeschooling for all of us!
"But select from all the people some capable, honest men who will fear God and hate bribes….. They should always be available to solve the people's common disputes, but have them bring  the major cases to you. They will help you carry the load, making the task easier for you." Exodus 18:21-22
Delegate
This is the key to great leadership and provides sanity for homemakers.
Whatever your work is, delegating will be required for optimum success and burnout prevention.
For all you Type A, driven personality people, I get you. I am one of you.
I like things done a certain way, which can often prevent me from relying on someone else for help.
Getting the task done right is really important to me.
However when we refuse to delegate, we stress ourselves out doing all the work and we deny those around us a chance to operate in their gifts.
When my middle daughter was 2, she really loved to clean.
She would consistently take wipes out of the container and begin scrubbing the floors.
I thought it was just a Cinderella moment, but when she was 4 she began asking to mop the floors.
Actually she begged.
The wipes were not a big deal, no real mess. But the mopping?
All I could see was more work for me!
But she looked at me with those big brown eyes and I gave in.
To my surprise, she was really good at it. I mean really good. Like, better than me good!
Now she loves to fold clothes and help around the house.
It is a gift God has given her.
Yet, I probably wouldn't have recognized this if I hadn't given her the opportunity to mop (which I do not enjoy).
Now, not only do I have help (which avoid burnout), but my sweet girl feels fulfilled in helping around the house.
If you are like me and struggle with this area, you may need to let go of the little things, in order to be more efficient at some bigger things.
Do you find yourself experiencing any of the symptoms of burnout?  We can all tend to come to that point at one time or another. Yet if we have some close friends to walk with, rely on God and learn to delegate, we can begin preventing the frequency of this vicious cycle.
Which key area do you struggle with the most—accountability, relying on God, or delegating? Leave a comment, I'd love to hear from you!