How to Surrender in the Middle of Your Pain
There was a time where I almost lost my faith.
It was my sophomore year in college and my life seemed to be spiralling downwards fast.
Later, that pain would come to receive the label of "PTSD", but at the time, it felt like abandonment, hopelessness and gut-wrenching anxiety.
I got to a place where I could not come before God without breaking down.
Why would He allow this pain?
Why did He leave me in the midst of Satan's attacks?
No matter how much I reasoned with the Bible and all that I knew about God, I found no answers and no glimmer of understanding.
And so I remained stuck in the belief that God had left me. After all, how could He love me and leave me to suffer so much?
As I allowed myself to wallow in this thinking, Satan's grasp grew tight around me. I was stuck in bondage to something I thought Christ had freed me from long ago.
My focus turned inward as I tried to cling to any form of relief from my pain.
What could I do to find peace?
What could I control to find relief?
But this inward focus that we often gravitate towards in times of great suffering is what leads us away from the hope and peace we have in Christ.
[clickToTweet tweet="Christ was not calling me to find a way out of my pain. He was calling me to lay it before Him and simply trust." quote="Christ was not calling me to find a way out of my pain. He was calling me to lay it before Him and simply trust."]
Trust in the Lord with all your heart and lean not on your own understanding. -Proverbs 3:5
This is no easy task.
When we suffer, we tend to want to do anything and everything to find a way out of the pain. But sometimes God calls us to walk in our pain for His glory.
He may be sanctifying us.
He may be preparing us.
…..Maybe He's even strengthening us.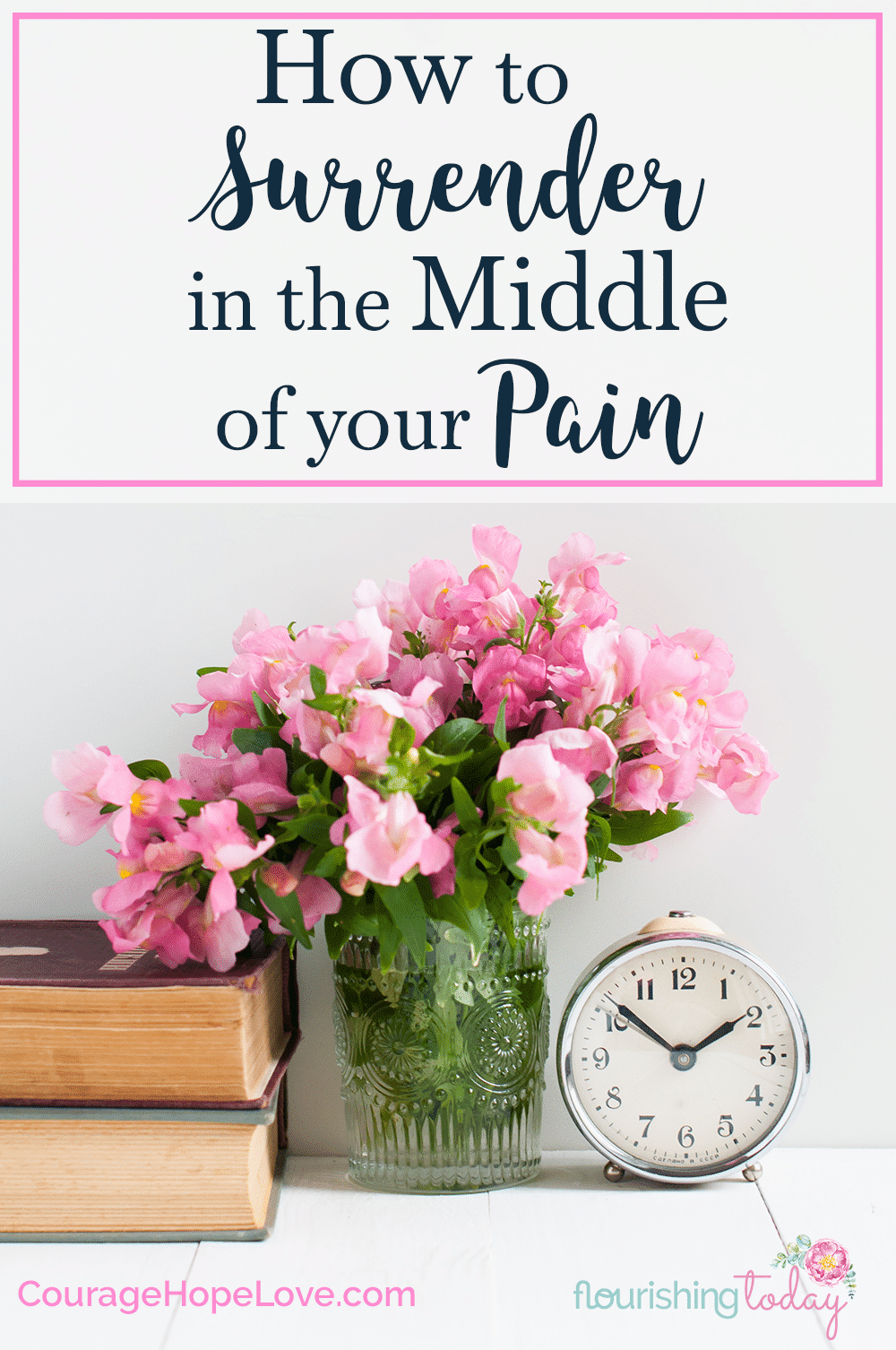 So how can we trust Him when all we see is our pain?
How can we surrender when there is no end in sight?
There is a beautiful metaphor in the book, The Shack:
The main character, Mack, is going through immense grief and suffering. At one point, when he meets God in the shack, he is taken to a garden that represents his life. As Mack enters the enormous garden, he pushes through what looks like a mess. A painful mess, filled with briars and tangled plants. Sarayu, the Holy Spirit, explains that from his perspective, he can barely see beyond what looks like the mess around him. But as you zoom out and see the entire picture, the garden is a beautiful masterpiece specifically interwoven as God's design.
Isn't that what our lives are like?
We can be in the thick of a tangled mess, unable to see two steps ahead, and yet we only see from a limited perspective.
That is how we can surrender in the midst of our pain. We trust that our perspective is limited and that God is working a beautiful masterpiece in our lives if we just keep going.
As I began to find healing in my suffering that year, I still was unaware of any reasoning behind my pain.
It is only now, so many years later, that I have begun to understand how God was working in me then.
I had to trust that if I surrendered my pain, God would work in me for good.
And we know that in all things God works for the good of those who love him, who have been called according to his purpose. – Romans 8:28
I found hope in knowing that because of my pain, I could find a deeper and more meaningful way to bring His glory to those around me. That maybe, just maybe, I could help one person who was suffering in the same way.
The hope of His glory gave me strength to keep moving forward. The freedom of my surrendered pain gave me hope that there would be healing.
The next time you cannot see past your suffering, remember that God is with you and He wants to heal you.
He just asks you to surrender your pain to Him and He will give you peace.
Want to study more on how to surrender? Join us for this month's bible reading plan by signing up below!
[embed_popupally_pro popup_id="8″]
About the Author:
Nicole Kauffman is a wife, blogger and passionate follower of Christ. Her blog, Courage. Hope. Love. was founded to encourage, inspire and guide Christians to deeper hope and joy in the Lord.  Nicole lives in Pennsylvania with her God-seeking husband and family. She is an aspiring author who loves to grow relationships, mentor, and explore the beauty of God's creation all around. She's hoping  you will join her on Facebook, Instagram, and Pinterest.