20 Amazing Scriptures on Victory to Help You Overcome
Are you desperate to overcome some obstacles in your life? God's Word is full of scriptures on victory to help us overcome the enemy's attacks that come against us.
Yet we aren't just called to know the scriptures on victory, but the Bible tells us to be doers of the Word (James 1:22)- to apply those scriptures and to speak those scriptures to the mountains in our lives (Mark 11:23).
God's Word is one of the most powerful weapons He's given us to combat the enemy.
For the word of God is alive and powerful. It is sharper than the sharpest two-edged sword, cutting between soul and spirit, between joint and marrow. It exposes our innermost thoughts and desires.

Hebrews 4:12 NLT
We have victory over the enemy in Christ. Jesus took the weight of our sins on the cross and canceled every charge against us.
You were dead because of your sins and because your sinful nature was not yet cut away. Then God made you alive with Christ, for he forgave all our sins. He canceled the record of the charges against us and took it away by nailing it to the cross. In this way, he disarmed the spiritual rulers and authorities. He shamed them publicly by his victory over them on the cross.

Colossians 2:13-15 NLT
Let me say it again, YOU have victory in Christ. His work was finished on the cross. Because of His victory on the cross, we can have victory over any obstacle we face. But that doesn't mean that the enemy doesn't try to tempt us to believe otherwise.
The battle we face is not just a natural one. No, the battle we face is a spiritual one that takes place in our minds and is won through confessing the Word with our mouths and guarding our hearts and minds with its truths.
How do we do that? Let's take a look….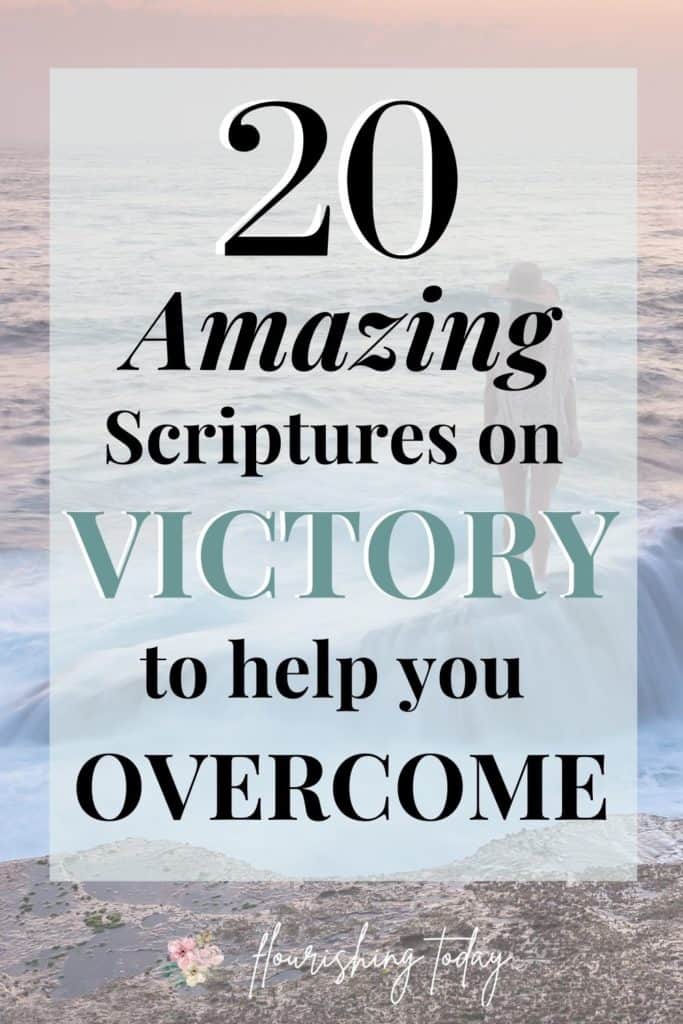 Speaking the Word
When we speak the Word of God, it's as if Jesus Himself is speaking. In fact, in John 1:1 we learn that Jesus IS the Word made flesh. There is a power we possess in speaking the Word out loud when the enemy comes against us.
When Jesus was lead into the wilderness by the Holy Spirit to be tempted by the devil, he responded by speaking scripture.
During that time the devil came and said to him, "If you are the Son of God, tell these stones to become loaves of bread." But Jesus told him, "No! The Scriptures say, 'People do not live by bread alone, but by every word that comes from the mouth of God.'"

Matthew 4:3-4 NLT
Guard our Minds & Hearts
Paul encourages us in Ephesians 6 to put on the FULL ARMOR of God, because our battle is not one of flesh and blood.
Therefore, put on every piece of God's armor so you will be able to resist the enemy in the time of evil. Then after the battle you will still be standing firm. Stand your ground, putting on the belt of truth and the body armor of God's righteousness. For shoes, put on the peace that comes from the Good News so that you will be fully prepared. In addition to all of these, hold up the shield of faith to stop the fiery arrows of the devil. Put on salvation as your helmet, and take the sword of the Spirit, which is the word of God.

Ephesians 6:13-17 NLT
Guarding our hearts and minds begin with a knowledge of what the Word says. When we know what Christ died to give us, we can counteract the lies of the enemy by speaking the Truth.
When we are faced with circumstances that feel overwhelming or obstacles that seem insurmountable, we can confess scriptures on victory that will keep our minds focused on the truth of what the Bible says about our circumstances.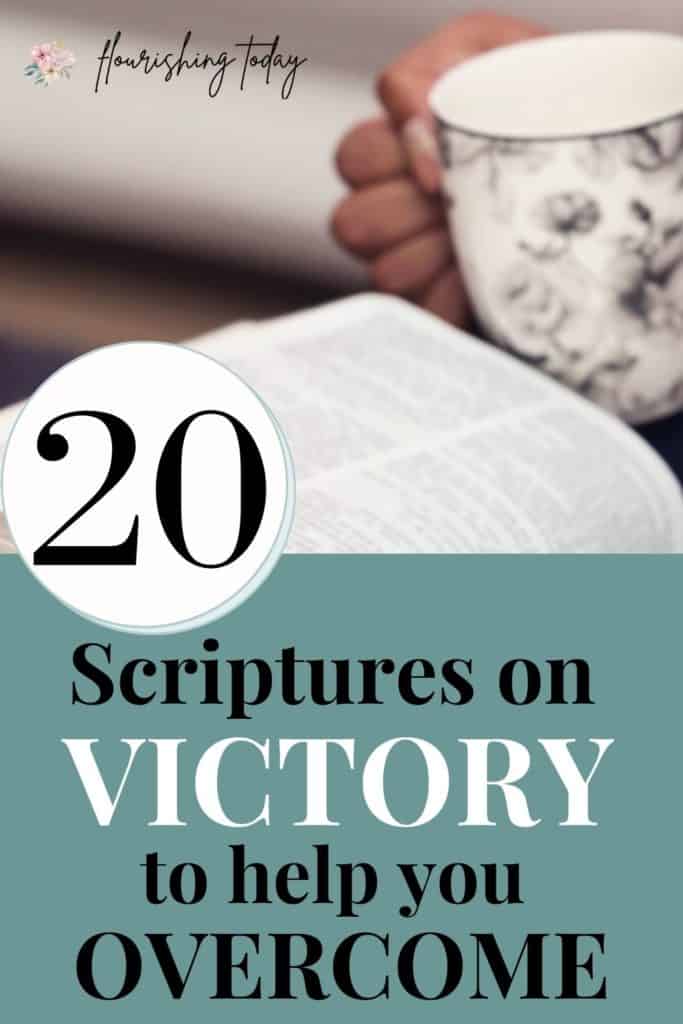 Here are 20 Scriptures on Victory that you can declare over your life:
The Lord my God goes with me to fight for me against my enemies, He gives me victory. (Deuteronomy 20:4)
Overwhelming victory is mine through Christ, who loves me! (Romans 8:37)
I can do all things through Christ who strengthens me. (Philippians 4:13)
I have peace in Christ. Although I may have problems in the world, Jesus has overcome all of them! (John 16:33)
I have not been given a spirit of timidity or fear, but one of power, love and a sound mind. (2 Timothy 1:7)
I will not be afraid for God is with me. I won't be discouraged because He is my God. He will strengthen me and help me. He will uphold me with His victorious right hand. (Isaiah 41:10)
God is working all things out for my good, because I love Him and I am called according to His purpose. (Romans 8:28)
Jesus has disarmed the spiritual rulers and authorities. He shamed them publicly by his victory over them on the cross. (Colossians 2:15)
For every child of God defeats this evil world, and we achieve this victory through our faith. (1 John 5:4)
I will fight the good fight, I will finish my race, and I will remain faithful. I will receive the prize that awaits me—the crown of righteousness, which the Lord, the righteous Judge, will give me on the day of his return. (2 Timothy 4:7-8)
And here are 10 more scriptures on victory in Christ…
I belong to God and have victory over my enemies. Greater is He who is in me than he who is in the world. (1 John 4:4)
I may experience temptation in life, but everyone does. And God is faithful. He will not allow the temptation to be more than I can stand. When I am tempted, he will show me a way out so that I can overcome it. (1 Corinthians 10:13)
I defeat the enemies in my life through the Blood of the Lamb and the word of my testimony. I do not love my life so much that I wouldn't be willing to lay it down for Christ. (Revelation 12:11)
I am no longer a slave, but a daughter of the Most High. Because I am His daughter, I am also an heir. (Galatians 4:7)
Sin is not my master anymore. I do not live under the requirements of the law, but under the grace of God. (Romans 6:14)
Because I am in Christ, I do not receive any condemnation. He has set me free from the law of sin and death. (Romans 8:1-2)
I am chosen by God as His special possession. He has brought me out of darkness and into light. (1 Peter 2:9)
By the power of Jesus I am able to push back my enemies and by His name I will have victory over them. (Psalm 44:5)
What the enemy meant for harm against me, God will use it for good in my life. (Genesis 50:20)
I will not be overcome by evil, but will overcome evil with good. (Romans 12:21)
Friend, the Bible is not just a book to be read. It is a living, breathing, Holy Spirit inspired Word that has the power to live successful lives as followers of Christ. As you declare these scriptures over yourself, believe what you're saying to be true. As you place your confidence in God, knowing He is true to His Word, you will see the manifestation of His power through it.