3 Prayers on Protection When You are Facing Difficult Battles
If you're searching for prayers on protection, there's a good chance you're experiencing some difficult battles.
Maybe you're feeling like you're being attacked from every direction.
Or perhaps you're experiencing fiery arrows in one particular area.
Whatever the case may be, when we're facing battles we can quickly become depleted if we try to fight them completely in the natural.
The last few months I have felt the spiritual attacks coming in a few specific areas of my life: Family, Friendships and Finances.
If you are facing one of these battles today, I want to encourage you that you are not alone!
For the Lord your God is he who goes with you to fight for you against your enemies, to give you the victory.'

Deuteronomy 20:4 ESV
We don't have to be afraid or overwhelmed by the battles we face. The Lord is not only with us, but HE fights FOR us against our enemies.
Yet many times, there is an underlying battle that takes place in our thought life.
In those times, we have to choose to make our minds line up with God's Word.
How do we do that?
I like to do it through prayer.
Although prayer is talking to God, it also is a time for me to declare His Word out loud. As I speak His truth of who He is and what He's promised, He gives me His perspective and His peace.
Perhaps you need this today, too….a reminder of who God is in the midst of your battle and what He has promised you.
Here are a few prayers on protection to help!
3 Prayers on Protection to Help You Fight in the Spirit
Prayers on Protection for Your Family
If you make the Lord your refuge, if you make the Most High your shelter, no evil will conquer you; no plague will come near your home. For he will order his angels to protect you wherever you go. They will hold you up with their hands so you won't even hurt your foot on a stone. You will trample upon lions and cobras; you will crush fierce lions and serpents under your feet!

Psalm 91:9-13 NLT
Psalm 91 is one of my favorite scriptures to pray on protection in the midst of difficult battles. When we abide in Christ, resting in the knowledge of who He is, we can boldly claim that NO PLAGUE and NO EVIL will come near our dwelling.
We can stand on His promise that NOTHING can come against us and succeed. We are covered by the precious Blood of Jesus that keeps us safe from harm…and that includes our entire household!
Here's a prayer on protection for your family:
Lord, thank you that you are protecting us! We stand on your promise that no plague, no sickness or disease, no evil and no harm can come near us or our family. We plead the Blood of Jesus over our families and over our property. Help us to rest in your protection, knowing we are safe in your care. We stand on the authority of your Name and the power of your Word, in Jesus' name, Amen!
Prayers for Protection over Your Finances
Bring the full tithe into the storehouse, that there may be food in my house. And thereby put me to the test, says the Lord of hosts, if I will not open the windows of heaven for you and pour down for you a blessing until there is no more need. I will rebuke the devourer for you, so that it will not destroy the fruits of your soil, and your vine in the field shall not fail to bear, says the Lord of hosts.

Malachi 3:11 ESV
Perhaps the battle you're facing right now is financial.
I know the frustrations that come from this intense battle!
But what I've learned over the years is that the greatest protection we have over our finances is through tithing.
Let's take a look at that scriptures again… When we give our tithe to God (tithe means 10%), He will: Pour out blessing that we cannot even contain, rebuke the devour on our behalf and we will continue to produce fruit.
I don't know about you, but I want blessed, protected and continued fruit in my life (both naturally and spiritually!)
And when I do tithe I pray over it, asking God to bless it and multiply the seed sown into His kingdom.
If you aren't currently tithing, I would highly encourage you to try it. This is the only place in the Bible where God invites us to test Him. Is it because He needs our money? Absolutely not. He owns it all. The tithe is a test of our hearts….are we putting God first and do we trust Him to provide. Matthew 6:21 says, "For where your treasure is, there your heart will be also."
Here's a prayer for your finances:
Lord, we come to you as tithers and claim your promises and protection over our finances. Your Word says that you will pour out blessing, so much we won't be able to contain it. Lord, pour out your blessing on us today. Fill our barns and vats with plenty. Your Word also says that you will rebuke the devour on our behalf. Father, whatever is coming against our finances, we rebuke it now in the name of Jesus. Protect us from lack, from poor financial decision and from anything that would drain our finances. Help us to be good stewards over what you've entrusted us with. In Jesus' name, Amen!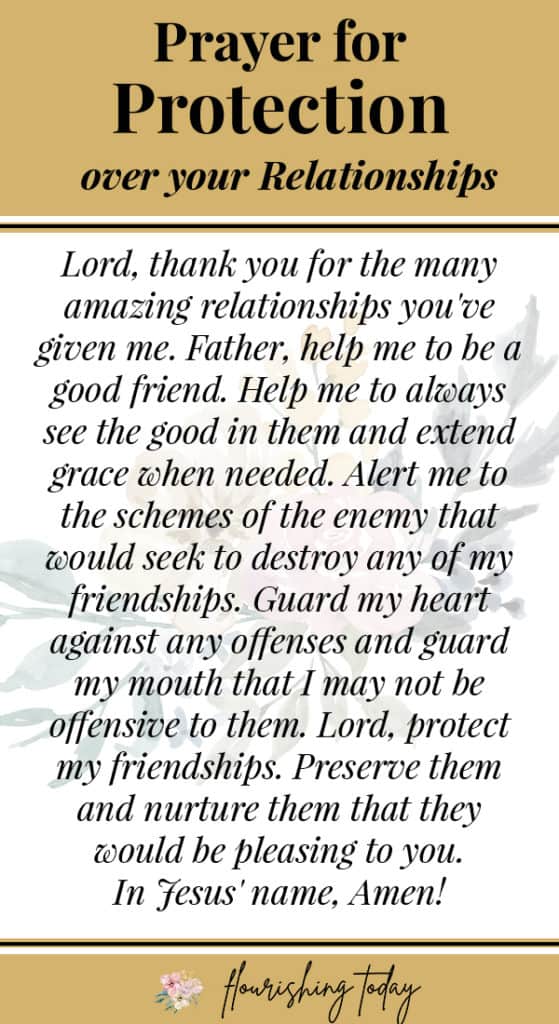 Prayers on Protection for Your Relationships
Do you feel an attack over your relationships? The Bible says in John 10:10 that the enemy comes to "steal, kill and destroy."
I've seen this firsthand in my relationships over the years. It usually starts with a hurt, then an offense, which leads to unforgiveness, which eventually turns into bitterness.
What can we do to protect our relationships from attack?
Pray. Seek God on behalf of your friendships and protection for them.
Watch our words. Be sure whatever you speak will be edifying to the hearer. (Ephesians 4:29)
Extend grace. Make allowances for other people's faults, remembering the grace we've been extended by God and others. (Colossians 3:13)
Knowing that relationships are one of the key targets the enemy goes after, it's crucial that we are constantly covering them in prayer.
Here's a prayer for protection over your relationships:
Lord, thank you for the many amazing relationships you've given me. Father, help me to be a good friend. Help me to always see the good in them and extend grace when needed. Alert me to the schemes of the enemy that would seek to destroy any of my friendships. Guard my heart against any offenses and guard my mouth that I may not be offensive to them. Lord, protect my friendships. Preserve them and nurture them that they would be pleasing to you. In Jesus' name, Amen!
Friend, I know the battles are hard, In the midst of them it can feel overwhelming and discouraging. However, if we choose to stay connected to Christ, remaining close to Him, we can experience the peace and power to overcome any battle we're facing!