Thanksgiving is in 3 weeks. I can't even believe I just typed those words. For the next few weeks I'm knee deep in dance competitions, school celebrations and powerlifting meets. With all the busyness going on I'm struggling to stay focused on being thankful. The only thing I felt thankful for last night was my own bed to sleep in (and not a hotel) and the fact that I had gained an hour of sleep. Thank you, Jesus.
On the other hand, I'm heading out of town again this weekend. Lord, help me.
The good news is…. I don't have to feel thankful to be thankful. Over a month ago, I wrote in my calendar that today would be the day my family and I would start our Thanksgiving Journal. We would start our week being thankful for the greatest of all our relationships….the one we have with Jesus. This reminder turned my focus off my currently cluttered calendar and redirected my focus back to the inner courts, where God was faithfully waiting for me to commune with Him. I settled in on Psalm 103 and found 15 more reasons I can be thankful.
15 Reasons We Can Be Thankful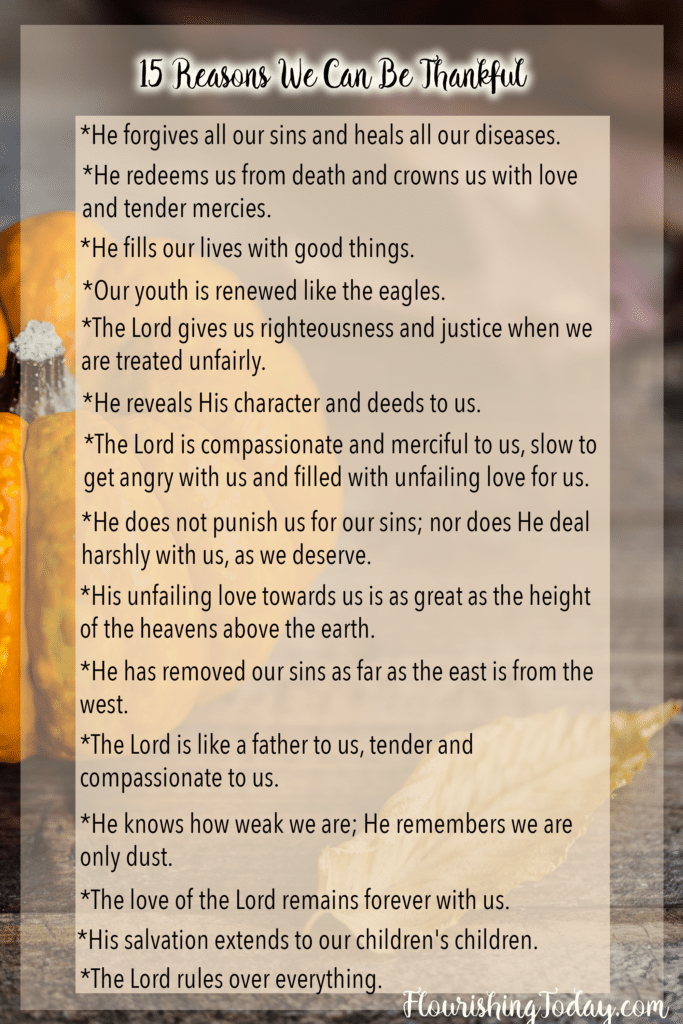 God has given us so many reasons to be thankful.
Sometimes we just need a little change in perspective. In the midst of my grumbling and complaining, what I really needed was a big dose of truth. The truth of God's Word that reminds me of all that He's done for me and all He will do for me. Having an attitude of gratitude means I have to let go of my need to feel comfortable all the time. Do I want to be traveling every weekend and caught up in a whirlwind of activities? No. Can I choose to be thankful in the middle of them? Yes. Reading this Psalm inspired me to put aside the frustrations and take a challenge to find 10 ten blessings that I want to see come out of this next trip. Rather than seeing it as a burden, I'm choosing to see it as an opportunity. I believe when we prepare our hearts to be thankful, we are open to receive the amazing things God wants to do in and through us.
O Lord, in the morning you hear my voice; in the morning I prepare a sacrifice for you and watch. Psalm 5:3 ESV
How are you preparing a sacrifice for the Lord today? Maybe you are in an uncomfortably busy season as well. How can you choose to be thankful? If you are struggling with where to start, you can download our free journal to help you along. Once you dive into the Word, I believe you'll be surprised at the many things you have to be thankful for!