Stepping out of the Comfortable to Live an Abundant Life
Have you ever been blindsided by a God moment?
Today I walked into Whole Foods for apples and walked out with something stirring in my heart. I had one of those moments when God placed me in the right place at just the right time, so He could speak encouraging, but challenging, words to my desperate heart.
Let me explain.
A Whole Foods employee was checking out in front of me, clearly on her break. As the store phone rang from her back pocket, she swiftly picked up the call and answered in the sweetest voice anyone could hope for. After a few minutes of conversation, she hung up the phone, looking confused and slightly annoyed. Glaring at the cashier she stated, "It's so interesting to me how people can call in desperately wanting a job, but tell me they don't want to work nights, weekends, or holidays. Don't they know this is retail?"
On a normal day I would go about my business and forget the words I had just heard. But not today.
In one moment, this woman's words pierced into the depths of my soul, confronting mindsets that I didn't even realize existed.
I can get stuck in the comfortable.
How often do I tell God, "Lord, I want to do your work," but my actions scream: I don't want to be inconvenienced. I don't want to be uncomfortable. 
How often do I declare, "God use me, but on my terms and in my timing."
My selfishness slapped me right across the face.
The truth is that serving God is not always easy.
In fact, many times it's downright difficult.
Not because He's a taskmaster, but because the work He has for us is laborious.
Stepping out of the Comfortable to Live an Abundant Life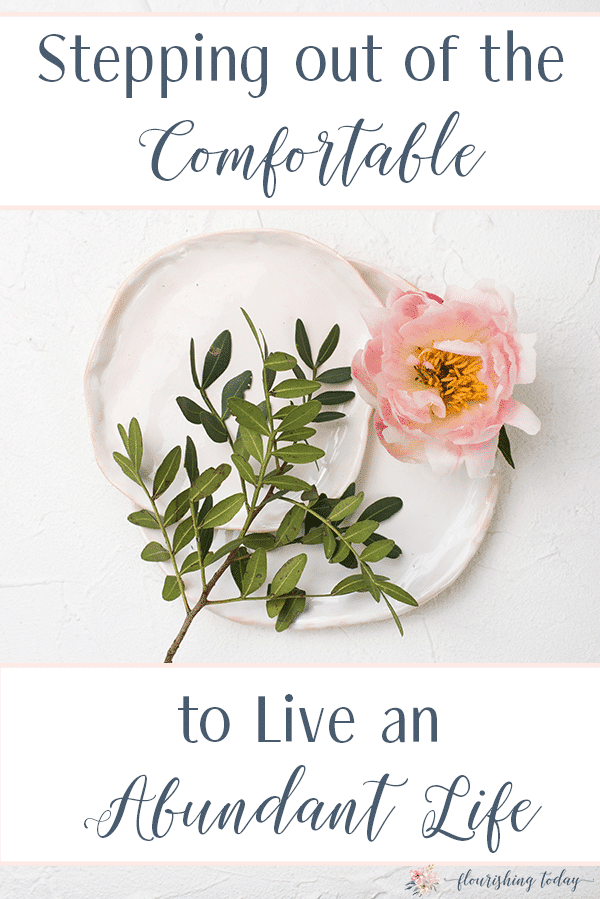 Calamity is all around us and people are hurting.
As we navigate through this broken world, He wants us to look up and reach out.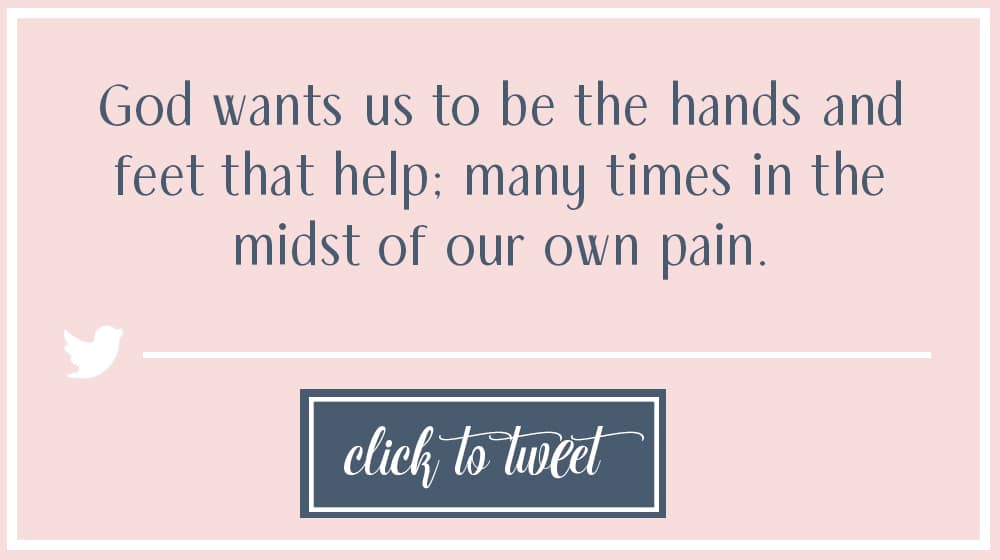 I know this to be true in my own life.
When I was at my lowest point, riddled with anxiety, God asked me to reach out and look beyond myself.
I'll never forget it.
I received a phone call from a lady I barely knew, requesting that I connect with her daughter, whom I had never met. She described her daughter as fearful, anxious and feeling alone.
I could totally relate.
What I wanted to tell her was that I was incapable of helping anyone else. I was so overwhelmed by anxiety that I didn't want to leave the house some days. I wanted to say, "Obviously you've chosen the wrong person for this job."
But something in me couldn't deny her appeal.
I felt God prompting me to accept. Although He knew my pain and the fear I felt, He also knew I needed to take my eyes off myself. He wanted to pull me away from the complacency of fear.
He wants to do the same for all of us.
His desire is to draw us out into deeper waters, completely depending on Him. It's a place of total trust. It's also a place that can make us uncomfortable.
I realize now that I spent most of my time building huge walls around unhealthy places, to avoid the unfamiliar and uncomfortable. I preferred fear over change, because, well it was familiar.
But that was not the place God had for me. He hadn't given me a spirit of timidity or fear, but a spirit of power, love and a sound mind. (2 Timothy 1:7)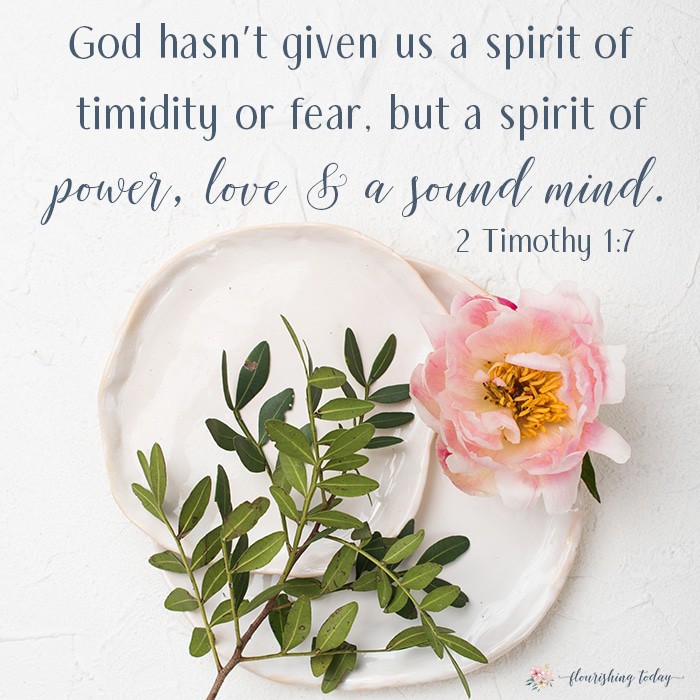 I truly believe that as I reached out and met the needs of this precious girl, I began my journey to overcoming fear and stepping out of my comfort zone.
That's what it takes to follow Jesus.
Surrender.
Facing fears.
Getting Uncomfortable.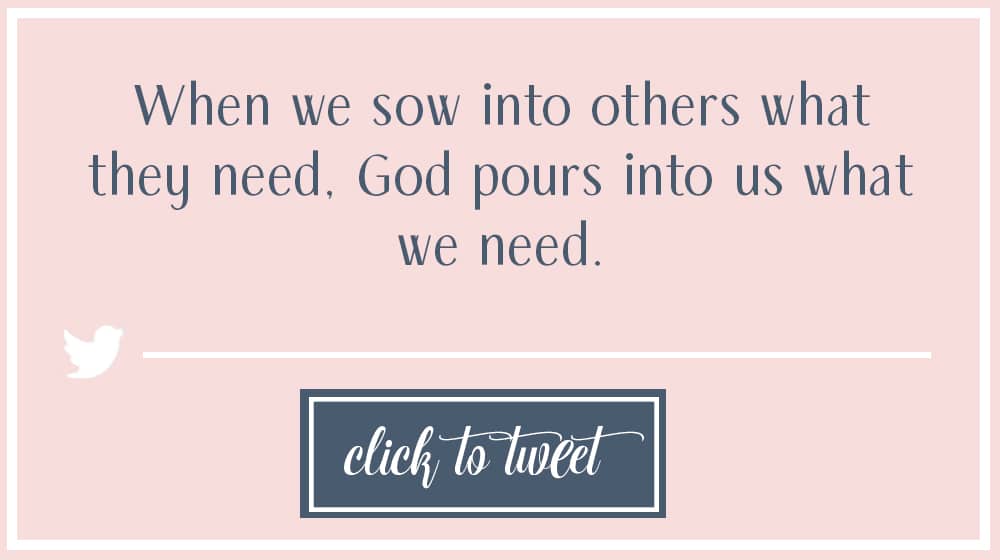 If I allowed Him, He would use me to encourage others.
You see, following Jesus costs. It requires stepping out of the comfortable and into the unknown. It demands that we look beyond just what feels good and focuses on what makes an eternal impact.
What is He asking you to do today that looks uncomfortable? Can I encourage you friend? Whatever He's called you to do, He will give you the grace to do. You can rest in His Sovereignty, knowing that He has it all under control.