I know that my redeemer lives, and that in the end he will stand on the earth. -Job 19:25
My heart longs for hope in a world so full of brokenness.
My life has been tainted by sin.
The sins of others have torn at my soul. My own sin has gripped at my heart.
So many of my days have been marked by hurt, guilt, shame, grief.
What about you? Are there areas of your life that need healing and hope?
We don't just long for the hope that comes from redemption – our souls cry out for it in desperate need.
What Does Redemption Mean for Us?
Jesus stepped down from heaven into this broken world for you and me. He saw our need and humbly walked this earth to answer our cry.
He carried the weight of sin and offered himself as the perfect sacrifice to bring us redemption.
The past few weeks I've struggled with the consequences of so much brokenness in my life. I've battled with pain and hurt that seemed to overpower hope. And yet, even in the midst of such darkness, I could cling to the promise and hope that Christ is redeeming me.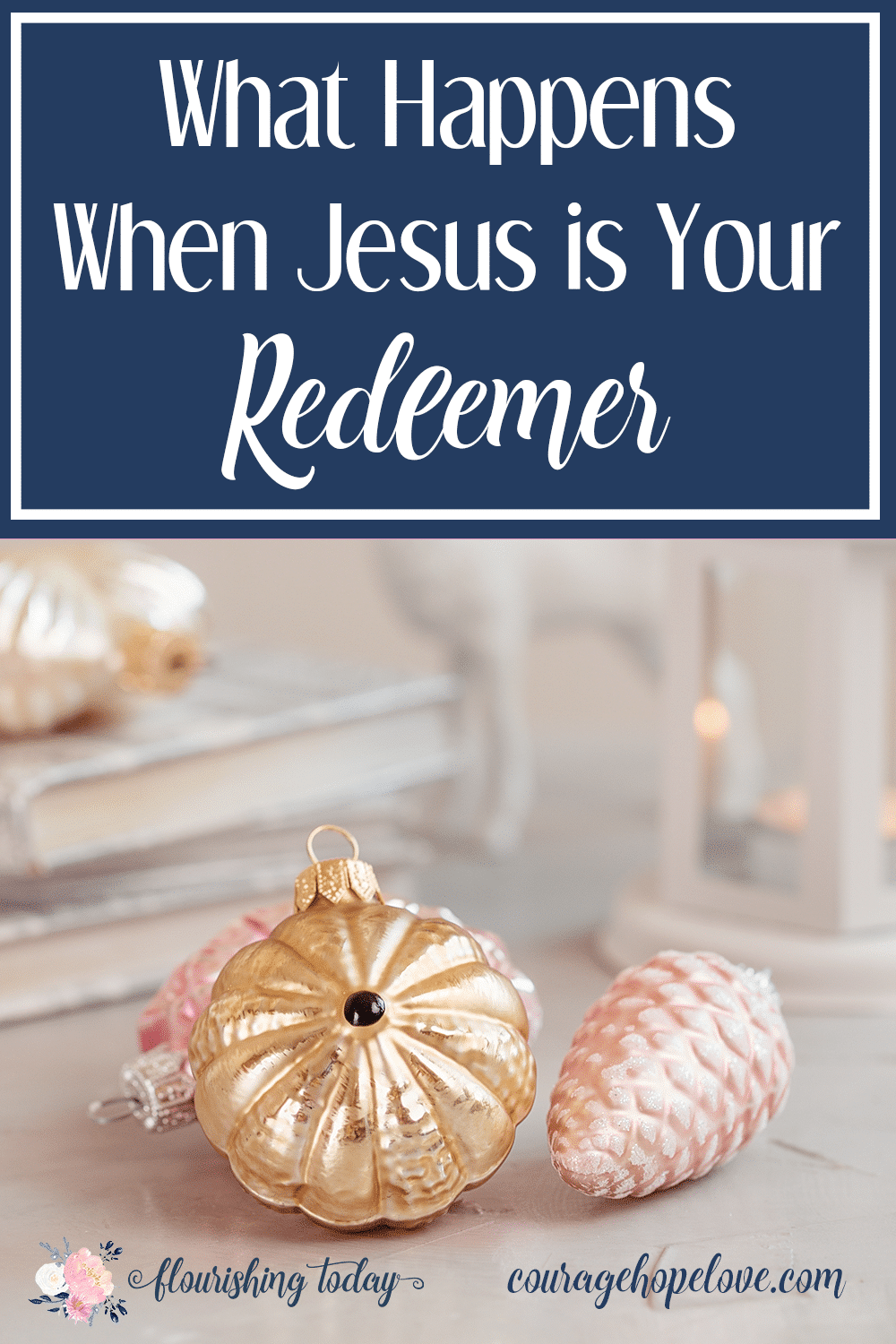 He is restoring every broken part of my life.
I've seen those around me wade through that same brokenness without the hope of redemption.
Without Christ's redeeming love in our life, we are left to carry the weight of our own sin – a weight we were never meant to carry.
So what does redemption mean?
Where there is hurt, God promises healing.
Where there is grief, God promises joy.
Where there is shame, God promises forgiveness.
Where there is regret, God promises a second chance.
Where there is despair, God promises hope.
Where there is longing, God promises fulfillment.
Where there is brokenness, God promises restoration.
What does it mean that Jesus is your redeemer?
It means that in every single broken part of your life, there is hope for healing.
No matter how far you've fallen or how deeply you've been hurt, you are being made new, redeemed.Click To Tweet
In the end, Christ will stand. He has won the victory and because of this we can take up that victory in our own lives.
He has made everything beautiful in its time. -Ecclesiastes 3:11
Take hold of this promise today. Christ has covered you. You are right now made holy and blameless in His love.
He will take every broken part of your life and make it beautiful when you take your hurts and turn to Him for redemption.
Where Are You Looking for Hope?
Are you looking to Christ for hope and healing in your hurts? Or are you looking to something else?
Take a moment to consider these questions with an open and honest heart:
Where do you go when you are hurting?
What do you do to relieve your stress?
What is it that makes you feel better in the middle of a struggle?
When you are struggling, you must turn your heart to what is good and pure in order to truly find hope.
I've struggled to take my hurts to Christ, but it always ends in more hurt and hopelessness. When I bring my pain to Him, I can cling to the promise and guarantee that He will restore what was broken.

About the Author:
Nicole Kauffman is a wife, blogger and passionate follower of Christ. Her blog, Courage. Hope. Love. was founded to encourage, inspire and guide Christians to deeper hope and joy in the Lord.  Nicole lives in Pennsylvania with her God-seeking husband and family. She is an aspiring author who loves to grow relationships, mentor, and explore the beauty of God's creation all around. She's hoping you will join her on Facebook, Instagram, and Pinterest.