When God is Bigger Than You Think
Do you ever limit God? Have you discounted certain dreams or ideas because you weren't skilled or qualified to do what is in your heart? There have been many times in my life where I have felt ill-equipped to accomplish what God has asked me to do. Where He was leading me was beyond my skill set, too uncomfortable and put me in a position of vulnerability. No one likes to be vulnerable, right? Yet that's what it takes to follow Jesus sometimes. Being open to the uncomfortable, stepping out blindly, relying on His strength and not our own to perform the tasks ahead. When we decide to fully surrender…. that's where our insecurity ends and His power begins.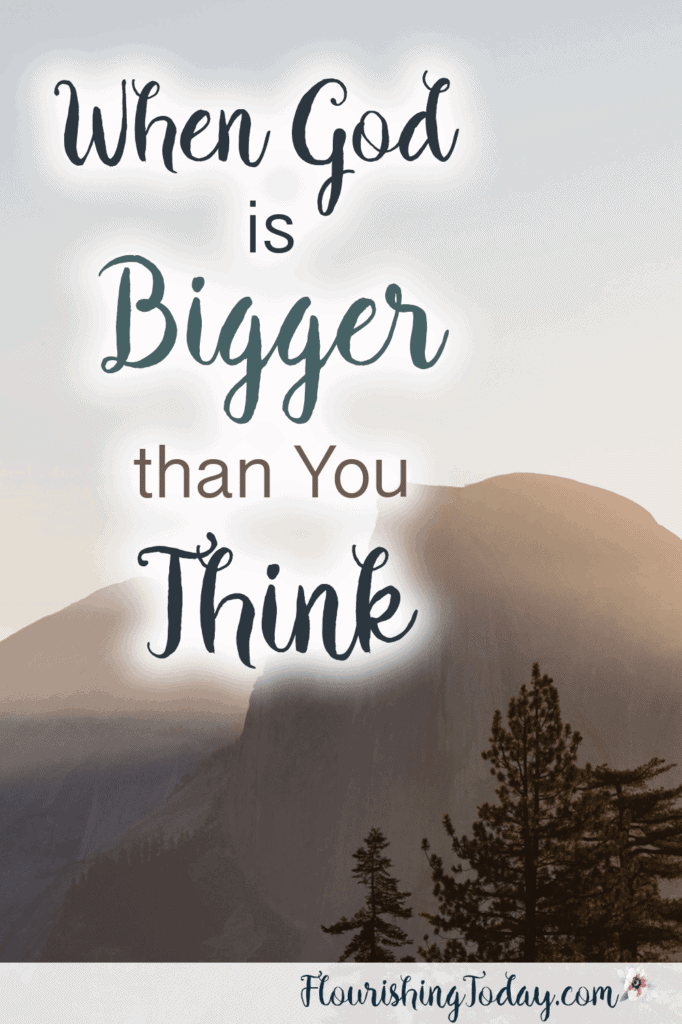 Several years ago (ok like 10) I felt God calling me to write. I've always enjoyed writing and journalling, but only for myself. I never thought about whether I was good at it or not, I just did it because I felt lead to do it. The issue of whether I was qualified to write never came up until God asked me to do it publicly. When I wrote for myself it was safe, tucked away for my eyes only. It was my thoughts and revelations of what God had shown me. I never considered sharing those with others. Until the day God prompted me to start a blog. A blog? I knew nothing, and I mean nothing about blogging. I didn't know where to begin, what was entailed and how much work would be involved in getting this thing going. The only thing I knew was to go to google. Because I love to research, I began investigating the topic and came across Michael Hyatt's invitation to start a blog. What a coincidence right?
Lesson 1:
God always equips us for what He's calling us to do, regardless of our skill set.
I clicked on the link, set up the blog and I even started a Facebook Community page for the blog. And that's where I remained for 4 years. I started the blog, but the writing part would have to wait. I wasn't convinced I was ready.  What if it wasn't good? What if nobody read it? What if I said something that wasn't scripturally accurate? These were real questions that plagued me. I knew the Word and what God had promised me. He would never leave me nor forsake me (Deuteronomy 31:6). He would equip me with everything good for doing His will (Hebrews 13:21). I knew these things, but something was preventing me from moving forward.
Lesson 2:
Fear seeks to hold you back, keep you in a place of complacency, preventing you from moving forward in God's will for your life.
During this time, my husband suggested that I get a life coach, because apparently I needed accountability. God knew what I needed in a husband. He is strong, outgoing, and fearless. When he sees a challenge, he faces it head on. We've all been given a certain measure of faith. I'm convinced my husband was given a double portion. He knows my weaknesses and one of them is stepping out of my comfort zone. He was not nonchalantly suggesting a coach. He knew it was what I needed.  The idea of having a coach was not appealing to me at first. If challenges arose, I didn't want someone to push me to do it! I wanted to stay in that place of comfort and enjoy a relaxing, peaceful life. Except the peace had gone. Have you ever noticed that when God calls you to do something and you stall, suddenly peace is nowhere to be found?
Lesson 3:
Invited accountability is a key factor that compels us towards our destiny.
As I began meeting week after week with Dianna, my new Coachwell life coach, I actually started looking forward to my meetings with her. She's an encourager, optimistic and loves life and wants others to experience God's best as well. The more I met with her the more I trusted her. About 3 months into our relationship, she threw this bomb on me, "I'm going on vacation and when I come back, I'm expecting to read your first blog post…posted on your website." Wait, what? Was she being serious? This is what I didn't want from coaching. This was the exact reason I was resisting accountability. After I complained a little and expressed my hesitation, she lovingly replied, "Alisa, you're ready. What are you waiting for?" She was right. I knew she was, but it didn't feel right. She was dragging me out of my place of comfort. I had a choice: I could kick and scream or I could go willingly, knowing God was with me. Of course, I chose to go willingly.
The truth is, God equips the called, He doesn't call the equipped. And when He equips the called, He surrounds them with people who can help them through. That's what He did for me. He used people in my life to encourage me that I could do it, when I didn't think I could. He reassured me…He's bigger than what I think. When I feel like I can't, He says, "But I can."
Are you holding back on a dream because you feel inadequate? Are you resisting God's call to step out because you're not sure what to expect? Friend, God has already laid the groundwork for you. He's gathered your helpers, planned the opportunities and He knows the end from the beginning. There's no place He's called you to that He hasn't already been. Your job…. trust Him. Know that He is bigger than you think.
Father, I thank you today for each person that you led to read this. God I pray that You are touching their hearts and bringing them into the greatness that You have for them. Show them Your goodness, Lord. Thank you, that You have equipped them to follow the dreams You have placed in their hearts. Help them to rise up and obey, Lord. Give them eyes to see beyond their fears and instead see You're hand at work in their lives. Bless them as they follow You. In Jesus name, Amen!