What to Do While You're Waiting for Breakthrough
Waiting. Barren. Dried up. Fruitless.
Every year was the same.
Going to corporate worship should have been a powerful, uplifting experience, but for Hannah it was more like a funeral procession.
Her dreams of having a child had been laid to rest.
She had spoken to God about this on numerous occasions, but the answer was always no.
At least that's what she thought she was hearing.
As if the shame of a barren womb were not enough, Peninnah (Elkanah's other wife) thought it appropriate to rub her nose in the humiliation. She taunted Hannah, showcasing her brood, while Hannah sat sulking over her lack of fertility.
Her husband didn't understand.
No one could identify with her pain of barrenness.
Why would God not open her womb? She knew He could, that's why she kept asking.
But she was tired.
She felt stuck in an unwanted situation with nowhere to turn.
She was ready to give up.
Have you ever felt like Hannah?
Are there barren places in your life that you've questioned God about?
Maybe it's not barrenness in your womb, but in your job or a relationship.
Is there an area that seems to be dried up and lifeless, unable to be resuscitated?
We all go through seasons of dry spells, but some of those periods can last way longer than expected.
What to do While You're Waiting for Breakthrough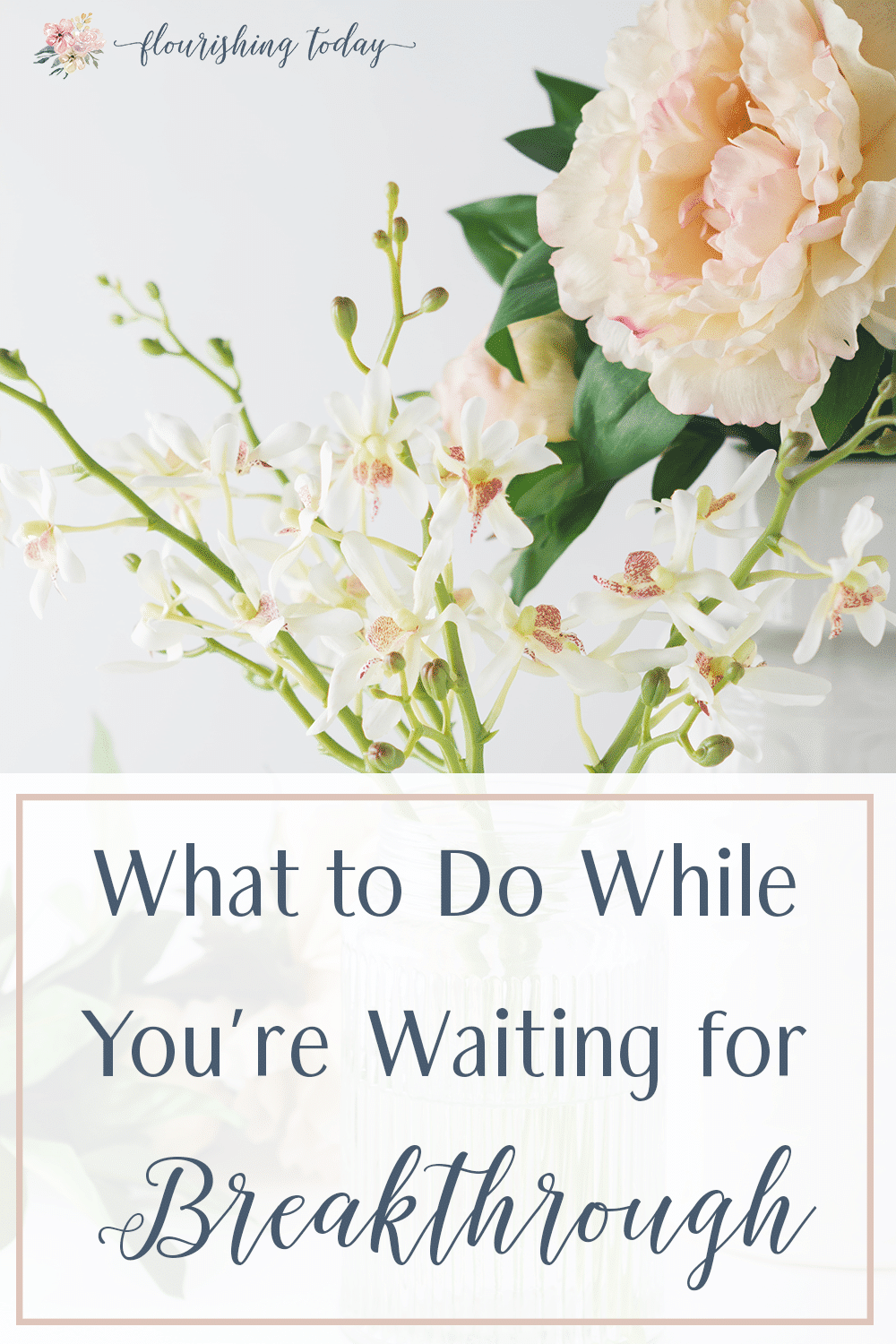 Don't Give Up- Regardless of Your Feelings
Hannah didn't want to go to the yearly worship ceremony. She had been going for years, having to put up with Peninnah making fun of her barrenness.
Why should she go again?
She'd been so many times before, with no avail.
Do you ever feel like giving up?
When the odds seemed stacked against us, many times we want to throw in the towel and say, "I quit!" We want to disconnect from others, hide in a hole and sulk over our losses. The endurance is too hard, the pain is too great and the emotional rollercoaster of getting our hopes up again has lead us to want to retreat.
Usually resistance is hardest right before the breakthrough.
BUT….We will reap a harvest if we just choose to not give up!
Just like Hannah we have an adversary who wants to prevent us from connecting with others and from worshipping in the presence of God. Just like with Hannah, there is a blessing God has for us on the other side of perseverance. If we choose to keep going, we will see it come to pass.
Spend Time with God
Hannah had spent lots of time in prayer over this situation.
She'd asked many times and still didn't receive the child she longed for.
Many times when we want something so intensely, we focus on that thing, rather than the Main Thing. We hold that dream as an idol rather than believing and applying the Word of God to it.
Hannah wanted an inheritance for her husband.
In her day it was considered to be a curse from God if a woman couldn't have babies. She probably felt like a failure, like she had done something to deserve it.
She wanted a son to carry on the family name.
Was that wrong?
Interestingly, this time Hannah comes to God with a new attitude and a different request. She vows to Him,
"O Lord of Heaven's Armies, if you will look upon my sorrow and answer my prayer and give me a son, then I will give him back to you. He will be yours for his entire lifetime, and a s a sign that he has been dedicated to the Lord his hair will never be cut." 1 Samuel 1:11
Hannah decided to take that dream that she had placed so high in her heart and lay it at the feet of God.
She had completely given it to Him.
Sometimes God is waiting on us to give Him our barren places—those things that we've squeezed the life out of because we've held onto them so tightly.
God doesn't want to bless our plans, He wants us to get in line with His plan.
His plan is always so much bigger than what we ask for. He wants us to surrender those barren places, so that He can fulfill His purpose for us.
Surround Yourself with Others
When we are walking through the barren places, spending time with others is key to refreshing our souls and helping us to press forward. Although Hannah probably didn't want to be around people, it was exactly what she needed.
It was after Eli's encouragement and spending time with God that Hannah was refreshed in her perspective. God uses others to encourage us.
Due to my somewhat introverted nature, I like more alone time than some people.
But there are times, especially during the hard ones, that I need to be surrounded by people who will lift me up.
Eli was that person for Hannah, telling her, "Go in peace! May the God of Israel grant the request you have asked of him." (1 Samuel 1:17)
At that moment, Hannah took his words and held them as hope.
She chose to believe.
When we are stuck in a rough season, we need others who will help us to see God's view for our situations, when we can't see it for ourselves. When the barren places seem dead and hopeless, God uses others to give us a glimpse of what those places could be–if we surrender them to Him.
What are you doing with the barren places in your life? Have you given up on them? Friends, God wants to take those dried up, fruitless places and resurrect them to a flourishing, thriving state. Although the waiting is hard, if we persevere, spend time in His presence and rely on others, we will surely see the hand of God move on our behalf.
Thank you Lord, that You never leave us where we are. You continually resurrect the places in our lives that we consider dead and withered. Father it's so hard to wait for the results we want. Help us to endure; send others to encourage us. Sustain us as we wait on Your timing. We trust You and Your purpose for our lives. We freely give you all of these places. In Jesus' name, Amen!