4 Simple Ways to Build a Strong Marriage
Are you searching for ways to build a strong marriage?
One of the most important relationships God has given us, is the one we share with our spouse.
It is also the one relationship I believe the enemy loves to target most.
I've seen it not just in other marriages, but in my own.
Almost 15 years ago, my husband and I were headed for divorce.
We were a wreck.
We had 2 small children, my father had died suddenly in a car accident (which caused all kinds of fears and anxiety in me) and we were both struggling to hold all of our responsibilities together.
Looking back, I can see how much the enemy tried to divide us.
We were in the trenches and ill prepared for the amount of warfare that takes place not just in life, but in marriage specifically.
Past hurts and brokenness lead us to make common mistakes:
We looked to one another to find fulfillment rather than seeking Jesus to fill us up.
Our hearts were focused on the temporal rather than the eternal.
We looked at what we could get from each other rather than what we could give.
Yet in the midst of a hurting marriage, God began to move. He began to mold us and change us.
As we began to follow Him, He began to heal us…individually and together.
Our marriage began to blossom.
Knowing how far God has brought us, we continue to invest in our marriage.
We want a solid foundation that will leave a legacy for our children and grandchildren.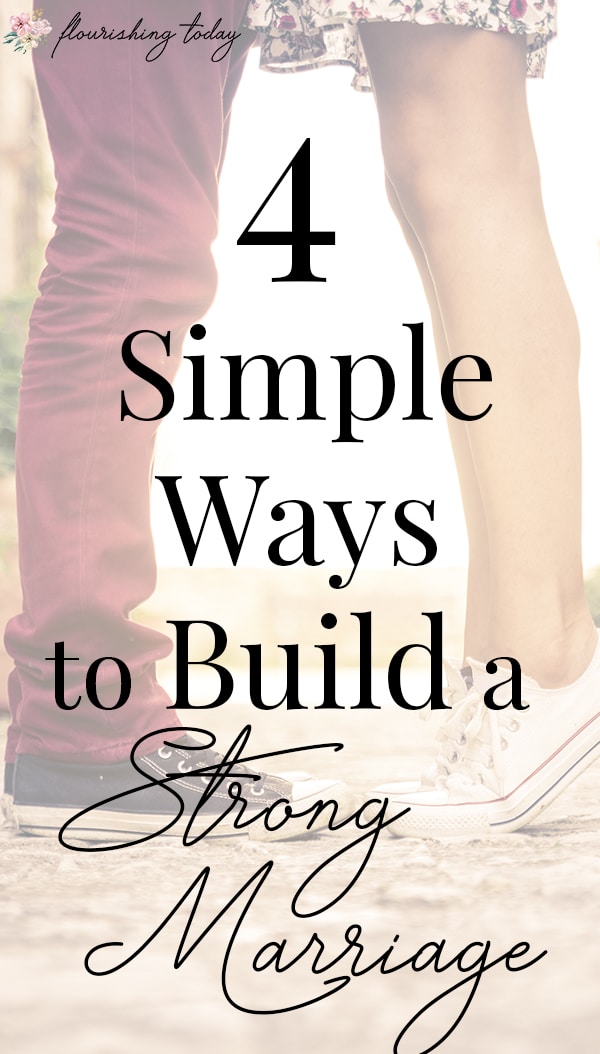 4 Simple Ways to Build a Strong Marriage
Pray for Your Husband
Do you pray for your husband?
I've always prayed for my husband on a casual basis. However, after attending a marriage conference a few years ago, I became equipped to pray powerful prayers to cover my husband every day.
Barb Rosberg, demonstrated a daily routine that opened my eyes to the simplicity and necessity of a daily prayer covering for my husband.
She explained that each day she would cover her husband in prayer from head to toe as she made his side of the bed.
As she fluffed his pillows she would pray that God would protect his mind, his eyes and his thoughts. Tucking in his sheets she would pray that God would guard his heart and keep his body in good health.
Pulling up the comforter she would pray God's grace over him and that his feet would go where God has ordained, walking in the fullness of God's purpose for him.
Incorporating this type of prayer into my daily routine has been one of the best investments in my marriage.
Confess God's Word
There is nothing more powerful than speaking God's Word over our marriage. When our words line up with God's Word, mountains are moved and seas are parted.
The tiny foxes that seek to destroy our marriage are exposed and rooted out.
God's Word is the most powerful weapon we have to build a strong marriage. Click to Tweet
Every day we can war on behalf of our marriage by confessing scriptures over it.
Here are a few to start with:
'For this reason a man will leave his father and mother and be united to his wife, and the two will become one flesh' So they are no longer two, but one flesh. Therefore what God has joined together, let no one separate." Matthew 19:5-6
Get rid of all bitterness, rage and anger, brawling and slander, along with every form of malice. Be kind and compassionate to one another, forgiving each other, just as in Christ God forgave you. Ephesians 4:31-32
then make my joy complete by being like-minded, having the same love, being one in spirit and of one mind. Philippians 2:2
You can even turn these scriptures into a prayer declaration:
Be Intentional with Connection
Several months ago, my coach and I were talking about how my husband and I could connect more in an intentional way.
With 5 kids in the house with different schedules, intentionality is crucial to actually getting to spend time together.
She shared how she and her husband make time for one another.
My husband and I like to travel together.
We take every opportunity to advance on some alone time that takes us away from home….even if it's a client's birthday party!
>>>>>>How do you and your spouse intentionally connect? Do you have a certain activity that you like to do together?<<<<<<
Know How Your Spouse is Wired
I can't tell you how important this is!
For years I would get frustrated with my husband, simply because I didn't understand how God has designed him.
I like a lot of down time, while my husband loves to be around people…..all the time.
It was our biggest source of disagreement for years.
But once we learned to appreciate each other's differences, we were able to adjust our expectations and compromise for one another.
>>>>>Do you know how your spouse is wired? If not, here's a short DISC TEST for them to take so that each of you can discover the way God designed you!<<<<<<
Pray with Your Husband
One of the things that we have learned at our church is the importance of praying together as a couple. God's word declares this:
For where two or three gather in my name, there am I with them. Matthew 18:20 NIV
When we gather with our husband, it isn't just two people gathering together, but the two are one flesh, believing God for the same thing!
When we come together in prayer with our spouse we begin to build a strong marriage based on solid foundation- God's Word.
We often want to pray with our spouses, but sometimes it can be awkward and we don't know how to actually do it.
Another take away we gathered from the conference with the Rosberg's was something called conversational prayer.
We simply hold hands and one of us begins. We pray what's on our heart and then we squeeze the other one's hand to signal that it is their turn. When they are finished, the other person goes again. We continue back and forth until we've gotten all of our prayer requests out.
My husband and I have thoroughly enjoyed this and it has provided structure for our prayer time together.
>>>>>Do you pray with your spouse? How can you set aside time each day to join together and pray?<<<<<<
To build a strong marriage, it takes intentionality and requires work. But when we put forth the effort, we begin to see the beauty that God designed for this perfect union.