10 Scriptures to Pray When You Need a Little Peace

Are you searching for a prayer for peace scripture to calm your heart and mind?
Peace is an interesting thing.
Many times we don't realize that it's there until it's not.
It's very clear when peace has left the room.
There are certain times of the month when peace tends to evade me. (You know those times!)
Molehills turn into mountains and peace sneaks right out the door as irritability and intolerance bulldoze in.
Last week was one of those times.
I had been running hard and neglecting rest. Last night it all came to a head when one little thing set me off. (Hormones have a way of doing that to a girl).
I screamed. I cried. And then I crumbled.
My sweet husband comforted me and spoke words of peace over me, and reminded me of who I am in Christ Jesus.
Sometimes, we need those reminders.
Whether it's hormones, relational battles, devastating circumstances, or just plain ol' bad days,
there are moments in life when we experience pressure that can wreak havoc on our emotions.
What can we do to mend our troubled hearts during those times?
How do we restore peace when it seems to be nowhere in sight?
Peace comes from the Prince of Peace Himself.
When I spend time in the Word, His truth begins to permeate every part of my being, bringing a peace that surpasses understanding.
As I woke up and sought God the next morning, I was encouraged by several bible verses for peace that spoke to my weary soul. But I didn't stop at just reading these beautiful promises. I began to declare them over my life and pray for the peace of God to fill me.
Do you need a little peace in your life? There's power when we #pray God's Word! #scripture #prayer #bibleverses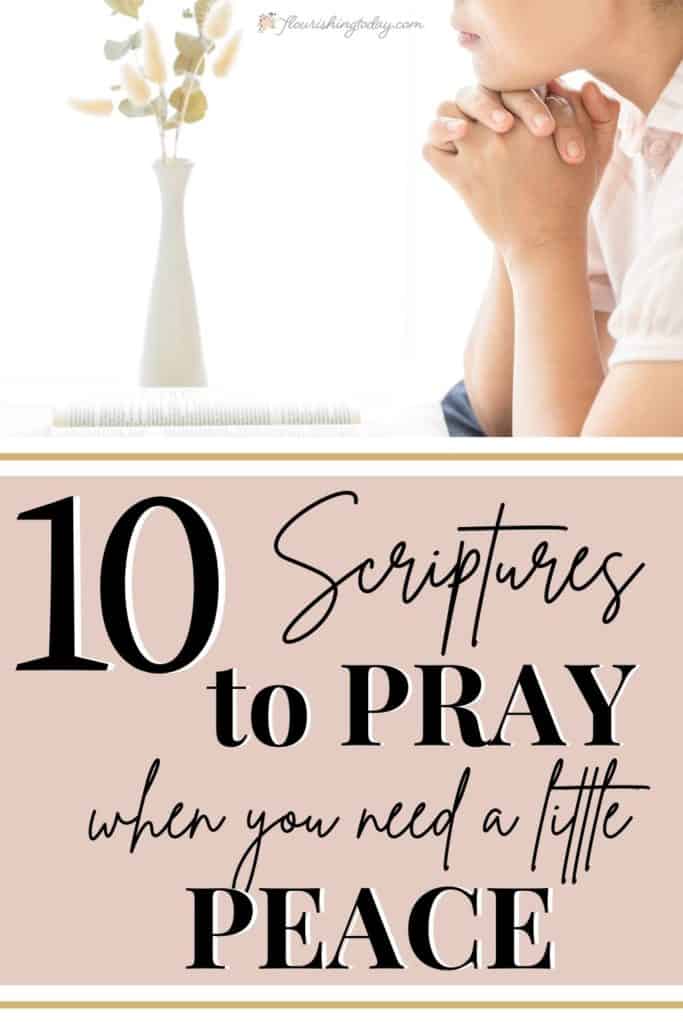 10 Scriptures for Peace to Pray over Your Life
The Lord will give strength to His people; The Lord will bless His people with peace.

Psalm 29:11 NKJV
Prayer for Peace Declaration:
Lord, thank You for Your promise to give me strength. I trust that You will provide it right when I need it. No matter what I'm feeling or what situation I am in, I can be confident that You will bless me with peace. You are the lord of peace. I refuse to let anything steal that peace, knowing that whatever comes my way, You have it under control. In Jesus' name Amen.
You will keep in perfect peace those whose minds are steadfast, because they trust in you.

Isaiah 26:3 NIV
Prayer Declaration for Peace of Mind:
Thank you, Lord, that I will have peace of mind as I stay focused on You. Help me to trust in You. Teach me Your promises, that I may cling to them in times of need. Let my mind meditate on the truth of Your Word rather than on feelings based on what I see in the natural. Let your peace reign in my heart and mind. Give me inner peace that the world cannot provide. In Jesus' name, Amen.
I've told you all this so that trusting me, you will be unshakable and assured, deeply at peace. In this godless world you will continue to experience difficulties. But take heart! (be of good cheer) I've conquered the world.

John 16:33 MSG (my emphasis added)
Prayer Declaration for Peace and Confidence in God:
Father, thank you that you are faithful. You are true to Your Word and trustworthy. As children of God, we can trust that you will take care of us regardless of what's going on in the world. When I begin to doubt, remind me of all You've done for me. I can be confident in all things because You have overcome every obstacle, including death. Thank You for Your perfect sacrifice, that gives me perfect peace. In Jesus' name, Amen.
Peace I leave with you; my peace I give you. I do not give to you as the world gives. Do not let your hearts be troubled and do not be afraid.

John 14:27 NIV
Prayer Declaration for Godly Peace:
Lord Jesus, thank You that your peace is not the same peace that the world gives. Your great peace calms any circumstance and is everlasting. I don't have to let my heart be troubled. When anxiety or fear begins to rise up, I can cast those feelings down, knowing that Your perfect peace prevails. Fill me afresh today with that peace. In Jesus' name, Amen.
May the God of hope fill you with all joy and peace in believing [through the experience of your faith] that by the power of the Holy Spirit you will abound in hope and overflow with confidence in His promises.

Romans 15:13 AMP
Prayer Declaration for Peace in God's Promises:
Dear God, thank You that I can be filled with joy and peace because of my hope in Your promises. Your Word is a lamp for my feet and a light for my path. It always leads me towards peace because you are the God of peace. Help me be diligent in reading it and meditating on it every day. In Jesus' name, Amen.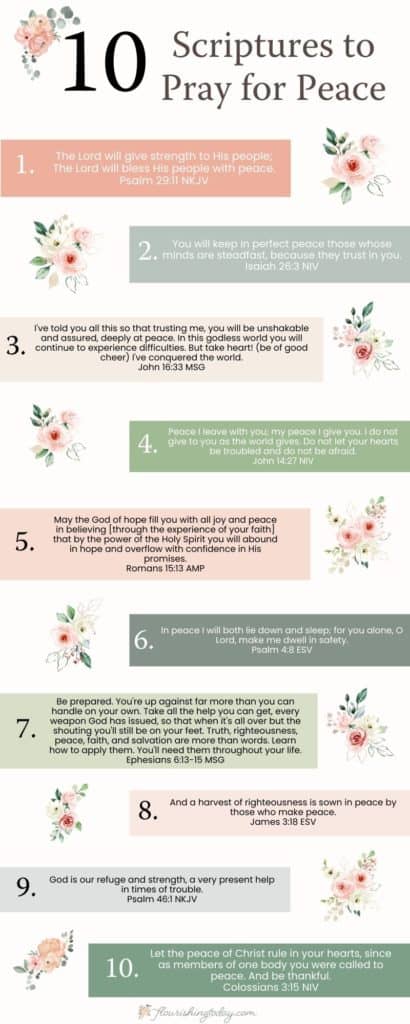 In peace I will both lie down and sleep; for you alone, O Lord, make me dwell in safety.

Psalm 4:8 ESV
Prayer Declaration for Peaceful Sleep:
Thank you, Everlasting Father, that You keep me safe and in perfect peace in the day and in the night….in the good times and in the bad. Worry and anxiety will not keep me up at night nor affect my sleep. I will be able to rest because I am confident in You and Your ability to protect me. In Jesus' name, Amen.
Be prepared. You're up against far more than you can handle on your own. Take all the help you can get, every weapon God has issued, so that when it's all over but the shouting you'll still be on your feet. Truth, righteousness, peace, faith, and salvation are more than words. Learn how to apply them. You'll need them throughout your life.

Ephesians 6:13-15 MSG
Prayer Declaration for Peace and Strength:
Thank you, Jesus, that You've given me everything I need to persevere in life. Thank you for the strength that You've given me today to battle anything that comes against me. I will put on the shoes of peace fueled by the Good News so that I am ready for whatever comes my way. No person or situation will be allowed to steal that peace from me. I will walk in forgiveness and grace today, allowing peace to flow in and through me. In Jesus' name, Amen.
And a harvest of righteousness is sown in peace by those who make peace.

James 3:18 ESV
Prayer Declaration to be a Peacemaker:
Dear Heavenly Father, fill me with peace that I may be a peacemaker to those around me. Let your light and your love shine brightly through me as I encounter others each day. Help me to seek you throughout every day and bask in your peace. In Jesus' name, Amen.
God is our refuge and strength, a very present help in times of trouble.

Psalm 46:1 NKJV
Prayer Declaration for Peace in Your Thoughts:
Dear Father, thank you that you are my strong tower. You are always there for me when I'm in need of your peace. Lord, lift my eyes from my situation and help me to keep them focused on you. When I walk through hard times, I pray that your abundant mercy and constant love would cover my anxious thoughts. Fill me with your true peace and remind me of the eternal life I have in you. In Jesus' name, Amen.
Let the peace of Christ rule in your hearts, since as members of one body you were called to peace. And be thankful.

Colossians 3:15 NIV
Prayer Declaration for Peace in your Relationships:
Dear Lord, thank you that I can have peace in my heart because of your sacrifice. Let that peace govern all my relationships and maintain the unity of the spirit in them. Help me not to rely on my own power but to draw from you when handling difficult relationships and circumstances. Give me a thankful heart and pour out the unfailing love you give me into others. Guide me by your Word and your truth in Jesus' name, Amen.
Do you declare god's word over your life? Friend, this is one of our most powerful weapons!
Peace is a fruit of the spirit, which means it comes from spending time with God.
The more time we spend with Him, the more we will see the fruit of God's peace growing in our lives.
What scriptures do you meditate on for peace?
Leave a comment below; I'd love to hear from you!
>>> Are you ready to have peace in your life?<<<
If you're in a place today where you are ready to have peace regardless of your circumstances but don't know where to begin, I want to invite you on a 31-day journey to finding peace with the Peace Bible Study Journal.

For a limited time, you get the PEACE Bible Study Workbook FREE when you purchase the PEACE Bible Study Journal! Simply add both products to your cart and enter code PEACEDEAL20 at checkout.
With this Bible Study Journal, you'll:
Gain a better understanding of Biblical peace is vs. worldly peace
Discover how you can have peace regardless of your circumstances
Dive deeper into scriptures on Peace to find out where peace comes from