15 Inspiring Bible Quotes for Hard Times
When we're going through hard times, it's easy to let our minds drift toward the negative.
We can have the tendency to turn inward and begin to question why we are going through the hardship and how we can get out of it.
However, rather than questioning why, which leads us into further frustration and inner turmoil, we can seek God's Word for truth and encouragement.
Here are 15 inspiring Bible quotes for hard times:
Fear Not; God will help you and protect you.
When we are going through hard times, we don't have to fear the outcome. God is with us and will protect us.
Fear not, for I am with you; be not dismayed, for I am your God; I will strengthen you, I will help you, I will uphold you with my righteous right hand.

Isaiah 41:10 ESV
You are not alone. God is with you!
When it feels like we are alone in our day of trouble, we can be sure that the God of all grace is with us! He will never leave us nor forsake us. He is the God of hope and will bring comfort to our weary souls.
Even though I walk through the valley of the shadow of death, I will fear no evil, for you are with me; your rod and your staff they comfort me.

Psalm 23:4 ESV
Our situation is temporary.
Although it may seem like our situations will last forever, the truth is….they won't. Nothing lasts forever. When my father passed away suddenly in a car accident years ago, I thought I would never get through the grief.
It took years for me not to cry on Father's Day.
However, as I sought the Word of God, counsel, and community, I began to heal. What seemed to be an eternity, finally came to a close.
Do I miss my dad? Of course! But the sting of his death has been replaced by the joy of the Lord. I know that we will greet each other again in heaven one day!
Yet what we suffer now is nothing compared to the glory he will reveal to us later.

Romans 8:18 NLT
For this light momentary affliction is preparing for us an eternal weight of glory beyond all comparison,

2 Corinthians 4:17 ESV
Be strong and courageous, in Him!
There have been so many times when I have felt weak, helpless, and alone in the midst of trials.
In 2006 I miscarried a child at 3 months pregnant. I felt like no one understood my pain and I felt completely out of control. I felt the opposite of strong and courageous.
Yet, God in all His goodness began to comfort me in the tough times. As I cried out to Him, He began to heal my broken heart.
He began to show me that my strength was found in Him. That I could do all things through Him….that included getting through this terrible loss.
"This is my command—be strong and courageous! Do not be afraid or discouraged. For the Lord your God is with you wherever you go."

Joshua 1:9 NLT
The hard times can produce good things.
In the midst of hard times, it can be difficult to see the good that can come out of it. But the Bible tells us that hard times can produce tremendous growth in us if we allow God to work.
My brethren, count it all joy when you fall into various trials, knowing that the testing of your faith produces patience. But let patience have its perfect work, that you may be perfect and complete, lacking nothing.

James 1:2-4 NKJV
Therefore, since we have been justified by faith, we have peace with God through our Lord Jesus Christ. Through him we have also obtained access by faith into this grace in which we stand, and we rejoice in hope of the glory of God. Not only that, but we rejoice in our sufferings, knowing that suffering produces endurance, and endurance produces character, and character produces hope, and hope does not put us to shame, because God's love has been poured into our hearts through the Holy Spirit who has been given to us.

Romans 5:1-5 ESV
Instead of worrying, pray and seek God.
Several years ago both of my sons moved out of the house within 3 weeks of each other. To say my momma heart was overwhelmed with sadness would be an understatement.
I mourned for my boys' newfound freedom.
I questioned their ability to handle such a cruel and dark world. As I read the Bible, God spoke directly, but lovingly to my situation.
He showed me that He loved my boys even more than I did, that He was their Father and would take care of them. I needed to let go of the worry, embrace prayer and worship, and celebrate the new chapter that was beginning. Eventually, I realized that this new season was a good thing. My relationship with my boys wasn't over, it was just changing into something new.
Don't fret or worry. Instead of worrying, pray. Let petitions and praises shape your worries into prayers, letting God know your concerns. Before you know it, a sense of God's wholeness, everything coming together for good, will come and settle you down. It's wonderful what happens when Christ displaces worry at the center of your life.

Philippians 4:6-7 MSG
We have the promises of God to declare in difficult times.
When we are going through difficult circumstances, we are not left defeated without hope. We have the promises of God that we can declare over our lives and situations. When we encounter a difficult situation we have to choose to stand on god's word and what He says about us and our situations.
For all of God's promises have been fulfilled in Christ with a resounding "Yes!" And through Christ, our "Amen" (which means "Yes") ascends to God for his glory.

2 Corinthians 1:20
God is your shield, protector, and encouragement. He will answer your cries to Him.
When we walk through difficult circumstances, we can often feel like we have to fight our battles alone. But friend, that is far from the truth!!
God is our shield, our protector, our strong tower, our hiding place in times of trouble, and He is faithful to defend, cover, and encourage us when we cry out to Him.
But you, O Lord, are a shield about me, my glory, and the lifter of my head. I cried aloud to the Lord, and he answered me from his holy hill.

Psalm 3:3-4 ESV
God is compassionate and will comfort you in times of trouble.
Many times when we experience hard times we go to people for comfort. That is not a bad thing. But we often forget that we have a Comforter who brings peace and rest like no other.
God cares about every detail of our lives. When we are going through difficulties, He longs for us to come close to Him so that He can comfort us. When we rest in His protection we will experience the peace of God that surpasses all understanding.
Praise be to the God and Father of our Lord Jesus Christ, the Father of compassion and the God of all comfort, who comforts us in all our troubles, so that we can comfort those in any trouble with the comfort we ourselves receive from God.

2 Corinthians 1:3-4 NIV
You have peace in Christ, stay close to Him.
It's easy for us to be distracted by our problems when we're going through hard times. Rather than draw closer to God, we can often begin to pull away. But Jesus clearly tells us that our peace is found in Him. The more we stay connected to Him, the more peace we will have.
"I have told you all this so that you may have peace in me. Here on earth you will have many trials and sorrows. But take heart, because I have overcome the world."

John 16:33 NLT
God has gone before you. He knows the end from the beginning and the beginning from the end.
Your current situation is no surprise to God. He knows and understands everything we go through. In fact, He even has gone before us and prepared the way for us. We can be confident that He will work out our situation for our good and His glory.
"It is the Lord who goes before you. He will be with you; he will not leave you or forsake you. Do not fear or be dismayed."

Deuteronomy 31:8 ESV
The Lord is your refuge, a safe place to hide, in times of trouble.
The Lord is our refuge and stronghold. What does that mean? A stronghold is a secure place people can go in the event of warfare. It is a solid, fortified structure that keeps the inhabitants safe and the enemies out.
Jesus is that place for us.
When we are experiencing hard times or warfare we can hide in Him, resting in His love for us, knowing He will take care of us. We can trust that He will be the stronghold of our lives.
The Lord is a refuge for the oppressed, a stronghold in times of trouble. Those who know your name trust in you, for you, Lord, have never forsaken those who seek you.

Psalm 9:9-10 NIV
Depend on the Lord's strength rather than your own.
Everyone goes through hard times, but when we trust in God rather than ourselves, we can be sure that He will show up in ways we never expected! When we call on the name of the Lord, we can be sure He will answer.
We don't want you in the dark, friends, about how hard it was when all this came down on us in Asia province. It was so bad we didn't think we were going to make it. We felt like we'd been sent to death row, that it was all over for us. As it turned out, it was the best thing that could have happened. Instead of trusting in our own strength or wits to get out of it, we were forced to trust God totally—not a bad idea since he's the God who raises the dead! And he did it, rescued us from certain doom. And he'll do it again, rescuing us as many times as we need rescuing.

2 Corinthians 1:8-10
Trust in the Lord.
We don't have to worry about what tomorrow will bring. The love of God covers us and He watches over us. We can trust in Him, knowing that He will take care of us in our time of need.
Trust in the Lord with all your heart and lean not on your own understanding; in all your ways submit to him, and he will make your paths straight.

Proverbs 3:5 NIV
You can hide in His Presence.
When we feel like the world is spinning out of control and we're overwhelmed by our circumstances, we can hide in God's Presence. As we fill our hearts and minds with praise and worship we enter into His Presence. And in His presence, there is fullness of joy (Psalm 16:11) and protection (Psalm 91).
He who dwells in the shelter of the Most High will abide in the shadow of the Almighty. I will say[a] to the Lord, "My refuge and my fortress, my God, in whom I trust."

Psalm 91:1-2 ESV
Friend, if you are going through hard times right now know this: God loves you. Let the power of the Holy Spirit fill afresh as you rely on Him to get you through. He is for you and will bring you through as you keep your eyes and mind set on Him.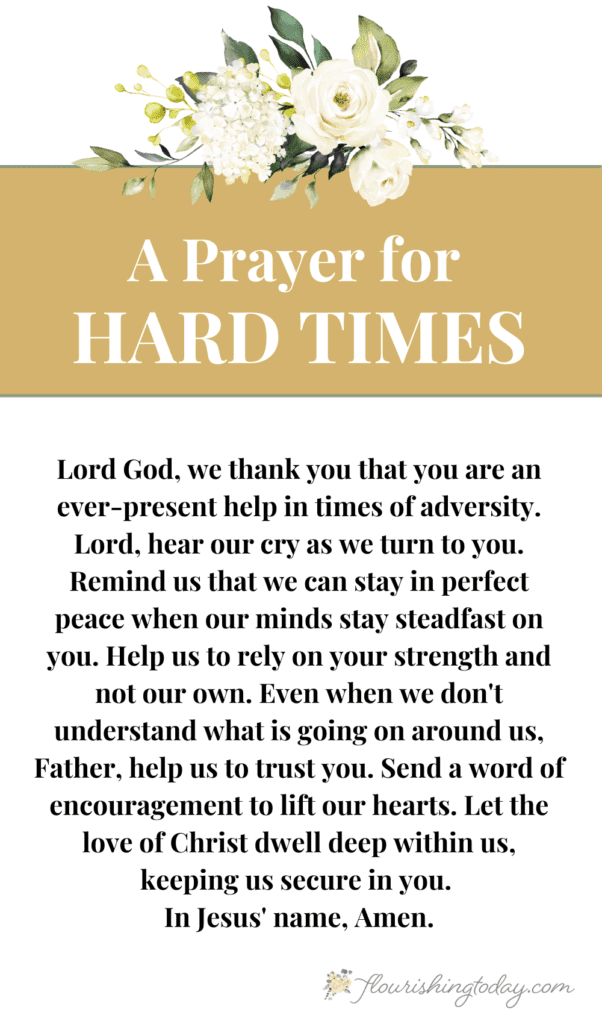 Can we pray together?
Lord God, we thank you that you are an ever-present help in times of adversity. Lord, hear our cry as we turn to you. Remind us that we can stay in perfect peace when our minds stay steadfast on you. Help us to rely on your strength and not our own. Even when we don't understand what is going on around us, Father, help us to trust you. Send a word of encouragement to lift our hearts. Let the love of Christ dwell deep within us, keeping us secure in you. In Jesus' name, Amen.