How to Love Your Neighbor as Yourself
Love your neighbor as yourself.
It's not the easiest commandment Jesus gave us.
Especially when you have 7 people under one roof!
Things get borrowed and not returned, sometimes new items get broken and other times, people just wake up in a bad mood. Regardless of our differences or situations, Jesus declares that loving our neighbor is just as important as loving God Himself. And if we have any question as to who our neighbor is, He makes His point very clear in the Story of the Good Samaritan.
God cares about how we treat others.
Sometimes it's easy to love those closest to us, while other times….not so much.
Recently one of my sons borrowed my tweezers. Let me start by saying, I like my stuff organized, and touching my possessions without permission is frowned upon in the Nicaud house. Another note worth mentioning is that I use these said tweezers to pluck my eyebrows. So you can imagine the horror when I saw my son trying to get a splinter out of his foot…. after he had been walking barefoot in the woods behind my house.
EWWWWWWW!!!
I would love to say my immediate response was to love this "neighbor" of mine and exude all the loving qualities mentioned in Ephesians 4:32.
However, something quite the opposite came out.
It may have begun something like this, "WHAT IN THE WORLD WERE YOU THINKING???????"
Of course, my tone said it all.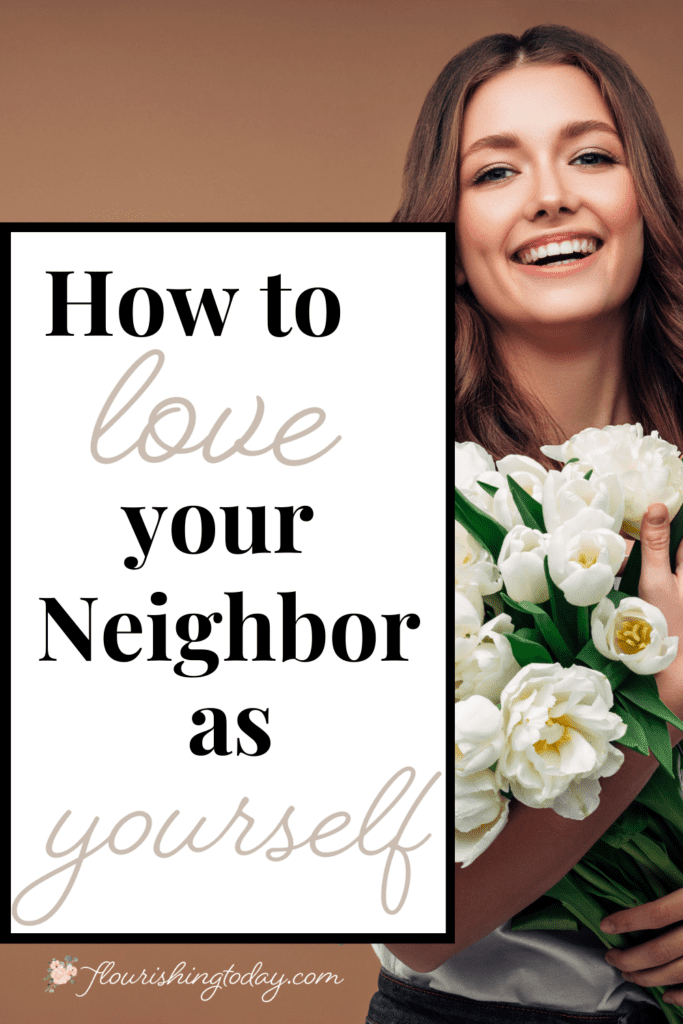 How to Love Your Neighbor as Yourself
After ranting and raving and making him understand how I really felt about his actions, I went into my room to sulk. Not because of how I behaved, that would come a few minutes later. No, my pity party was thriving because I now I had to go to the store for the umpteenth time and buy another $2.00 pair of tweezers.
Looking back, that was probably just a little selfish (ok, a lot!) and blown way out of proportion.
After all, it's just tweezers, right?
I'm guessing this is what Peter was referring to when he asked Jesus, "Lord, how often should I forgive someone who sins against me? Seven times?" (Matthew 18:21)
Clearly, someone had been taking his stuff!
While replaying the situation over in my head, I thought, What could I have done to be more loving? How can I respond differently the next time someone trespasses on my territory and chooses to nab one of my beloved items?
One important lesson that came to mind was: Think before I speak.
Doing this allows me to go through a process of questions to determine if my response is going to be godly or fleshy.
I could ask myself…what would Jesus do? Really. Would he have yelled at someone who stole his $2.00 tweezers? Probably not. Most likely He would have offered to get the splinter out for him.
Would he have thrown a temper tantrum because He had to go to the store to buy another pair? Again, probably not. Most likely He would have chalked it up as a sacrifice made to help someone in need.
That's what needs to change in me. My perspective of violations.
Rather than immediately seeing my hurt, perhaps I could see their need.
Definitely easier said than done!
God in all His wisdom, knew that relationships would be hard. He knew what He was asking us to do would not come naturally to us.
I believe He designed it that way.
If it's not easy in our flesh, we have to rely on Him to accomplish it.
The richness of our relationship with God will directly determine the quality of our relationship with others.
The more time we spend with Him in all his perfection, the more tolerant we'll be with others in all their imperfections.
Looking for some love your neighbor verses? Here are a few to read and memorize:
Galatians 5:14
Romans 13:8-10
Mark 12:31
Luke 6:27
Matthew 22:37-40
James 2:8