3 Practical Ways to Lay Down Your Burdens
Does life seem overwhelming and stressful lately?
Do you feel overcome by worries and frustrations to the point of exhaustion?
I think we often find it hard to lay down our burdens.
We tend to bottle them up and "keep it all together" for the sake of those around us.
Yet eventually, we become worn down, burned out and exhausted.
Over the past few months things have kicked into overdrive at our house.
With 2 kids birthdays, missions trips, college applications, work deadlines and homeschooling, I've been feeling the stress building up.
[bctt tweet="Life can quickly become stressful if we don't have a way to cope with all the responsibilities." username="Alisa_Nicaud"]
So what can we do?
This weekend at church I was reminded that we don't have to stay stuck in our hard situations.
We have a Friend and Advocate who longs to spend time with us and care for our weary souls.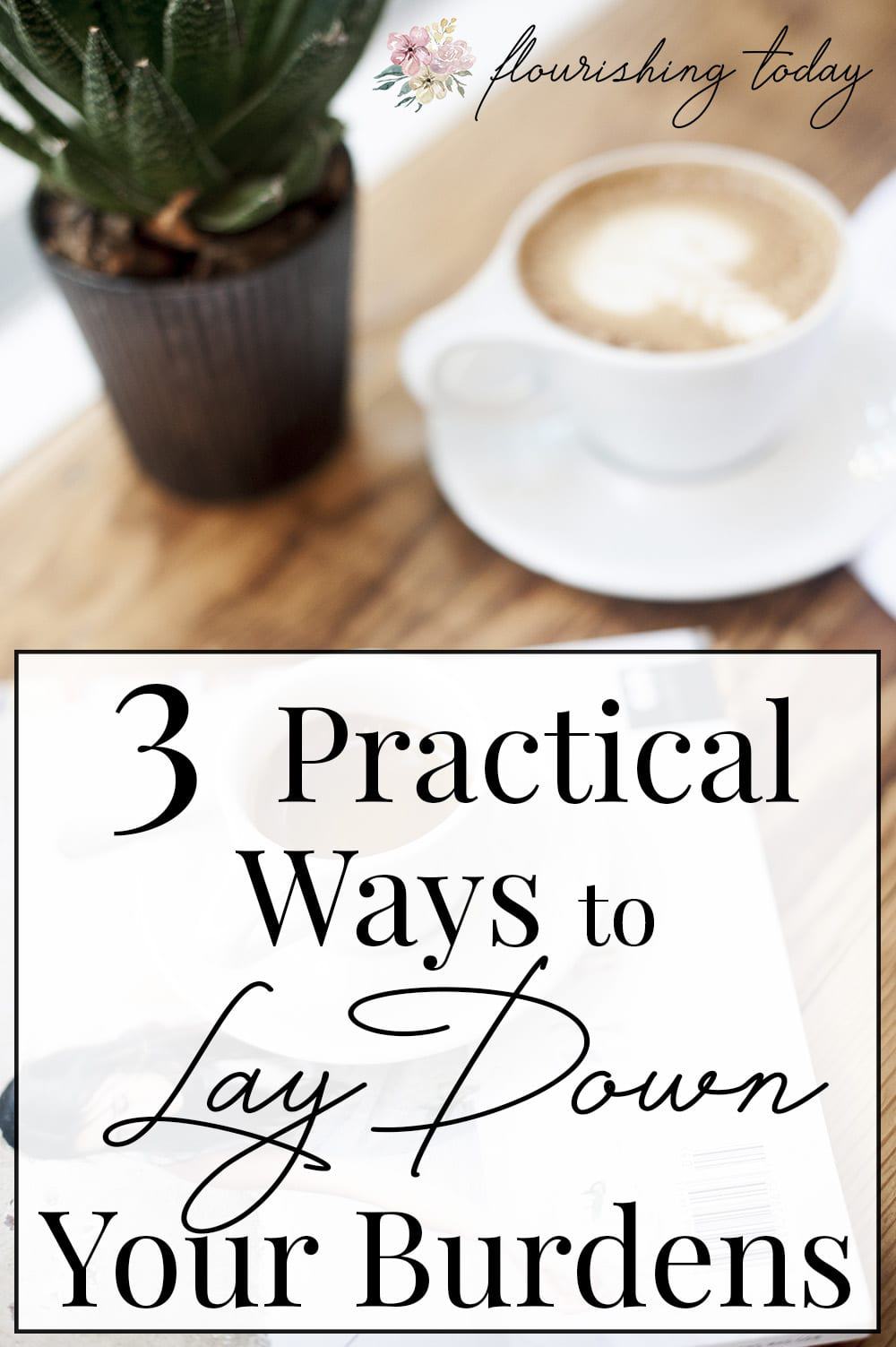 3 Practical Ways to Lay Down Your Burdens
"Come to me, all you who are weary and burdened, and I will give you rest. Take my yoke upon you and learn from me, for I am gentle and humble in heart, and you will find rest for your souls. For my yoke is easy and my burden is light." Matthew 11:28-30 NIV
Go to Jesus
When we're overwhelmed by burdens, Jesus tells us to come to Him. This may sound like a simple task, but I've found that bringing my burdens to Him is NOT my first instinct.
Usually what I feel like doing is vegging out on my sofa with a Hallmark movie or a good book.
Anything to break away from the heaviness of real life. (And we do need intentional breaks!)
But the real source of my rest isn't found in movies or books.
These are just temporary fixes for an exhausted soul.
In this scripture, we find Jesus beckoning us to Himself, because there we find true rest.
In Him we find the kind of rest that surpasses understanding…..it doesn't make sense to the world around us.
When we cast all of our anxiety on Him, we walk away feeling refreshed. (1 Peter 5:7)
He pours out His peace and gives us hope for a better tomorrow.
Take His Yoke
Have you ever tried carrying your burdens alone? If not, I can confidently tell you from experience that it's not easy.
It's lonely in isolation. Yet, numerous times I've found myself in seclusion when things got hard.
It wasn't because I didn't have friends, but because I wouldn't let them in.
Past hurts prevented me from relying on God and others to help me out of the pits.
I love the invitation Jesus gives us in this passage.
He tells us to take on His yoke, meaning He wants to share in our burdens.
Can you even fathom that?
It's hard to imagine that the King of kings wants to relate with us in such an intimate way.
I remember years ago God whispering to me about the hurtful times in my life.
He said, "When you cried, I cried."
His love is so genuine. He cares so deeply for us.
As we lay down our burdens to Him, He offers us something sweeter in return….a lightening of our load, a sense of peace and tranquility.
When we lean on Him, we allow Him to take the weight of our circumstances.
We can trust Him to be faithful to listen and answer when we call.
Glean from Him
One of the most rewarding things we can receive from Jesus when we lay down our burdens to Him, is the opportunity to learn and glean from Him.
When times get tough and I begin to get stressed, I don't always respond in the best way.
Usually when that happens, I end up more stressed out because I've caused friction with someone dear to me.
Coming to Jesus first allows us time to not only process the worries and burdens with Him, but also to gain wisdom on how to respond to others in our depleted state.
I can honestly say that when I'm in an exhausted state, I need Jesus more than ever.
What about you?
What is your first response to stress and heavy burdens? Do you isolate, lash out or check out?
This week as I came across a post that spoke to my heart about this very topic. Rebekah Beene shared a post t that opened my eyes to some burdens that I've been carrying.
She encouraged us with this:
God wants you to know this morning that it's time to get the weight of the world off your shoulders. The weight of other peoples mistakes, the weight of compromise, the weight of worry, fear, dread, regret and all those burdens. Your burden may look different from another woman's but it's weighing you down and God wants to relieve you.
God doesn't want us weighed down by life. He died so we would be set free. Our job in this moment is to lay those burdens down at His feet, so He can take care of the rest.