How to Restore the Love in your Marriage
One thing I've found in ministering to women standing for their marriage is that we often misunderstand love.
I've heard from women who talk about "not feeling in love," and women who say, "He just doesn't love me anymore."
How will we grow old together when we don't feel loved?
Perhaps you married because you felt "in love" and assumed the feelings would last.
But what happened after a few months, or maybe a year, when things started to change?
He didn't respond the same way any more, or you reverted to getting frustrated too easily.
He forgot to take the trash out and you felt frustrated. You stopped speaking nicely to him and he got upset easily.
Where's the love?
Restore the Love in Your Marriage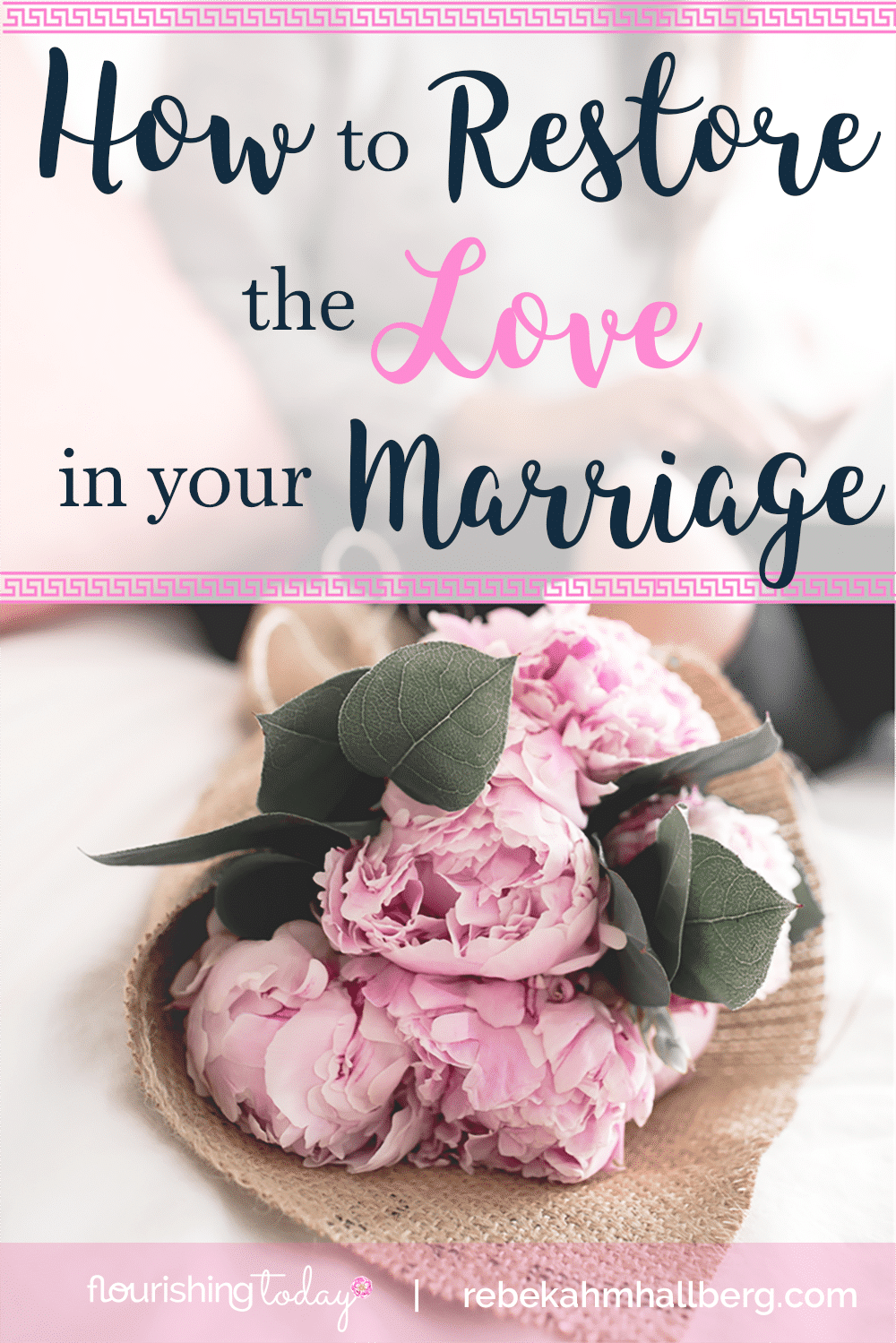 What Language Do You Speak?
One of my very favorite resources for married couples is Dr. Gary Chapman's book, "The 5 Love Languages: The Secret to Love That Lasts". This book really changed my approach to understanding love (and communication!) in my marriage.
Through an easy self-assessment, you find your own love language. I think I've taken the test at least three times now, and I score almost the same every time. I understand love through Quality Time, with Physical Touch being a very close second.
My husband, on the other hand, understands love through Word of Affirmation. He consistently scores significantly lower in all of the other four love languages.
We often "miss" in helping the other feel loved simply because we're operating out of our own love language.
I go full speed ahead through my day, rattle off my to-do list, and remind everyone of their tasks.
Meanwhile, my husband is feeling more dejected with each word I utter.
I try to ask what's wrong, encouraging him to share his feelings.
Nothing.
Fortunately, he's kind enough that he doesn't say, "You're continuously putting me down."
He putters around many evenings, getting a lot of things done.
I want him to just spend some time with me, but he's too busy.
The truth is, he would drop everything and come hang out – if I asked him to.
The problem is, I feel frustrated because I feel like he doesn't want to spend time with me.
Can you see how getting stuck in these ruts for long periods of time, coupled with any other issues in our marriage, could lead to a lack of feeling loved?
How to Understand Love
Once you and your spouse know your love languages, things get a little easier.
Not only does The 5 Love Languages help you figure out how you feel loved, it also provides tips on how to express love in each of the love languages!
This was huge for me, personally, because I operate out of a place of trying to make his life as easy as possible.
But it often comes across to him in a way that makes him feel like he messed up, or that I don't value him.
Nothing could be farther from the truth!
It seems that just a small tweak in how I speak to my husband can make all the difference. I tend to say things like, "Oh, it's Sunday – don't forget to take out the trash." Or, "You can drop the library books off on your way home since it's on your way."
I hear helpful, he hears hurtful.
When I say, "If it makes things simpler, you could probably drop the library books off on your way home," he hears me being helpful.
It's such a small tweak in how I speak, but it makes a world of difference for him.
The same is true for things around the house.
Rather than constantly making a list of things I need done, I've started thanking him for things he already does.
Affirmation goes a long way to helping him feel loved!
I had to share my frustration with my husband that he constantly does things around the house at night, rather than spend time with me.
His response was so simple, so heartfelt.
"If you wanted to spend time together, why didn't you ask?"
Ladies, our men are not mind-readers!
As much as we'd like them to be, they just aren't.
Once he understood that I needed time together, we were able to work out a schedule for us both to get everything done so that we could have some evenings to work on projects and some evenings to just spend time together.
Don't Give Up!
Armed with the helpful tips in this book, my husband and I learned how to love – and understand love – better. Because we were committed to our marriage, we took these tips to heart.
When we got stuck in a rut, giving up seemed an easy option. My husband and I really loved each other, though, and wanted to make things work.
I'd encourage you to learn each other's love languages and put them into practice. Be willing to understand how your spouse feels loved and tweak your words and actions to meet that need – you'll be glad you did!
About the Author:
Rebekah has been completely overwhelmed by the grace and mercy of the Lord in her life. He has proven His faithfulness in every area of her life, especially in her marriage. She has come to understand the power of redemption and God's work in her own marriage. Her goal is to be Sharing Redemption's Stories – encouraging wives who are praying for redemption in their marriage.
You can connect with her on: Facebook | Twitter | Pinterest | Instagram