How to Give the Gift of Forgiveness this Christmas
Then Peter came and said to Him, Lord, how often shall my brother sin against me and I forgive him? Up to seven times? Jesus said to him, I do not say to you, up to seven times, but up to seventy times seven. Matthew 18:21 NLT
Make allowance for each others faults, and forgive anyone who offends you. Remember, the Lord forgave you, so you must forgive others. Colossians 3:13 NLT
Have you ever been in a room where you could feel the tension between two people?
I know I have.
I've also been the person caught up in that tension.
During the holidays there are many opportunities for us to see people that we have an unsettled history with. People we haven't forgiven or maybe people who haven't forgiven us. Most of the time, it's just not easy. We would rather suppress the feelings year after year, than put forth the effort to mend the relationship.
Several years ago, I experienced this first hand.
I avoided the person at all cost….until the holidays. When I knew we would be going to their house, my attitude would turn lousy. My stomach would churn just thinking about having to go.
But it didn't stop there.
As the seed of unforgiveness continued to grow, even the mention of the person's name made me uncomfortable. You see, unforgiveness doesn't stay in seed form. Each year that I let the unforgiveness fester, it grew. It grew into something more powerful called bitterness.
Now I'm not saying that I didn't have a reason to be hurt by this person. There were countless offenses… that I chose to take.
It's called taking offense, because we have to take it for it to have power. Click to Tweet
In this case, I chose to take the offense instead of forgiving the person. I did eventually forgive them, but not by my own strength.
When there is a deep hurt, we have to rely on the Spirit of God to help us extend the gift of forgiveness.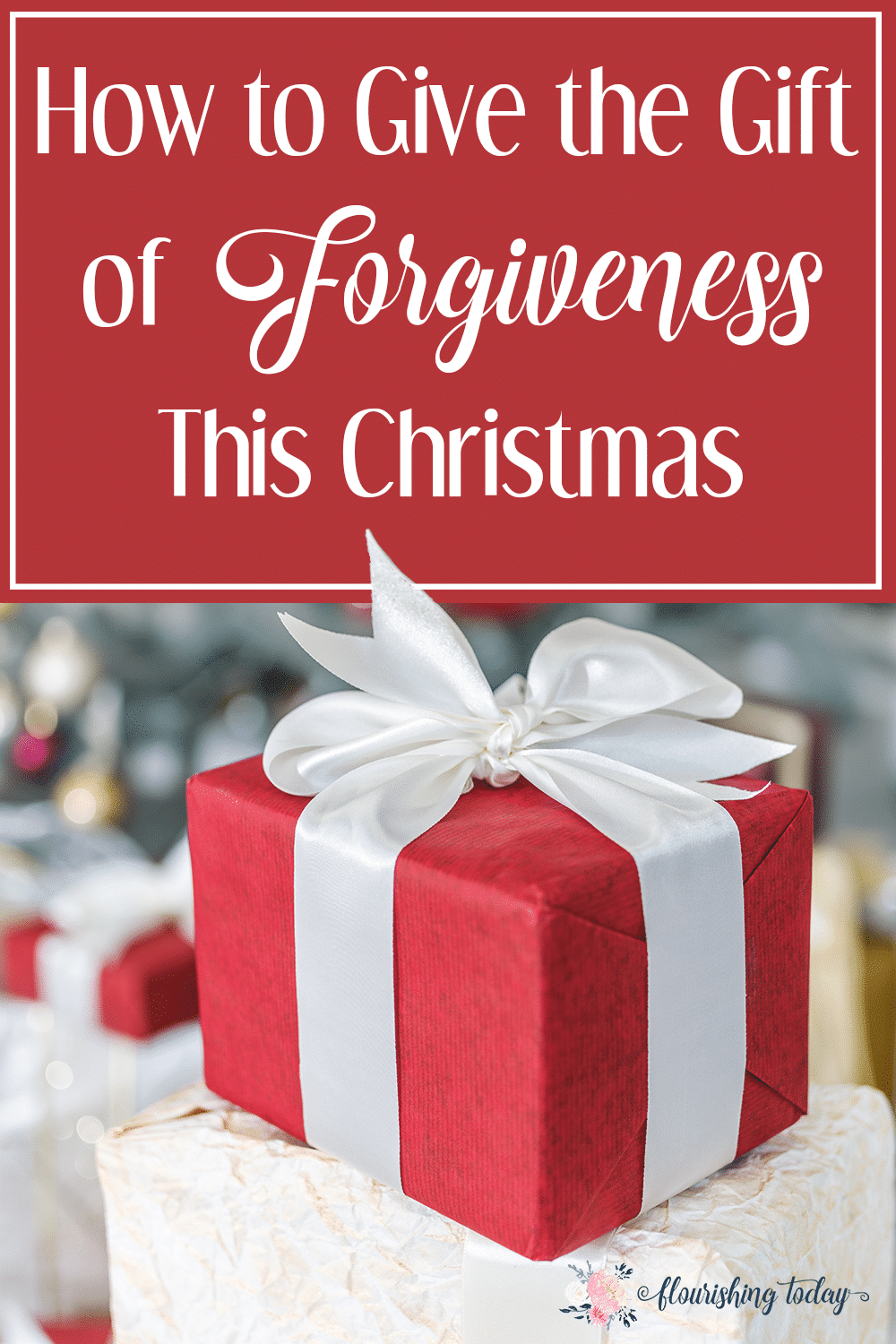 There were practical things I did as well.
Whenever I thought of the person, I would immediately pray for them and ask God to bless them and their family.
I had to refuse to keep the offense.
I realized that hurting people hurt others.
When I looked back at this person's past relationships, I was able to see the hurt they had experienced.
It was no longer about what they had done to me.
We never know what people are going through. God will help us to see them the way He sees them, if we ask. The truth is, I have been forgiven. Knowing how much I have been forgiven helps me to forgive others more freely. I've learned this about relationships: We have to create space for other people's faults. We need to draw mercy from the same well that we receive mercy from…. Christ.
Practical Tips for Giving the Gift of Forgiveness this Christmas:
Forgiveness
Who can you give the gift of forgiveness to? Is there someone who has hurt you that you need to forgive? Make a conscience choice to forgive them and ask God to bless them~ Buy them a small gift that will express you have brought closure to the issue and you no longer hold a grudge against them.
Check Our Hearts
We are given the opportunity daily to be offended by someone. Each day we can check our hearts and ask God if there is anyone that we need to forgive. (Psalm 139:23-24)
Pray
We need to pray for those that offend us. Ask God to bless them every time we think of them or see them. We can't change people, but God can. Your prayers are powerful-( James 5:16)
Prayer
Lord, we come to you today thankful you have forgiven us. We are grateful for the sacrifice of your Son, who cleansed us of all of our sins. Father today, we ask you to show us if there is anyone we need to forgive. Help us to forgive them as you freely forgave us. Lord help us to have mercy on others and see them as you see them. In Jesus' name, Amen.