Experiencing Joy in Your World this Christmas
I will be filled with joy because of you. I will sing praises to your name, O Most High. Psalm 9:2 NLT
Joy to the world, the Lord is come!
Let earth receive her King;
Let every heart prepare Him room,
And Heaven and nature sing…
(excerpt from Joy to the World by Isaac Watts)
While out shopping with my girls a few days ago, we decided to turn on Christmas music to create a festive environment. As we heard song after song, I felt the Christmas cheer rising up within me. Many of the songs, we didn't know.
And then, Joy to the World came on.
I told my girls, "Wait, I know this one!" I have heard and sang the song dozens of times. But this time was different. This time I actually listened to the words. My eyes welled up with tears.
Joy to the world, The Lord is come!
What a beautiful picture of why we are celebrating Christmas. Joy has come to the earth and it has come through Jesus. We have a wonderful reason to celebrate, not just during Christmas, but all year. Our Lord has come, to bind up the brokenhearted, to proclaim freedom for the captives and give freedom to the prisoners. (Isaiah 61:1) We now prepare our hearts to receive Him, which is what we've been doing the past 17 days….through thankfulness, forgiveness, praise, and contentment.
As I sat listening to the song, I realized….
[bctt tweet="Christmas cheer brings us happiness for a moment, but joy lasts into eternity." username="Alisa_Nicaud"]
Happiness is an emotion that comes and goes depending on our circumstances, while Joy is contentment in the midst of our circumstances, regardless of what they are.
It is found in Christ alone.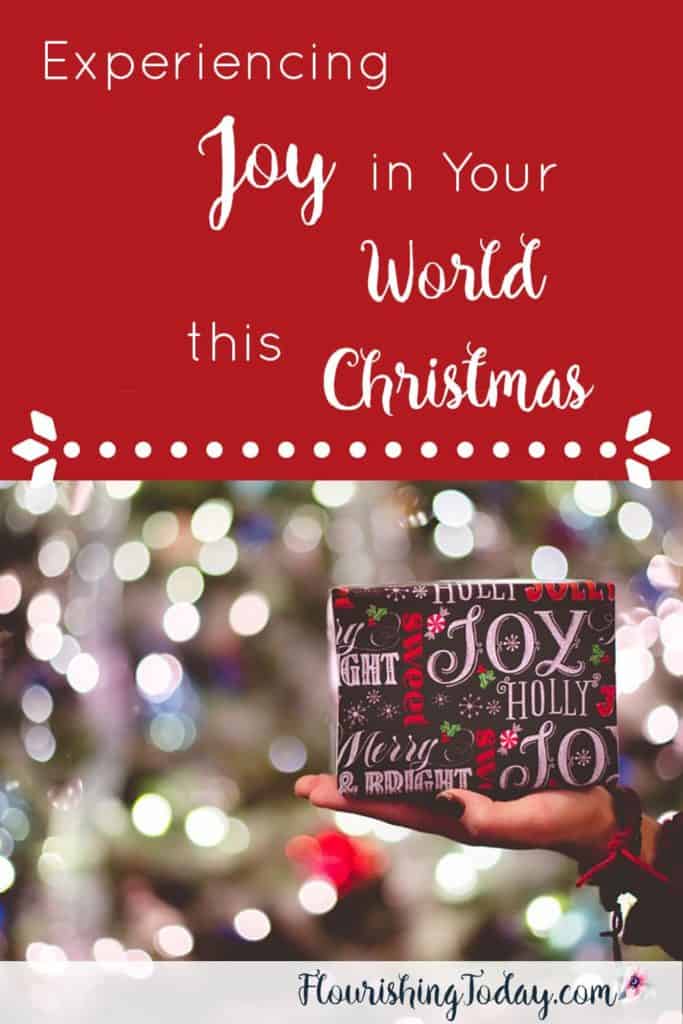 When we stay close to Him, we see things through His perspective. We can be joyful and confident not in ourselves or our situations, but in who He is. He is Jehovah Jireh, our provider, Jehovah Shalom, our peace and Jehovah Raphe, our healer. Everything comes from him; Everything happens through him; Everything ends up in him. (Romans 11:36 MSG). Our joy comes in knowing Christ has already brought us victory in every area.
Practical Tips for Experiencing Joy in Your World this Christmas :
Reflect on the goodness of God in your past– When we look back to what God has done in the past, it gives us encouragement for our present situations. Joy begins to fill our hearts as we meditate on God's past provisions.
Find contentment in your present– There are times when we can become discontent with where we are in life. I encourage you today to embrace where you are. Many times God brings us to these places, so we can rely on Him. Jot down a list of a few things that you are grateful for. As you begin to write them down , you will be surprised at the amount of things you come up with.
See victory in your future– Jesus has already won the victory for us! That is great news! That means whatever arises, Jesus has already conquered it. Whatever we need, He has the answer. We don't have to worry about tomorrow, because He has already taken care of it! This is a great song that tells of His victory.
Prayer
Lord, we rejoice in you! We stand in awe of who you are and what you do for your people. Fill us with your peace, your joy and your grace this Christmas. Help us to be lights in our communities as your joy shines through us. In Jesus' name, Amen.
This post is part of a 25 days series. You can gain access to the rest of the series (and some additional resources) by signing up below: