When You Need to Trust Jesus as Your Advocate
"My dear children, I write this to you so that you will not sin. But if anybody does sin, we have an advocate with the Father—Jesus Christ, the Righteous One. He is the atoning sacrifice for our sins, and not only for ours but also for the sins of the whole world."

1 John 2:1-2
The pale blue sky was a blank canvas that day. Nothing dared to move. As I looked out my window, the trees stood so still, as if they were scared to sway even an inch. As if, everything in nature knew the fierceness in which I prayed.
I sat. For several hours I sat. Staring out that window. Sobbing. Trying to hush the pain and tears that overwhelmed my heart and soul.
The words slung my way, like ammo in a mud fight, splattered everywhere, and stung deeply to my core. What a mess I had to clean up!
Materially speaking, I'd lost everything due to the decisions of another person. I'd been called names no one deserves to have spoken over them.
I was made to feel like I was nothing and was definitely not enough. The one person who had sworn to always stand beside me was now leaving.
And I was left to figure out how to clean up what looked like the aftermath of a tornado in our lives.
Who do you turn to when you find yourself being battered, bruised, and falsely accused?
Jesus the Advocate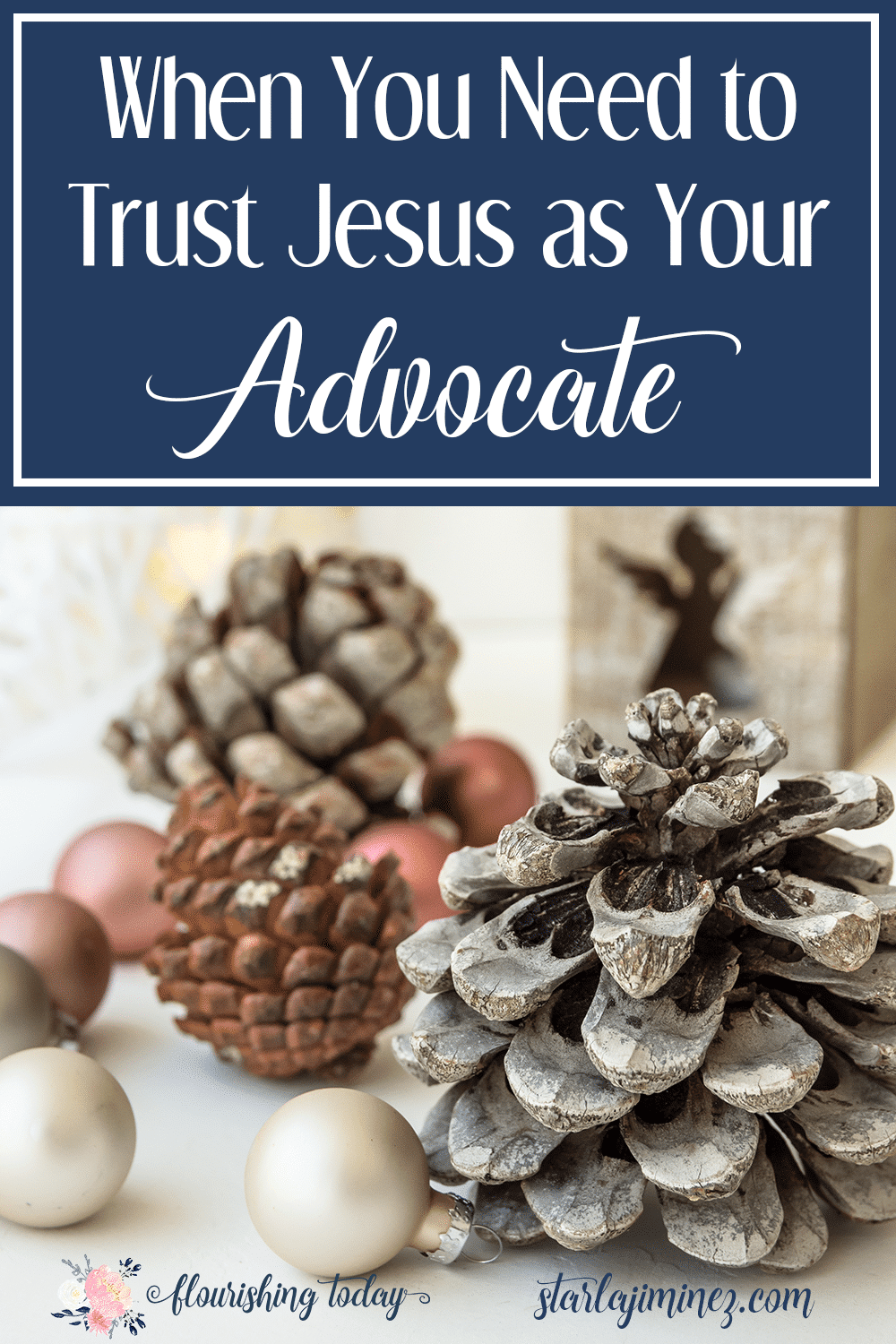 "Who then is the one who condemns? No one. Christ Jesus who died–more than that, who was raised to life–is at the right hand of God and is also interceding for us." Romans 8:34
An advocate was just what I needed and I prayed fiercely to Him!
Advocate means: one who pleads the cause of another. Do you know Jesus as your Advocate?
There is something so comforting about knowing that Jesus, our Savior, sits at the right hand of our Heavenly Father, praying for us, interceding on our behalf.
Some might ask why God didn't protect me from this or why I even had to walk through this.
I want to encourage you in this thought: that God protects us in the fire, not from the fire.
It's in the fire when our characters are strengthened and hearts are focused more sharply on our Advocate! #jesusisthereasonfortheseason
I'm not consumed by this event any longer. I don't sit for hours, head in hand, buckets of tears at my feet. It's not that I'm not sad about the past, not that the mess is all cleaned up either, but now I choose to hand my pain and case over to my Advocate, Jesus Christ.
I choose to trust God and choose to live in His truth and love.
He corrects and forgives me when I'm wrong and pleads my case to our loving God. Like any good advocate, He counsels me and comforts me.
Know, in the depths of your being, that God is for you, He has good plans for your life, Jesus prays for you, your name is written on the palm of God's hand, He can never forget you and the Holy Spirit was sent to guide and comfort you.
Whether you have sinned, fallen short, or falsely accused, Jesus is the perfect advocate you need. And living a life surrendered to Him is the way you can best take advantage of everything our Advocate has to offer you.  
About the Author:
Starla Jimenez is a mother of two kiddos. She writes to encourage women in an ever-deepening relationship with the Lord. You'll more likely find her reading a good book, drinking coffee, or being silly with her kids. You can find her on her blog, Facebook, Instagram, and Pinterest.