As a child I remember waiting all year for Christmas to come.
The anticipation. The excitement. The Snow. (Obviously I didn't grow up in Louisiana!)
I loved Christmas time. From the parties at school to the family get togethers, there was always a certain joy in the air. As I've grown into an adult with my own kids, I seek to recreate the memories I had as a child. To bring what my husband and I grew up with into the lives of our children. We want to have traditions. It's our heritage. When we are old and grey and our kids are grown, we want to hear them sit around and tell their children about the fun things we did every year. It's a legacy we are passing on.
My husband and I sat down and began talking about the fun memories we had as kids. We wrote down our top few and decided to begin doing those with our children. That's how traditions get started, making memories on purpose. The fun ones you keep, the not so fun ones…. well you learn from those.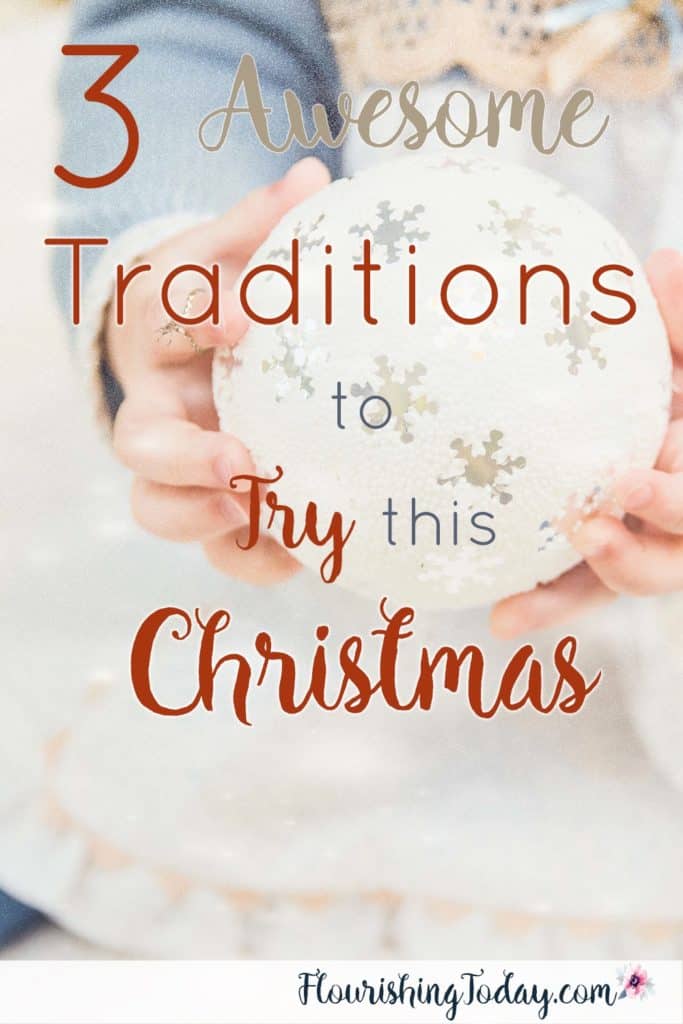 Here's 3 Awesome Traditions to Try this Christmas:
An OLD Tradition: Popcorn Garland
One of my favorite traditions as a kid was stringing popcorn to put on the Christmas tree. This year we will be doing that with our kids! My kids LOVE popcorn and I think they will love doing this. We'll string some, eat some, listen to Christmas music and dance around the Christmas tree as we hang the newly strung popcorn garland.
A NEW Tradition: Gingerbread House Decorating
Over the past few years, I've noticed my girls frequently eyeing gingerbread houses. They loved the colors, the candy, the icing…..the whole yummy creative process. I knew it would a lot of supervising, so I've never actually attempted one with them. However, this year my youngest is 7 and my oldest is 18. This is definitely the year to start. What a great opportunity for family bonding! The older kids can help the younger ones, while dad and I sit back and supervise. Perhaps there will be hot chocolate with marshmallows and a little Christmas music to set the mood. The girls are going to be so excited!!
A BORROWED Tradition: Names of Jesus Ornaments
On a recent post I wrote on traditions, a reader shared one of her treasured Christmas traditions with me. I liked it so much I'll be trying it out this year! We'll choose 10 names of Jesus and writing them on Christmas bulbs, with the verse number listed underneath. Each day beginning December 15th, one of the kids will pick a bulb and we will read the scripture and talk about the name they chose. If you'd like to try this tradition, you can find a great list of the names of Jesus, along with the verses that go with them here. I'm using plain Christmas bulbs that match our kid tree (red and green), that way they can easily be replaced if one gets broken!
Practical Tips for Setting New Tradition for Christmas:
Ask The Lord– Pray and ask God to show you creative ideas to begin new traditions that have Him at the center.
Ask your family– Find out traditions that your ancestors used to do…. parents, grandparents, great grandparents. Choose some that you think your family would enjoy.
Ask others– I want to know about your traditions! Post your favorite Christmas tradition that is unique to your family. I found this website for ideas on traditions. It provides many practical ideas for new Christmas traditions.
Prayer
Lord, we praise you today for who you are. Thank you that each year we get to celebrate the birth of your Son. Help us this year, to begin traditions that will carry on through the generations that follow. Most of all, help us to make memories that have you at the center. Lord we love you! In Jesus' name, Amen.
This post is part of a 25 days series. You can gain access to the rest of the series (and some additional resources) by signing up below: